The longest-running Dota 2 roster has finally reached its end.
Beastcoast announced they've parted ways with their long-time midlaner Jean "Chris Luck" Salazar (also known as C. Smile) and offlaner Adrián "Wisper" Dobles. The announcement was made after the team finished in joint-seventh place at The International 2022.
"We're so grateful for their years of dedication and we're proud to have sponsored the longest unchanged roster in Dota history, tweeted beastcoast. "We wish them good luck wherever their paths take them next!"
Chris Luck and the rest of beastcoast's core players first played together under the Team Anvorgesa banner that was picked up by Infamous right before the TI9 SA qualifiers in 2019. Since then, they have played a total of 449 games together up until their TI11 run, according to DatDota.
---
---
Beastcoast replaces Chris Luck and Wisper with DarkMago and Sacred from Thunder Awaken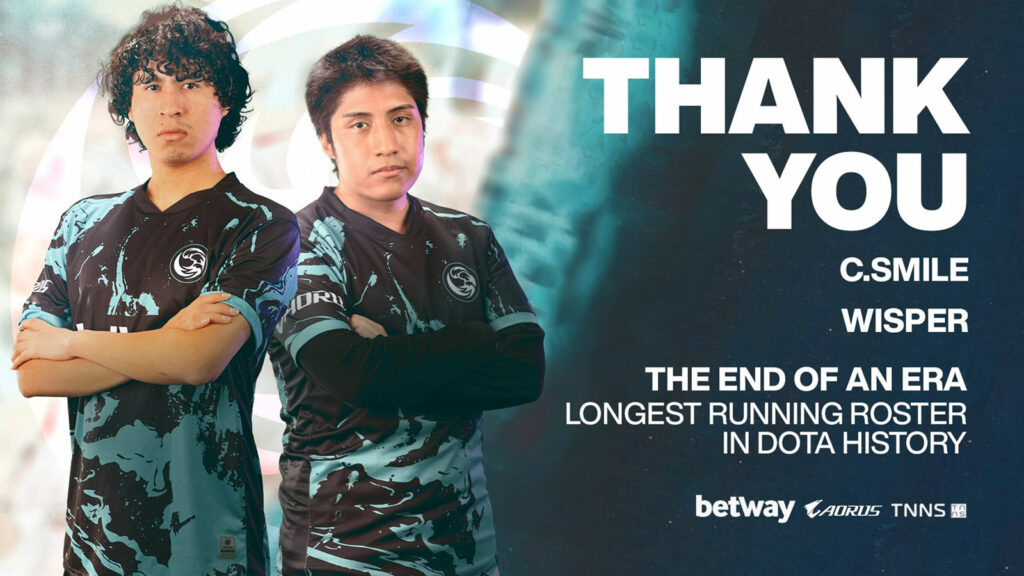 Replacing Chris Luck and Wisper are Herrera "DarkMago" Gonzalo and Rafael "Sacred" Yonatan, two standout players from Thunder Awaken's Dota 2 roster.
DarkMago and Sacred were integral to Thunder Awaken's incredible TI11 run where they became the first South American squad to secure a top-six finish after 10 editions of the International.
"Both players had incredible TI performances, and we're looking forward to their significant contributions to the team," said General Manager Colin Bashor in the organization's press release.
"In addition to the new signings, we're happy to reaffirm Stinger as our team captain," he continued. "Stinger has been drafting for us since the beginning and has been a fantastic leader, so this was an easy decision to make."
Steven "StingeR" Mamani expressed that he's looking forward to playing with his new teammates for the upcoming DPC season.
"I have a lot of faith and trust in this team," said StingeR. "I believe our discipline will set us apart from other teams. This new season format is much improved and we will fit perfectly for it."
Beastcoast has been the most consistent squad from South America since they started playing together in 2019. But in the past few years, teams like Thunder Awaken and Hokori have emerged as contenders in the SA region.
Signing two players from their rival squad could lead to beastcoast dominating their region for years to come.
Beastcoast's Dota 2 roster
Héctor "K1" Rodríguez
Herrera "DarkMago" Gonzalo
Rafael "Sacred" Yonatan
Elvis "Scofield" Peña
Steven "StingeR" Mamani
Thomas Jaulis "Valqui" Romero (coach)
Eduardo "Raykill" Nuñez (assistant coach)
READ MORE: OG CEO: 'We have a responsibility to make Dota and other games more inclusive'