The recent Tekken 8 trailer gave fans a glimpse at what next-gen Tekken brawls would look like.
On top of more electrifying EWGFs and a thumping soundtrack, the teaser showed Jin Kazama and Kazuya Mishima flexing their muscles in ultra-high definition.
While their martial arts bodies might seem out of this world, cosplayer Taryn was able to bring the effects of the Devil Gene to life with his stunning Jin Kazama cosplay.
Cosplay is an art form in itself, and the effort and dedication that cosplayers like Taryn put into their work are truly inspirational. No detail has been overlooked as they bring their unique interpretation of beloved characters to fans around the world.
---
---
Taryn's Jin Kazama cosplay is the perfect combo
Taryn shared an Instagram clip of him rocking Jin's Tekken 8 uniform, complete with a red and white karate belt, straps, and pants. While Jin ditches his signature flame design, his left leg now showcases a detailed oni illustration.
In terms of accessories, Taryn topped off the look with Jin's iconic gauntlets. The gauntlets also get a nice makeover, now with diamonds on the back of the hand and horns near the elbows.
Aside from having the chiseled body to play the part, Taryn perfectly captures the fighter's bravado. In the clip, the cosplayer readjusts his gauntlets just like the karateka. He even has the Devil Gene tattoo and Jin's devil markings on his face.
Taryn ends the 12-second clip in the most Jin Kazama way possible. After scouting out his surroundings, the cosplayer enters a fighting stance and does the fighter's trademark move, Mental Alertness. A true practitioner of Kazama-style martial arts.
You can check out the full cosplay clip on his Instagram account.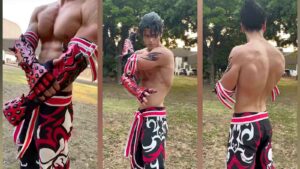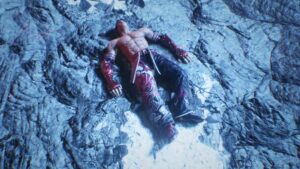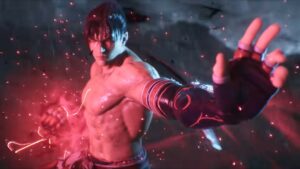 Follow ONE Esports on Facebook and Twitter for more Tekken news and stories.
---
This article is presented by Omne by FWD, the one app for you
Taryn is no stranger to the challenges that come with making a name for yourself in the world of cosplay; it's his dedication and resilience that has made him the inspiration he is to fans today. Find more sources of motivation for your own creative journey HERE.
READ MORE: What happened when ONE Esports' Jagwar tried to be a Tekken pro for a day