Cosplay queen Alodia Gosiengfiao is known for her unique takes on prominent League of Legends and Elden Ring characters, but she ditches the wands and spells for a stunning retro FPS look in her latest photoshoot.
The gaming personality looks ready to frag out as Scylla Light Runner, a new 80s-inspired Operator skin in Call of Duty Mobile.
---
Alodia Gosiengfiao decks herself out in neon in new Scylla Light Runner cosplay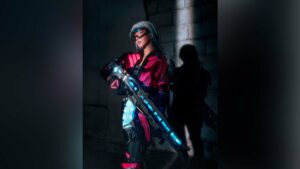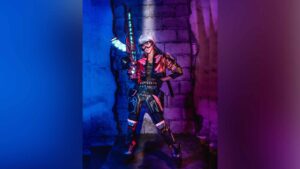 The Filipina influencer's costume was on point, perfectly recreating the character's neon highlights with reflective pink material on her jacket, shoulder pads, and gloves. The cherry on top of the whole cosplay is her glowing rifle, which looks exactly like Scylla's accompanying AK-47 Radiance skin.
Alodia also took some liberties in creating her own version of the 80s Operator skin. Instead of donning opaque goggles like the original, she went with a more transparent version that could also highlight her makeup.
---
---
The cosplayer's behind-the-scenes Facebook video showcased the hands-on DIY attitude that she and her designers brought to the photoshoot. Despite the difficulties they faced in putting all the accessories together, Alodia and her crew were undeterred when it came to bringing Scylla to life.
"As always, there's no such thing as a cosplay shoot where nothing has to be repaired," said the Tier One Entertainment co-founder.
Those who adore neon lights and mullet hairstyles can get the Scylla Light Runner skin right now through Call of Duty Mobile's Ultraviolet Mythic Drop for the price of 20 CP per draw.
---
---
Follow ONE Esports on Facebook and Twitter for more COD news, guides, and highlights.
READ MORE: Kamisato Ayaka cosplay by Akase Akari unites Genshin and anime fans