For Call of Duty players, K/D has always served as the ultimate measure of skill, even if it doesn't always make sense.
Why is there so much camping in Modern Warfare 2? It's because no one wants to die and everyone wants to pad their K/D. It is something to flaunt — and players have been waiting for Combat Records to come online in Warzone 2.0, so they can see how well they've actually been doing.
While Modern Warfare 2 added Combat Records and gameplay stats in Season 1, its battle royale counterpart was left waiting.
Here's a look at when Combat Records will arrive in Warzone 2.0.
---
---
Warzone 2.0 Combat Records release date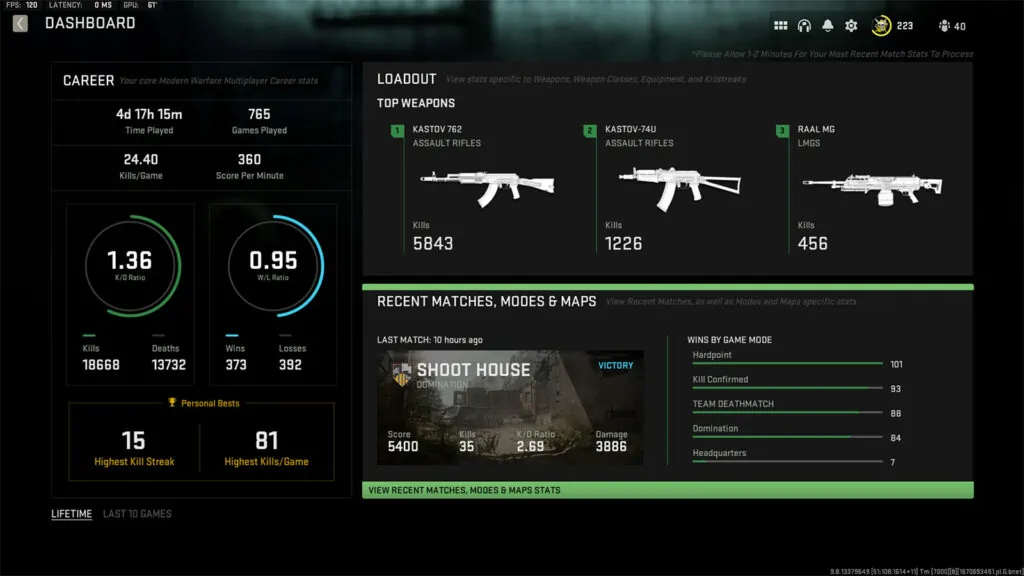 Combat Records were originally planned as part of the Season 1 Reloaded update, which launches on December 14.
The feature would have given every player a clean slate, in theory, only taking into account numbers from the launch date onward and discounting earlier gameplay statistics.
However, Activision Blizzard now appears to be going back on that decision. In a recent announcement on Twitter, it said that the feature would be further delayed due to the "accuracy of the data population."
"We continue to work on this feature and the implementation of leaderboards and will provide an update when available," it said.
In Modern Warfare 2, the Combat Records dashboard provides a granular breakdown of your lifetime statistics and those of your last 10 games. You're also able to view things like average kills per game, score per minute, your top weapons, and win rates.
On top of that, it displays your stats for every gun you've used, so you can see what your best weapon is.
There is currently no word on when the feature will come to battle royale yet. A good guess would be sometime during Season 2, which is expected to launch around February 1.
Learn how to unlock new Operators Gaz and Klaus, what Raids are in Modern Warfare 2, and the best sniper scope to use.
READ MORE: How to unlock Chimera assault rifle in Modern Warfare 2 and Warzone