You've downloaded League of Legends: Wild Rift, you've signed up for a Riot Account and you've gone through the tutorials. It's still a daunting world because the client's home page has more than ten buttons, and you'll encounter even more submenus when you tap on them.
Here's a complete run down of the Wild Rift client, from home screen, to the function of each button:
---
Play button
Let's start with the obvious. To start up a game, click the big blue "PLAY" button at the bottom right corner. Here, you'll be able to choose between four modes.
Ranked
Normal: PVP, Co-op vs. AI
Training: Tutorials, Practice
Custom: Blind Pick, Draft Pick
Ranked mode is where you can participate in competitive matches that will count towards your rank. If you're not up for it just yet, keep learning in Normal games where you can choose to play against other players in PVP mode, or against bots.
If you see an icon next to the question mark on the top left, it will tell you if there are any boosts that are currently active in your account.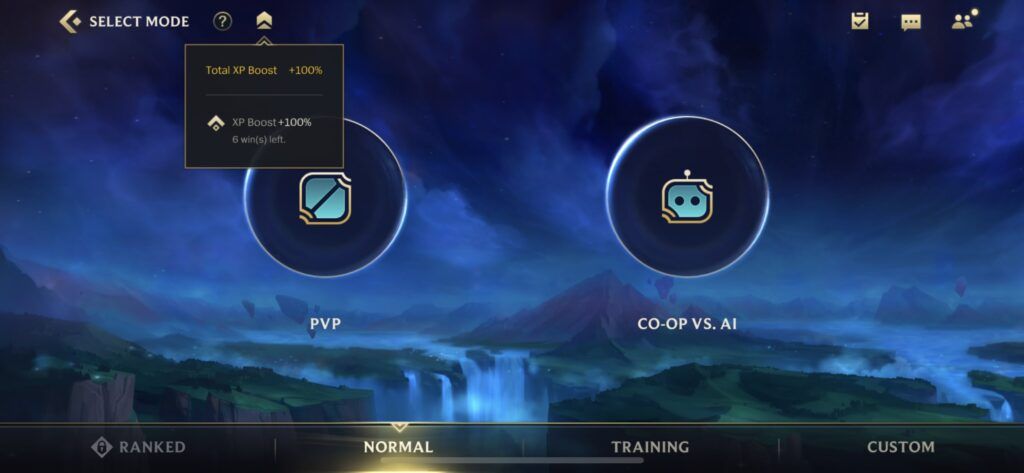 Be sure to finish all the tutorials under Training in order to receive rewards! Under this tab, you can also access the Practice tool, a great place to try out new champions, learn about their skills, practice combos, test items, time your jungle pathing, and more.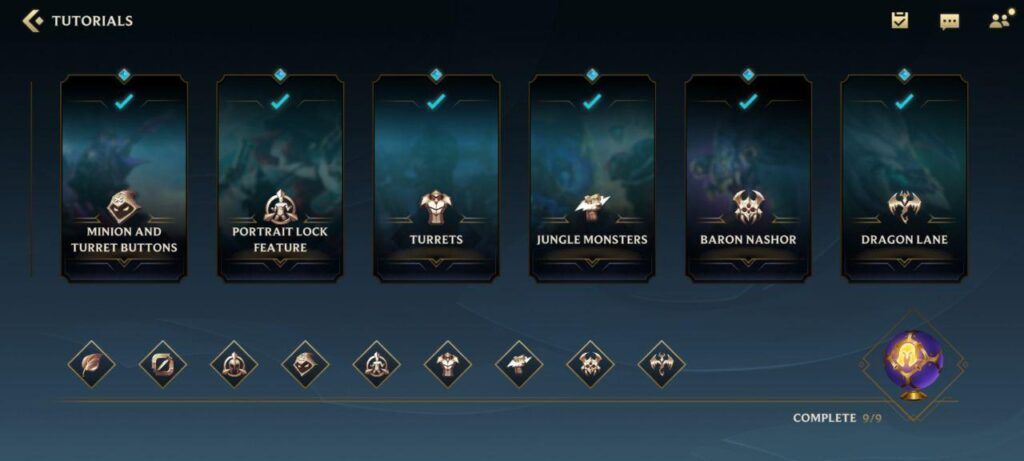 ---
Store
Featured
Champion
Skin
Items
Poro Store
Moving on to the bottom row of icons, the first one you'll see is the store icon, represented by three piles of coins. Once you click on it, you'll be taken to the shop. You'll be able to see featured skins, all the champions, and skins available for purchase.
You can purchase a unique Wild Rift feature, baubles, under "Items", which are collectibles that will appear near enemy champions when you eliminate them in combat.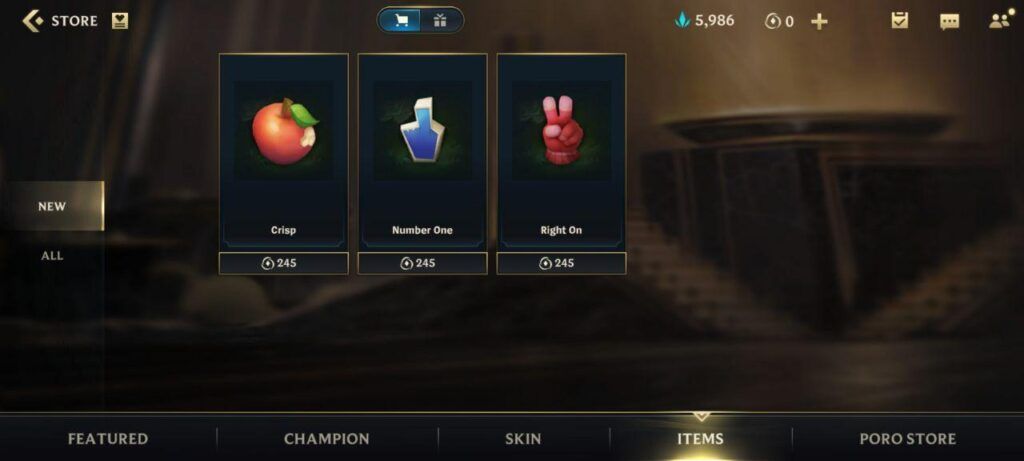 Note that in the center, there's a cart icon and a gift box icon. If you're within the cart tab, items shown are those that you can purchase. If you press on the present, you can send over a champion or skin to a friend on your friend list. Spread the love!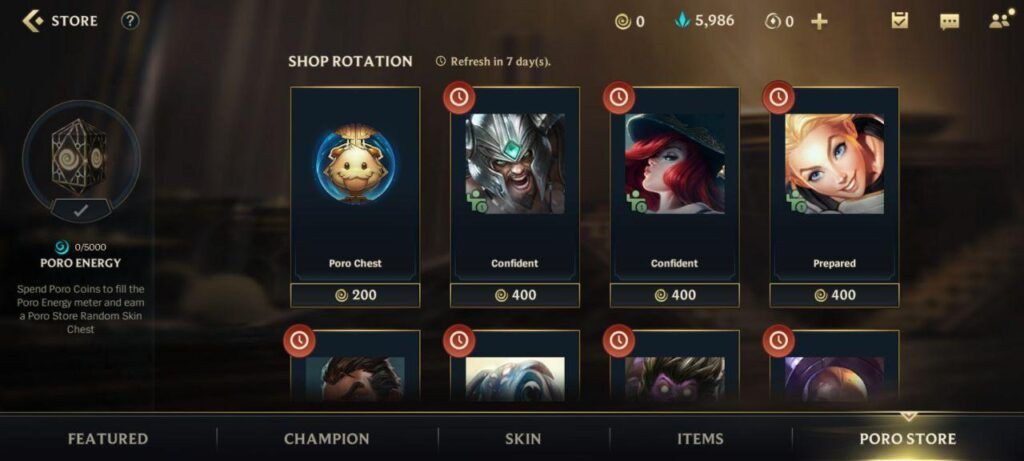 Under the "Poro Store" tab, you can spend Poro coins on what's available, or convert it to Poro Energy. Once you have enough, you can claim a random skin chest. Here, purchase items such as a champion pose, where your selected champion will take on a different pose (Confident, Prepared, and more) at the end game screen.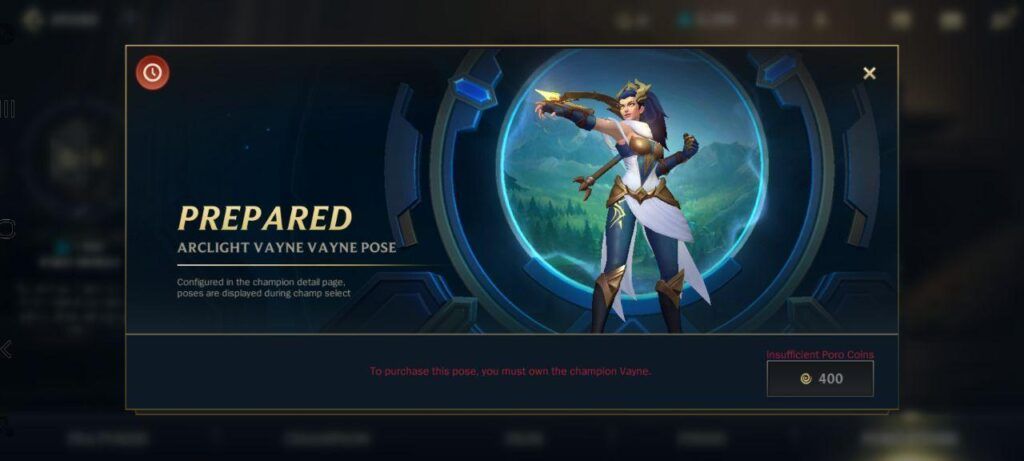 Not all poses for all champions are available at the time though, as there's a rotation that refreshes options every seven days. As such, you might want to keep an eye on your favorite champions in the store each week. Not to mention, Poro coins can only be obtained through playing games, as opposed to paying, so keep grinding those levels.
---
Collection
Champions
Skins
Personalization
Emotes
The book icon with a star in the middle is your collection. Here, you can view all the champions and skins that you own, as well as the ones that you have yet to collect.
You'll also be able to view your current mastery level on each champion. The more you play a champion in matches, the more mastery you'll accumulate. If you perform well, you'll likewise gain more mastery points. After level five, you'll gain fewer mastery points for using a champion, but points gained from ratings (ie. a good performance) remains unchanged.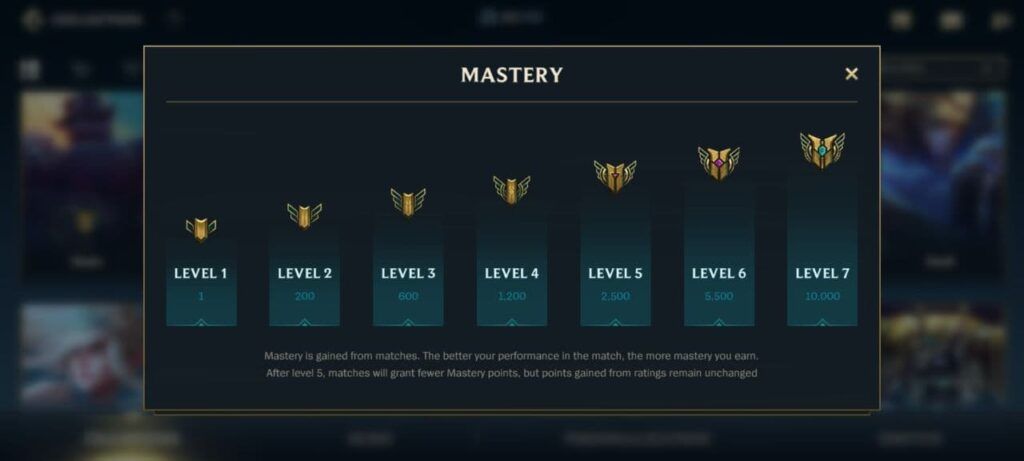 Under Personalization, you can customize a few things. First is your recall, then baubles, then Rift Emblem. There are different recall effects and elemental based Rift Emblems (in-game banners), all of which can only be bought from the Poro Store.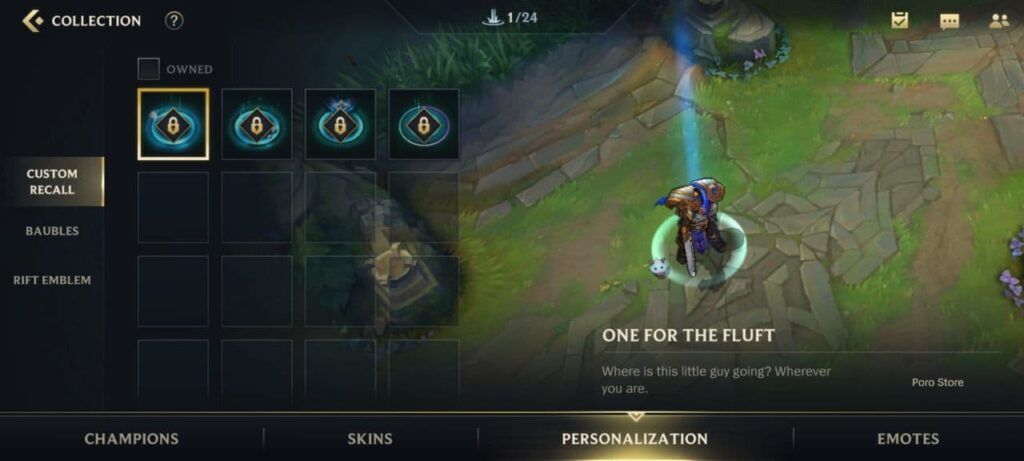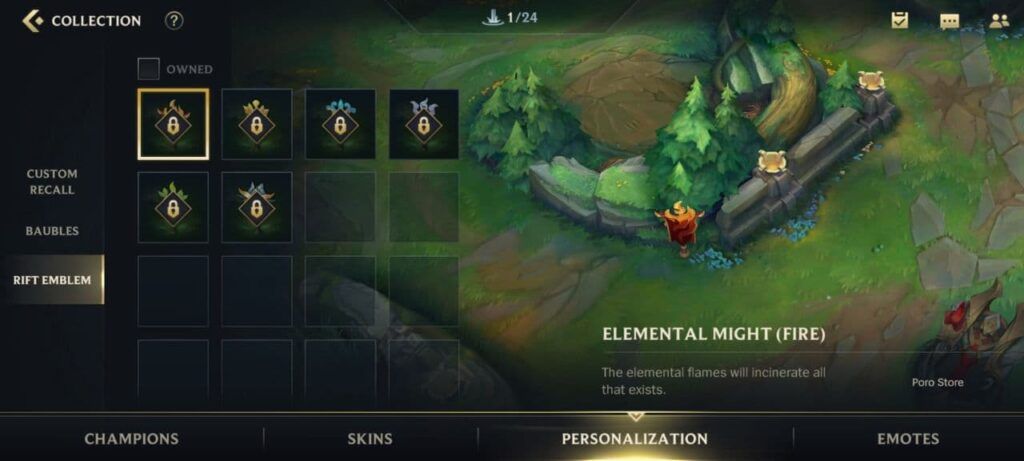 Under Emotes, you'll see a full list of those that you own, the number of emotes that you own, and those that are still locked. Here is where it gets interesting, for you can assign "auto fire" emotes that will instantly appear the moment something happens in-game, specifically when the match starts, at the end when you gain victory, or when your team scores an ace.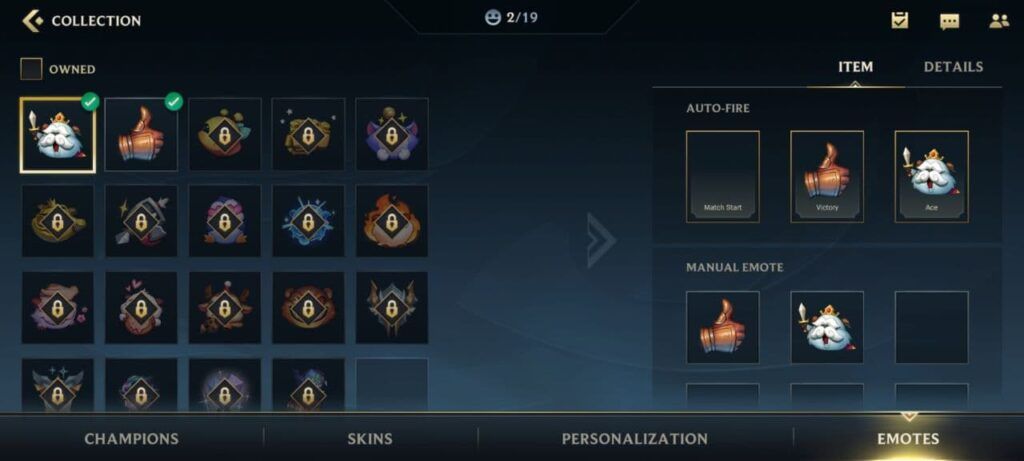 There are also customizable options for manual emoting, where you'll have to click on the "chat" button in-game, navigate to the emote page, then click on the emote you want to use.
---
Loadouts
The combined shield and sword icon is your loadouts screen. Reading Riot's description, "you can view and modify champion item builds, runes and spells in the loadout interface".
You can customize anything related to in-game items, runes, and Summoner Spells in this one tab. Firstly in the drop-down menu, you can choose default recommended builds that will show up in the in-game store. Nami for example can be built as a support using the Ardent Enchanter page, or as a mage.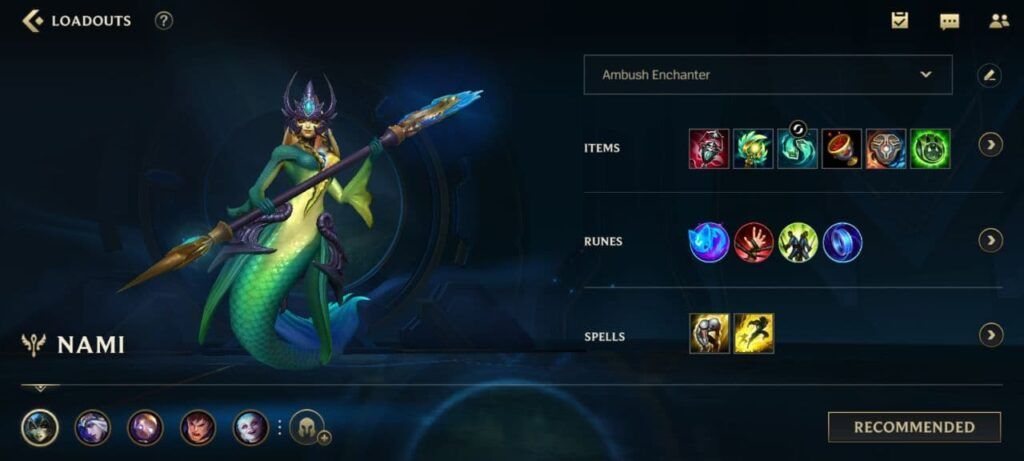 You can also adjust each item in the build, or create a new page altogether. Likewise, for runes and Summoner Spells, you can custom the recommendations you get in the loading screen before you enter the game. If you're new and would like to start playing without worrying too much about these details, clicking the recommended button always helps.
At the bottom, select the champion that you want to customize the loadout for, or add new ones if they're not on the list.
---
Leaderboard
The next icon that looks like a badge is the leaderboard. There are a couple of things you can do here. Under the drop-down menu at the top, you can see how you rank among your friends. If you choose "server", you'll be able to view current top-ranking players overall.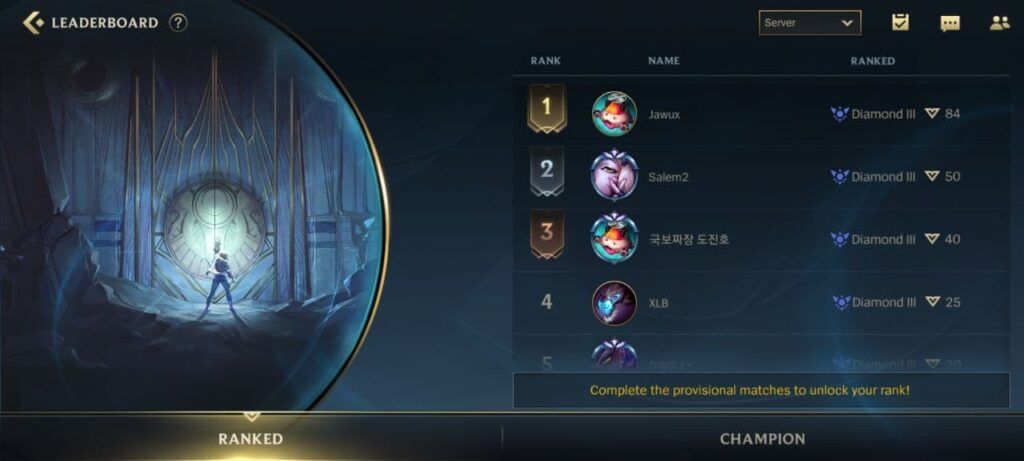 Under the "Champion" tab at the bottom, you can check out the best of the best for each champion. When you click on the "open book" icon at the end of the row, a pop up will show you the item build, runes, and spells the Rank 1 player likes to run.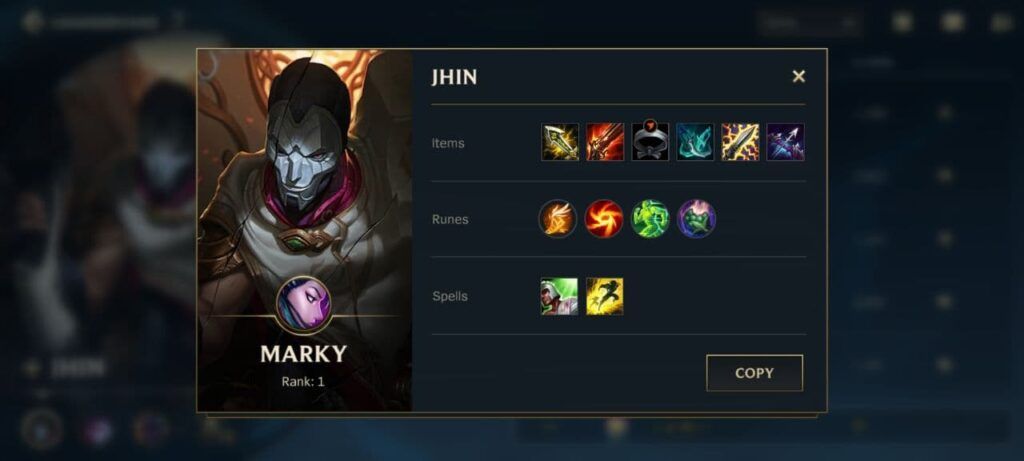 This function is especially useful if you would like to see what the experts have figured out are the best loadouts for a particular champion.
---
Vault
The sealed box marks the Vault. Here are where all your rewards lie, the ones that you receive after completing missions. There are chests that you can open to redeem skins and champions, and Poro coins accumulated, which you can convert to energy in the store.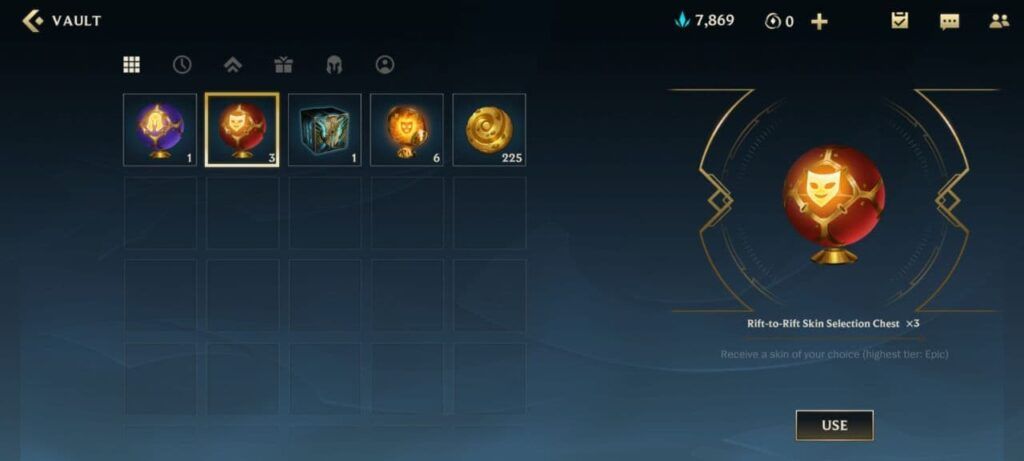 ---
---
Missions
Standard
Challenge
Weekly points
Lastly, the scroll next to the "PLAY" button is your missions tab. Besides standard missions, "Challenge" missions unlock at level ten, which are bigger goals that give bigger rewards. If you want to reroll them, you can, using the refresh button at the far right column up to three times.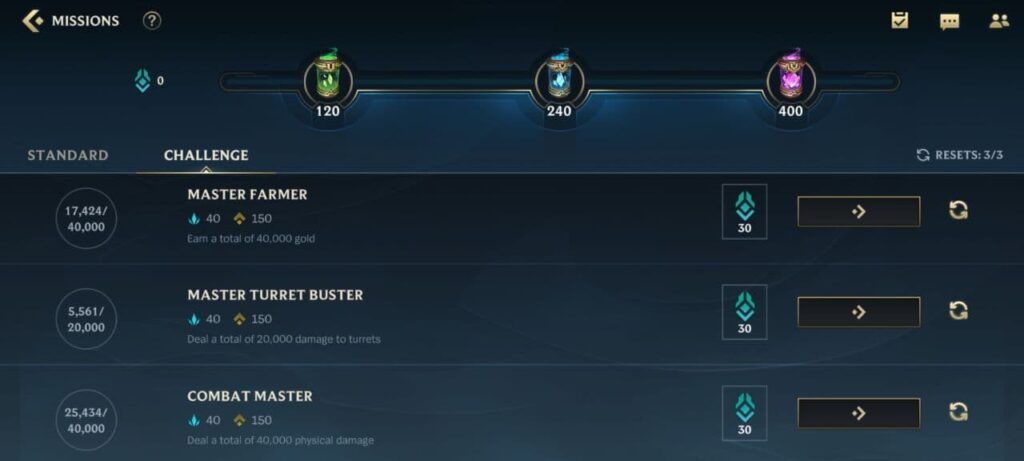 On top of this, there are weekly rewards tracked by the bar above marked by capsules. As you play you'll accumulate points. Once you hit 120, 240, and 400 points, these Weekly Chests will give you even more rewards in the form of Blue Motes, Poro coins, and XP (experience).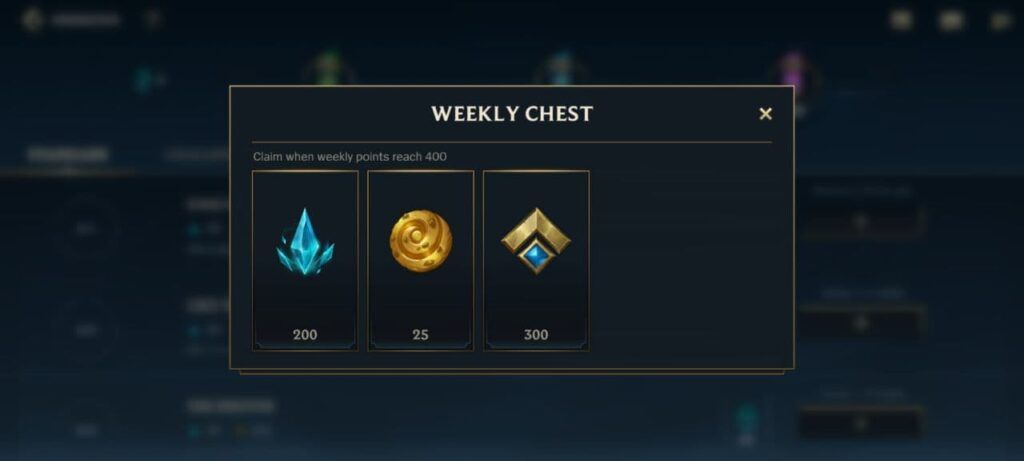 ---
Events
There are more than just the Standard and Challenge missions available. Look to the left for the special Events button. Right now, with the launch of All Out K/DA skins, you'll be able to complete even more missions for exclusive rewards.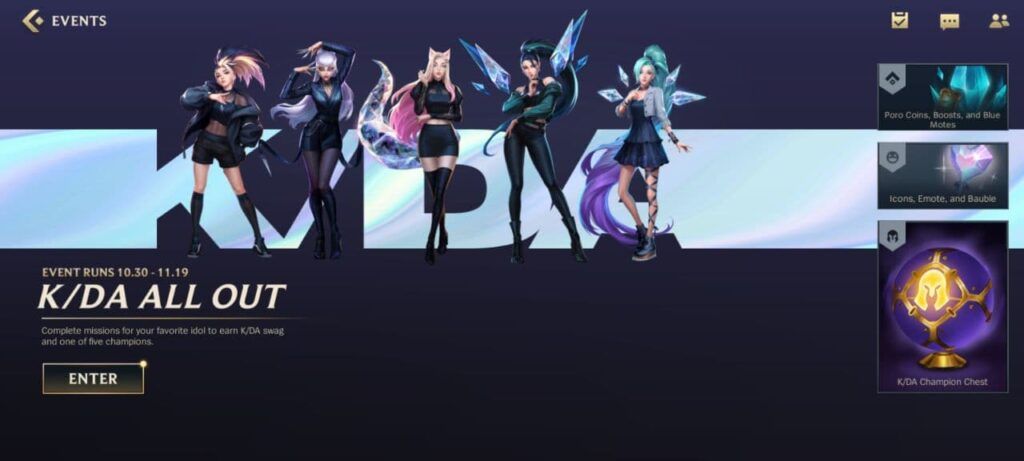 As these special events are only available for a limited time, be sure to complete them to claim these rewards. Watch this space for new in-game events in the future.
---
Profile
Above the Event box is your profile. You'll gain access to:
Overview
Match history
Most played
Stats
Achievements
In overview, you can see your IGN at the top left above your profile's icon, and your current level. Click on the icon itself or on the sub menu bottom on the right side to edit it. Select the icon you desire alongside a border. Under this option, you'll also see the option to "Select background", where you can choose the default champion splash art or a skin that you own to show up on your profile.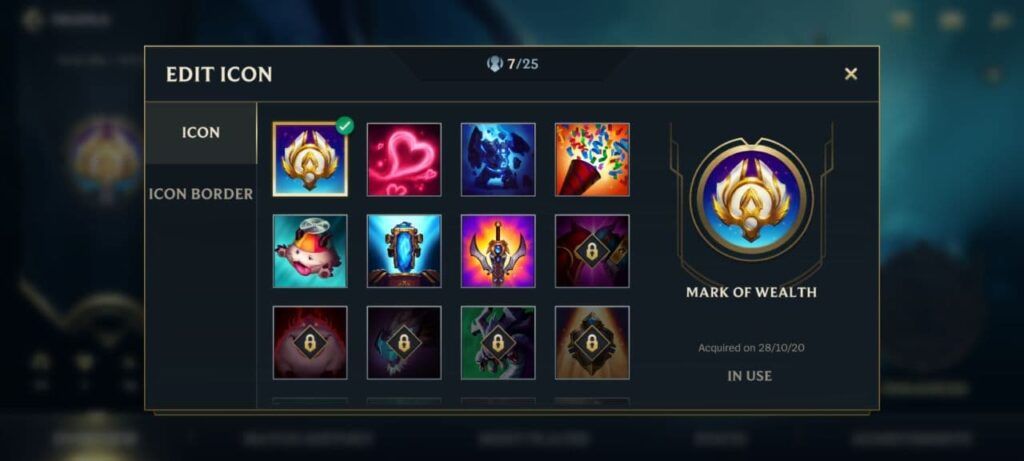 Below the banner, there's a summary of the number of champions and skins that you own, the total number of matches you've played, and the age of your account.
In the middle are your three most played champions. Click on each portrait to view the total number of matches played, and your current win rate on that champion. On the bottom left, there lies your current rank. If you haven't played ranked and haven't finished your ten provisional matches, you'll be "unranked".
Next, Match History gives you detailed data of each game you've played. Besides the obvious champion, champion level, type of game, outcome, KDA, gold earned, and item build, the second last column with symbols tells you all the titles or milestones you achieved in that game, such as MVP, SVP, highest champion damage and so on.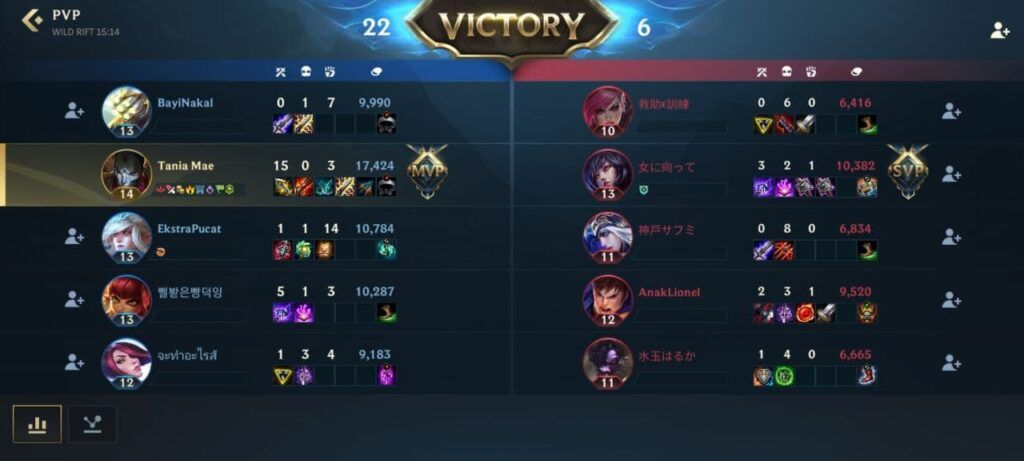 In the last column, the "menu" looking button will take you to the end-game screen. All the details pertaining to the match, including the other nine players involved, can be found here. You can add them as friends, view their IGN, scout their profile, and assess everyone's KDA, items, level, and gold earned.
At the bottom, you'll see a bar chart icon, and a line graph icon. If you like statistics, here's where the real meat is at. Click on the bar chart to view four stats of each player: Damage dealt, damage taken, team fight involvement, and gold earned.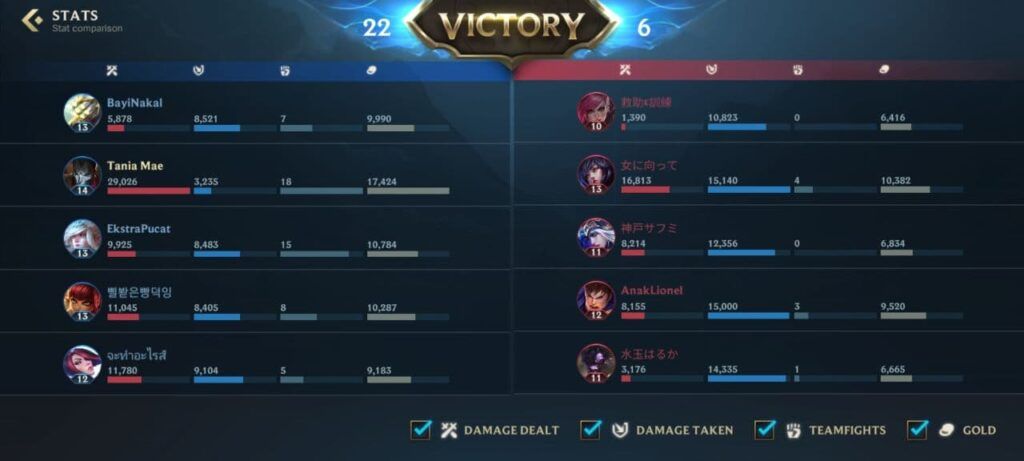 If you click on the graph icon, it'll take you to this screen. It gives an even more detailed gold and experience breakdowns, plotted against the timeline of the game.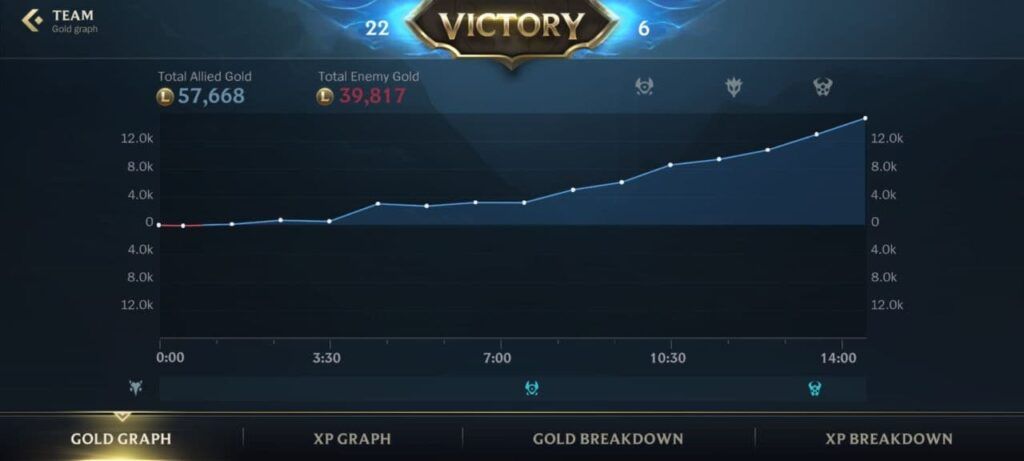 It even tells you when Rift Herlad, Elemental Drake, and Baron were taken, and by which team represented by the icons colored in blue or red at the bottom bar. If it's still unclear, hold your finger over the grey icons at the top to read the legend.
The next two tabs, Most Played, and Stats are self-explanatory. Under stats, you can judge your own playstyle by the circular graph that tracks your KDA, team fight participation, gold earned, damage dealt, damage taken, and turret damage.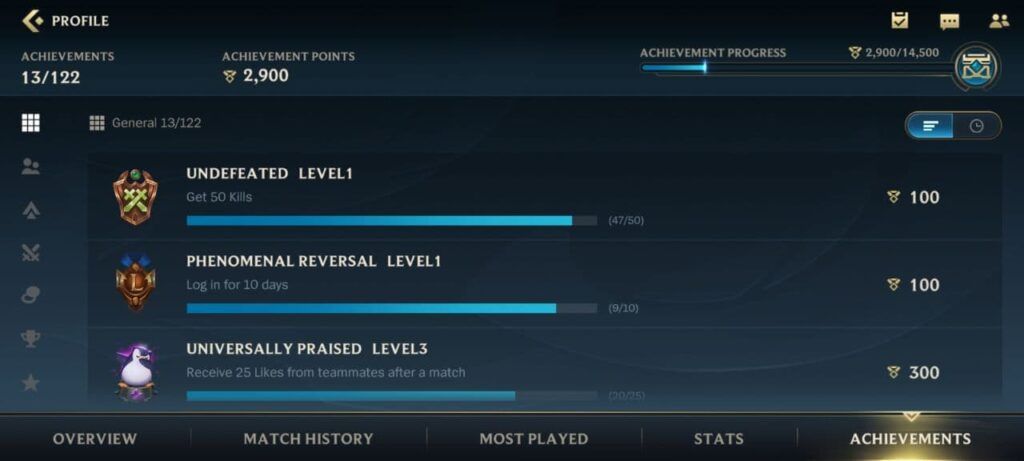 Lastly, Riot wants to reward you even more with Achievements. Currently, there are 122 to complete, each of which will earn you varied Achievement points. At the top right bar, you can see your achievement progress.
Right now there are four Achievement Rewards to redeem — a border, emote, Rift Emblem, and recall, which you can claim once you hit achievement point milestones of 14,500, 29,000, 43,500, and 58,000 respectively.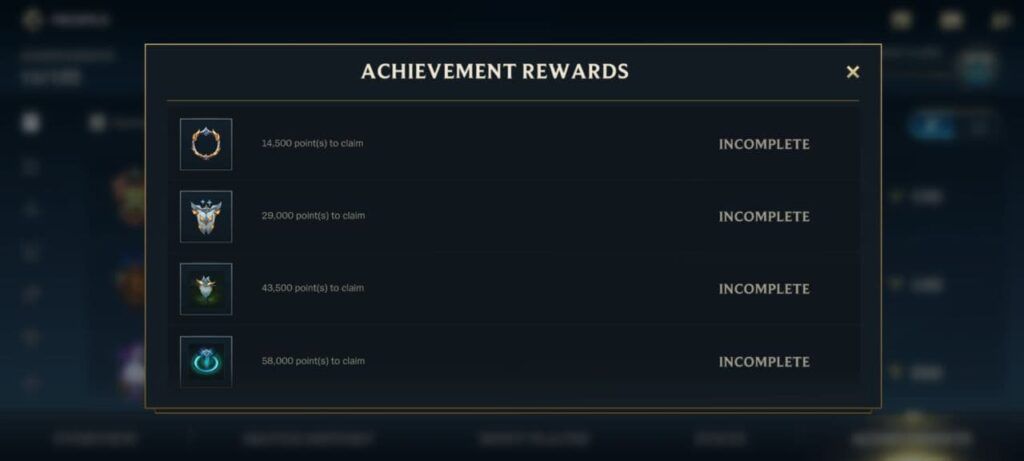 ---
Blue Motes, Wild Cores
Track the number of Blue Motes and Wild Cores you own, in the middle of your client. Blue Motes are earned in-game, while Wild Cores are purchased with real currency. Click on the "+" button to make payments in your local currency. At the moment there are six bundles available. The more Wild Cores you buy, the more bonus Cores you'll receive.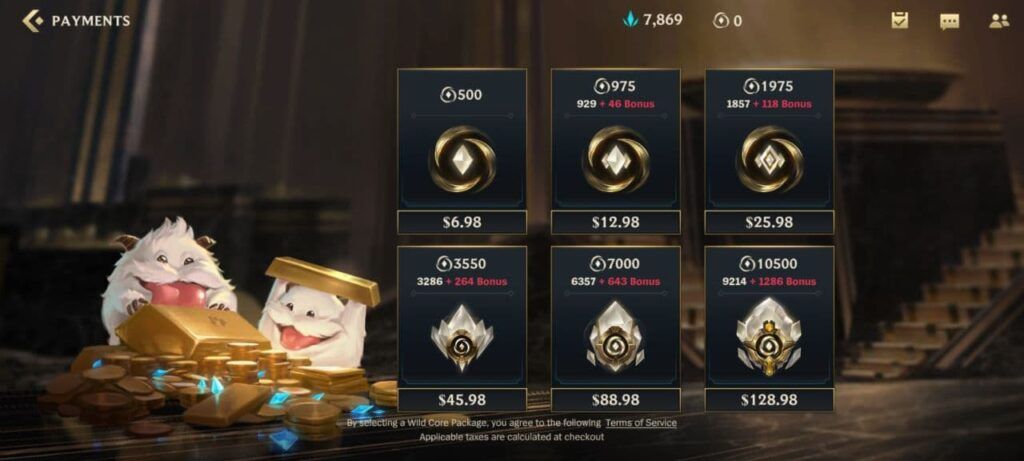 Wild Cores can be used to buy bundles, champions, skins, emotes, and baubles in the store.
---
Friend list, Settings, Inbox, Activities, Chat, Network and Battery
There are two ways you can access your Friend List. You can tap the icons at the right-hand side of your screen or the "two people" icon at the top.
The top right-hand corner is the same place where you'll find gear, envelope, floppy disk, and speech bubble icon.
To adjust your general settings, graphics, and sound settings, tap on the gear. Go through the list and tweak them to suit your preferences. Most interestingly, you can change the language of your client's text and audio separately. If you've always wanted to hear champion voice lines in another language such as Korean or Japanese, you can download the packs in this tab.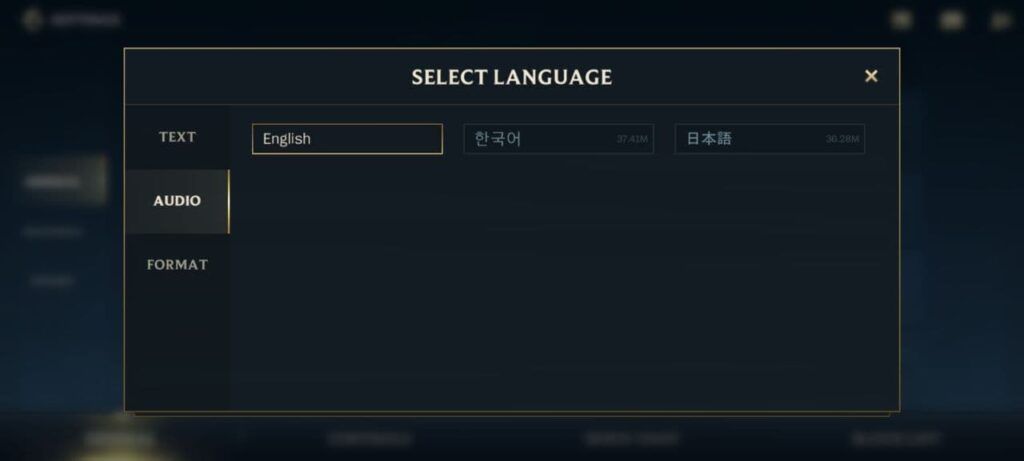 Your messages are stored under the Envelope icon, while the floppy disk with a tick shows you all the activities available for you to do, such as get your daily first win or active special events.
The speech bubble icon opens up your chat. Click on your friend's IGN to have a private chat with them. At the top right corner of the chat box, you can also click on the "identity card" icon to view your friend's profile.
Lastly, to view your exact ping and battery percentage, tap on these icons at the top right corner.
---
Additional icons
Below your profile, there are smaller icons that give you additional information on live boosts that you've activated, and whether first win of the day is available to complete the daily mission.
At times, an orange circle with "!" will pop up on the home screen too, announcing bugs and issues that Riot is currently working on.
For additional guides to help you on your Wild Rift journey, check out the 5 key things the Wild Rift tutorial doesn't tell you, everything we know about Wild Rift's Ranking system so far, and everything you should know before you start playing Wild Rift.
READ MORE: The ultimate guide to Wild Rift for League of Legends players