Sentinels' Jared "zombs" Gitlin recently shared that he and his mom are in agreement that Matthew "Wardell" Yu, Yassine "Subroza" Taoufik, and Jay "Sinatraa" Won should join forces to form their own Valorant team.
The story developed after numerous false Valorant roster reports that gained traction online, following 100 Thieves' sudden decision to change players early into the VCT 2022 season.
Sentinels' Zombs agrees with his mom that Wardell, Subroza, and Sinatraa should play together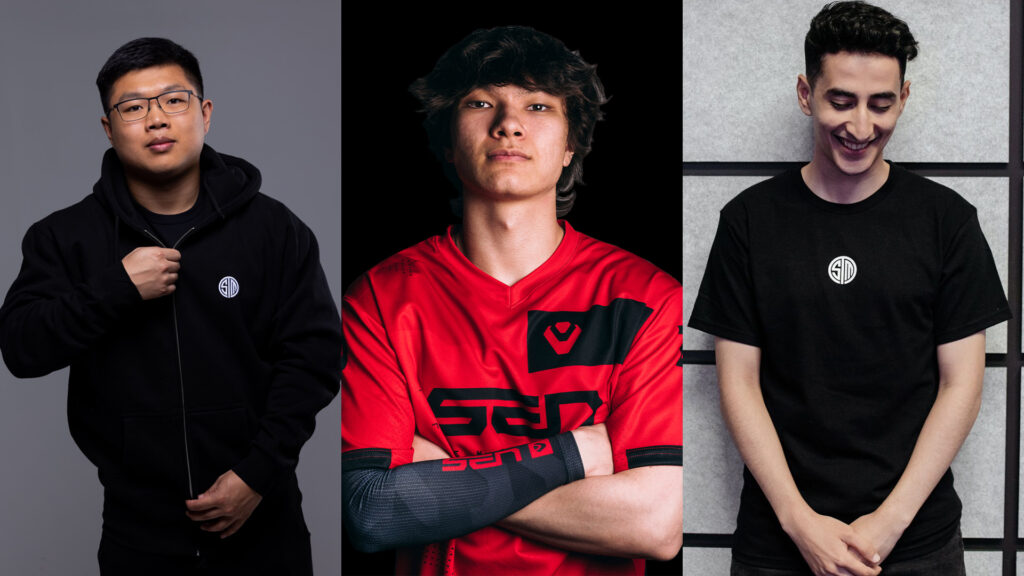 100 Thieves announced a sudden roster shuffle after their Valorant team lost their first two matches in the VCT NA Stage 1 Challengers Group Stage, releasing Hunter "BabyJ" Schline and Adam "ec1s" Eccles, which shocked the Valorant community.
The report caused many esports pros to jump on the bandwagon and to start posting memes about organizations dropping players. Even Cloud9's Nathan "leaf" Orf shared a meme about himself and Anthony "vanity" Malaspina being released.
---
---
Another meme shared by Luminosity Gaming's Adam "mada" Pampuch, stated that TSM's star players Wardell and Subroza were subsequently replaced by BabyJ and ec1s.
Pulled in by the ruse, Zombs' mom immediately reached out to her son, suggesting that Wardell, Subroza, and Sinatraa should make a team together.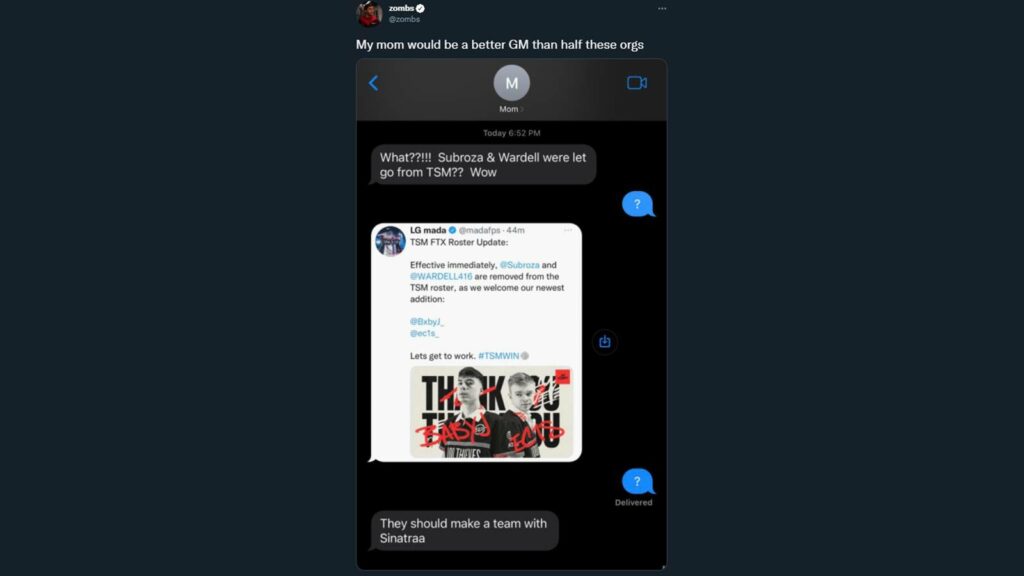 The entire exchange was then shared by Sentinels' controller main in a tweet. "My mom would be a better [General Manager] than half these [organizations]," he wrote.
The three players have teased many times in the past about teaming up together. Sinatraa previously told his Twitch stream viewers that he'd had scrim sessions with Wardell and Subroza. The rumors turned out false, as TSM did not sign the ex-Sentinels player.
TSM ended up signing former FaZe Clan player Corey Nigra and Daniel "Rossy" Abedrabbo instead. The team tried to make a run at the start of the VCT 2022 season but failed to qualify for the VCT NA Stage 1 Challengers Main Event after losing their open qualifier matches, and is looking to improve their roster.
Sinatraa is still currently a Valorant Twitch streamer who occasionally holds VCT watch parties.
READ MORE: 100T Nadeshot says that sudden Valorant roster changes weren't based on results