The Valorant Champions Tour (VCT) has been a major driving force behind the growth of competitive Valorant since its inception.
While the Valorant esports scene has continued to gain momentum, a recent report has surfaced, revealing some surprising developments in the sponsorship landscape of the VCT.
Pacific teams have emerged as the frontrunners in terms of sponsorship deals, leading the pack by a considerable margin, according to a report by Esports Charts in April.
The report offers valuable insights into the sponsorship landscape of the International Leagues, allowing us to explore which teams have the most financial support based on the number of sponsorships they have.
---
---
The Pacific League teams have the most sponsors in the VCT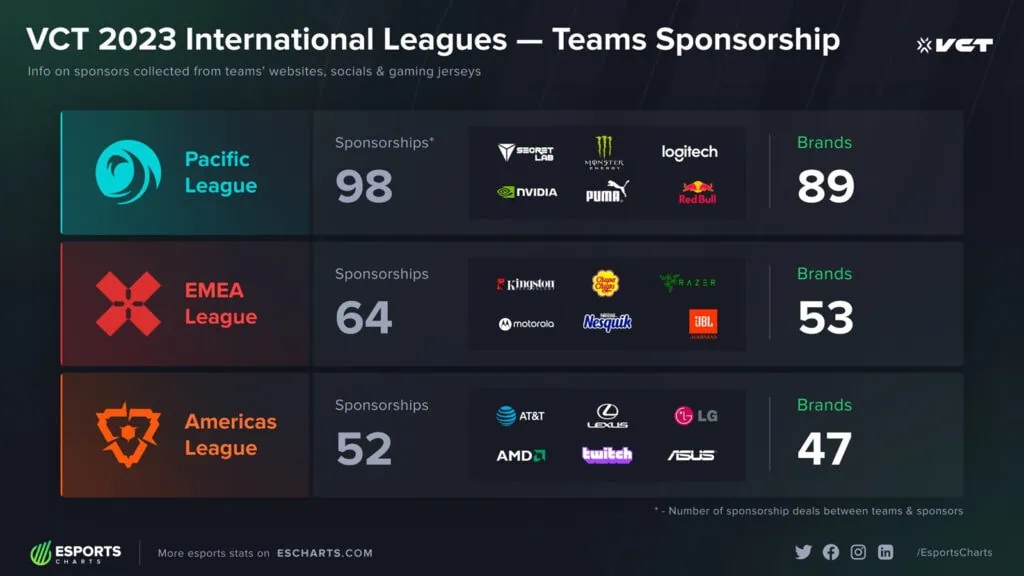 According to the report, Pacific League teams have almost double the number of sponsors compared to the Americas or EMEA Leagues.
Esports Charts gathered the data from analyzing the official websites and social media platforms of each VCT team, revealing that the Pacific region has a total of 98 sponsorships from 89 different brands, while EMEA has 64 sponsorships from 53 brands. Surprisingly, the Americas League has the fewest sponsorships, with only 52 sponsors from 47 brands.
The report also revealed some surprising insights into which teams have the most sponsors in each League. DetonatioN FocusMe, a Japanese esports organization competing in the Pacific region, topped the list with an impressive 25 sponsors.
Meanwhile, Sentinels, the most-watched Valorant esports team in all Leagues, wasn't mentioned in the report. Instead, NRG Esports was recognized as the Americas team with the broadest range of sponsors.
In the EMEA region, Team Liquid took the top spot with 12 sponsors in nine different categories.
The launch of the VCT International Leagues by Riot Games marked a pivotal moment for the Valorant esports scene, mirroring the successful structure of the League of Legends competitive ecosystem.
The inclusion of top-tier organizations signing long-term partnerships has solidified the reputation of VCT teams as the pinnacle of competitive Valorant, further elevating their appeal to potential sponsors.
The increased prestige of the VCT International Leagues has resulted in a surge of interest from sponsors looking to partner with the top Valorant teams, creating a win-win situation for both parties involved.
READ MORE: Exclusive: When PRX something played on NA, pro players were convinced he was cheating