Despite facing ups and downs in the VCT Americas league, Sentinels remains a consistent draw for fans and viewers.
The Valorant roster reigns supreme as the most-watched team in the VCT 2023 season. The North American esports organization tweeted on April 26 that they have the most watched matches in all leagues of the VCT.
Their matches against LOUD, 100 Thieves, and Leviatán have been the most-watched matches with a combined viewership of over 1.2 million viewers.
This is significantly higher than the most viewed matches in other leagues, with VCT Pacific's highest viewership sitting at 336,722 and VCT EMEA's peak viewership at only 288,816.
---
---
Sentinels continue to be the most popular team in Valorant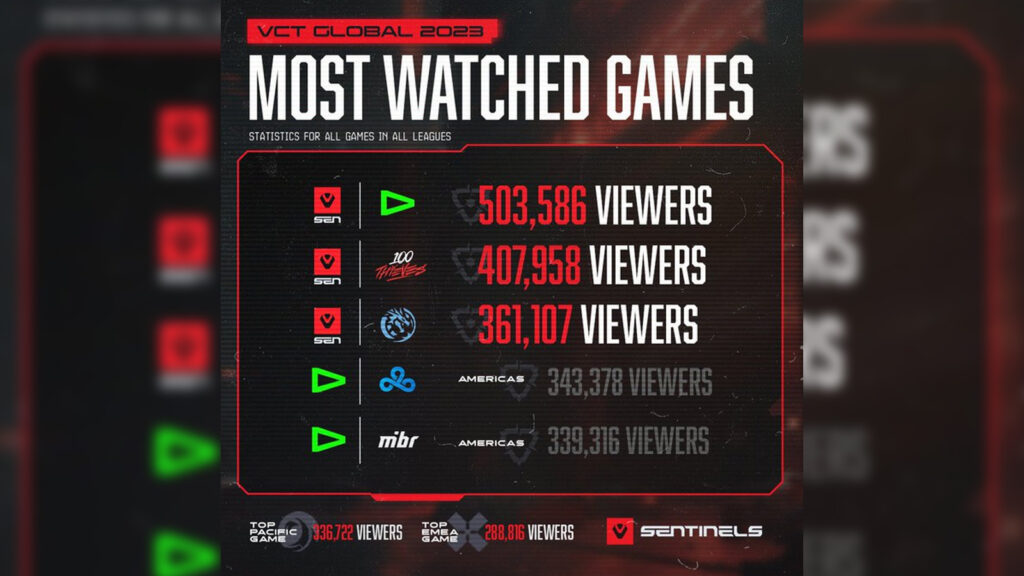 Sentinels' popularity in Valorant dates back to the start of the game's competitive scene. The organization found early success in Riot Games' Ignition Series, winning two events in 2020. Their popularity grew as they feuded with TSM in various online tournaments that same year.
They hit it big the following year with the addition of Valorant superstar Tyson "TenZ" Ngo to their roster. They dominated their region in 2021, winning every VCT NA competition except for one. Sentinels also cemented themselves as global stars by winning Masters Reykjavik, the first international Valorant LAN tournament in history.
Despite lackluster performances in the VCT 2022 season, followed by significant roster changes, Sentinels has maintained its status as the most viewed team in Valorant. 
Towards the end of 2022, the team received a significant boost in popularity with the arrival of Twitch sensation Michael "Shroud" Grzesiek.
The impact was astronomical, evident in their debut match against The Guard in the VCT NA Last Chance Qualifier, where Shroud and his team broke the record for the highest peak viewership for North American Valorant. According to Esports Charts, the match was witnessed by over 608,000 viewers at its peak.
The organization has also received a boost in viewership from former CS:GO pro Tarik "Tarik" Celik, who frequently watches Sentinels matches and invites famous Valorant personalities to his broadcasts.
However, despite their popularity, Sentinels are currently at risk of missing the VCT Americas playoffs as they sit in 7th place with a 2-3 record. Nevertheless, their performances continue to draw in viewers as they continue to be a must-watch team in the VCT.
READ MORE: Exclusive: NAts explains how to successfully lurk and anchor sites as Cypher