Valorant patch 4.10 may have been a relatively small update, but it may have also come with a shadow nerf to Raze.
The Raze nerf reduces the distance and height she can cover with her Blast Packs, while also removing all interactions between the Blast Pack and Boom Bot. This means that you can no longer make the Boom Bot jump by sticking a satchel to it.
It's not yet clear whether or not the changes were intentional on Riot Games' end. This would not be the first time that Raze has been inadvertently nerfed. In patch 4.05, the Mexican duelist was hit by a bug that increased the time she needed to re-equip her weapon after using Blast Pack.
Riot ended up disabling competitive queues in order to fix the issues.
---
---
The Raze nerf makes her satchels a lot less effective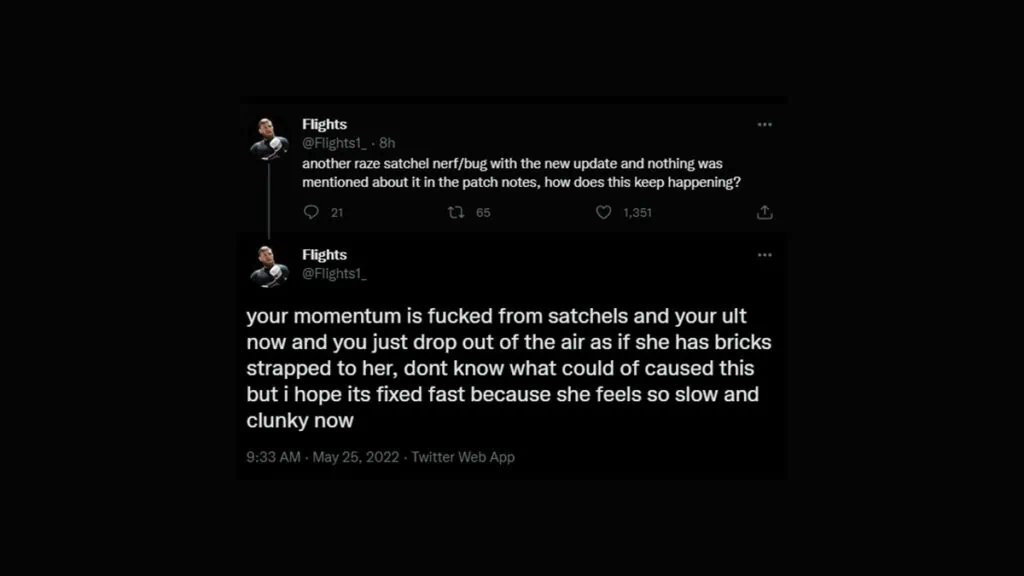 According to Connor "Flights" Dykes, a streamer who made a name for himself with incredible acrobatics on Raze, the agent's Blast Packs now have severely reduced momentum.
"You just drop out of the air as if she has bricks strapped to her," he said. "Don't know what could have caused this but I hope it's fixed fast because she feels so slow and clunky now."
---
---
Keyd Stars player Leonardo "mwzera" Serrati also decried the nerfs on Twitter, saying that Raze feels like she is being weighed down by "cement."
For instance, when standing on top of the A site generator, Raze used to be able to cover the distance of A Main on Ascent with her satchels. In the latest patch, she simply falls to the ground like a sack of bricks just short of A Lobby.
After shooting her Showstopper ultimate, she also drops almost instantly.
Since there is no mention of the changes in the patch notes, it appears likely that the nerf was unintentional just like the previous one back in March.
Riot has yet to acknowledge the issues, however, so it remains to be seen if or when a fix will be coming.
READ MORE: Team Liquid ScreaM: 'Maybe one day I'll go to NA to play with TenZ'