Go on an underwater adventure with Valorant's new Neptune skin bundle, inspired by the Roman god of the sea.
The nautical-themed collection goes live around the same time as patch 4.10, transporting players into the depths of the ocean to frolic with all manner of marine life.
Featuring skins for the Vandal, Spectre, Guardian, Shorty, and melee, the bundle also includes special visual and audio effects when firing. In addition, there are black and white variants of each weapon, so you can pick the one that you like best.
---
---
Make a splash with the Neptune skin bundle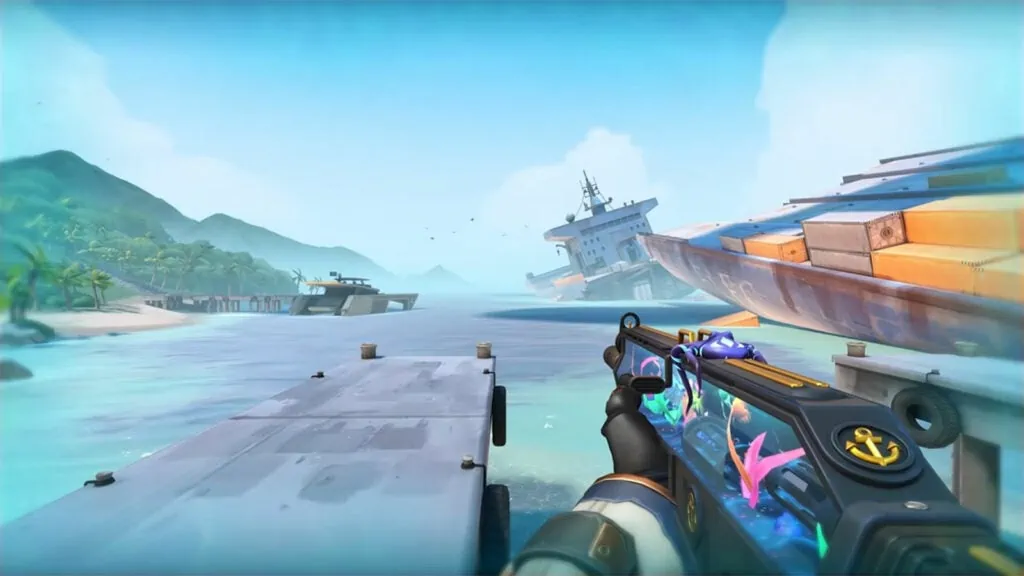 The most unique one of the lot is probably the melee skin. It takes the form of an anchor, except you're using it as a deadly axe. There is even a cute orange starfish attached to its flat side, adding a touch of whimsy to the entire collection.
Each weapon skin turns your gun into a miniature aquarium, where both the body and magazine are filled with water, live fish, and seaweed.
---
---
The skins are also adorned with ornate gold trimmings and finished with a gold or purple octopus splayed hilariously across their top. While the cephalopod is probably not Omen, it's an adorable nod to a popular fan theory and meme that insists that the controller really has eight legs.
The Neptune skin bundle isn't the first ocean-themed skin bundle to arrive in the game. The old Depths bundle painted your weapons over with images from the ocean floor, but it was otherwise fairly plain. The new collection is a huge upgrade over its predecessor with its unique effects and aquatic companions.
The Neptune collection also appears to be part of what Riot Games is calling "aquarium week," and the developer has teased new Ocean Song skins for select champions in League of Legends as well.
READ MORE: How OpTic Gaming used Yoru to dominate Ascent in VCT NA Stage 2