All hail the new kings.
Paper Rex became the inaugural VCT Pacific League champions when they defeated DRX 3-2 in the grand final.
The Singaporean esports team had to dig deep, pulling off an impressive reverse sweep to dethrone their Korean rivals.
PRX secured the grand prize, taking away US$100,000, and the top seed in VCT Pacific for Masters Tokyo, which will run from June 11 to 25.
The team's grand final victory was propelled by Ilya "something" Petrov, PRX's mid-season addition. He was awarded the match MVP for his 95/64/25 KDA series performance.
Both teams had previously faced off in the upper bracket final, where PRX took a decisive 2-0 victory. DRX made their way to the grand final after an intense 3-2 win over T1 in the lower bracket final. Here is what happened in their grand final slobber knocker.
---
---
Paper Rex's hyper-aggressive playstyle reigns supreme at VCT Pacific League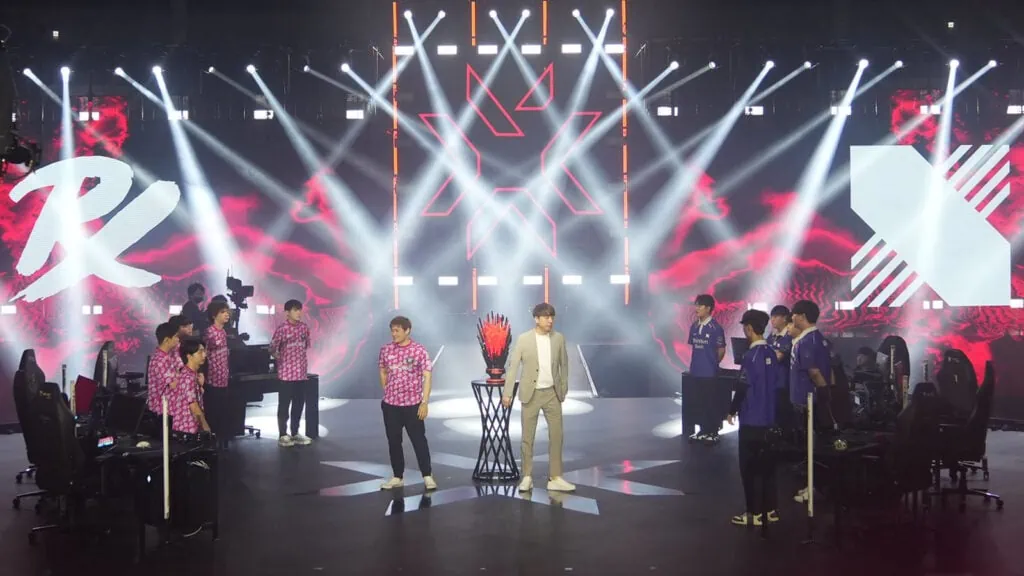 PRX suffered a convincing 13-6 loss on Fracture as DRX showcased their exceptional precision and tactical prowess, seizing a commanding 9-3 lead at halftime. DRX's Goo "Rb" Sang-min and Kim "stax" Gu-taek were well prepared for PRX's early-round aggression.
With Rb's Neon sprinting behind stax's Breach stuns, PRX were often caught out. Kim "Zest" Gi-seok sealed the victory for his team, halting PRX's attacker-side momentum. The returning DRX veteran denied Jason "f0rsakeN" Susanto's Neon from getting into crucial positions on the map and was instrumental in quelling PRX's advances.
PRX fell further behind after DRX won 16-14 on their map pick, Ascent. Zest, Rb, and Byung-chul "BuZz" Yu came in clutch for their team, winning pivotal rounds that led to DRX taking a commanding 2-0 lead in the series.
---
---
With their backs against the wall, PRX retaliated with an impressive 13-3 win in the third game of the series. They gained a sizeable advantage on Lotus, a map DRX has consistently vetoed throughout their VCT Pacific League run.
Securing impactful first-blood kills in the early rounds, this marked the start of their incredible grand final comeback.
PRX had great success when Wang "Jinggg" Jing Jie frequently denied DRX access to A rubble with Raze's Paint Shell grenade. This left DRX stranded on different parts of Lotus, which allowed PRX to pick them off easily.
---
---
PRX continued to gain momentum on the fourth map, Pearl. Despite benching their longtime in-game leader, Benedict "Benkai" Tan, PRX had some great mid-round calls that caused DRX's defense to unravel.
---
---
PRX had an 8-4 lead at halftime, and they didn't look back. Their momentum propelled them to an incredible 13-8 victory on Pearl that tied the series 2-2. Shoutcaster Seth "Achilios" King pointed out that it was also DRX's first-ever loss on Pearl.
---
---
PRX capitalized on their momentum going into Bind, the fifth and final map of the series. This time it was Khalish "d4v41" Rusyaidee who went ballistic at the start of the game. Playing Skye, d4v41 had a perfect 10 KDA in the first three rounds.
---
---
PRX didn't slow down, securing a 9-3 lead at halftime. They continued to shut down DRX's set plays with their calculated pushes spearheaded by something.
PRX opened the floodgates whenever they entered either site, and DRX had no answers for them. PRX claimed the VCT Pacific throne after winning 13-6 on Bind.
---
---
Paper Rex's monumental VCT Pacific run solidified their status as the best team in the region, and they will be a squad to look out for in Japan when all the top teams from the international leagues compete at Masters Tokyo.
READ MORE: Exclusive: How League of Legends esports is evolving in a post-Valorant world