It's not often you see Cypher played today. Since the introduction of Killjoy, the Morrocan sentinel has found himself gradually pushed out of the meta by power creep.
At Masters Copenhagen, he was picked just 2 percent of the time, only above Reyna and Phoenix who were not played at all.
However, a clever Trapwire setup can still halt opponents dead in their tracks, allowing you to eliminate enemies even when you're smoked off.
Against Edward Gaming in their Valorant Champions 2022 group stage opener, Paper Rex put Benedict "Benkai" Tan on Cypher, a pick that paid off handsomely on Haven.
---
---
This Cypher setup helps you lock down A site on Haven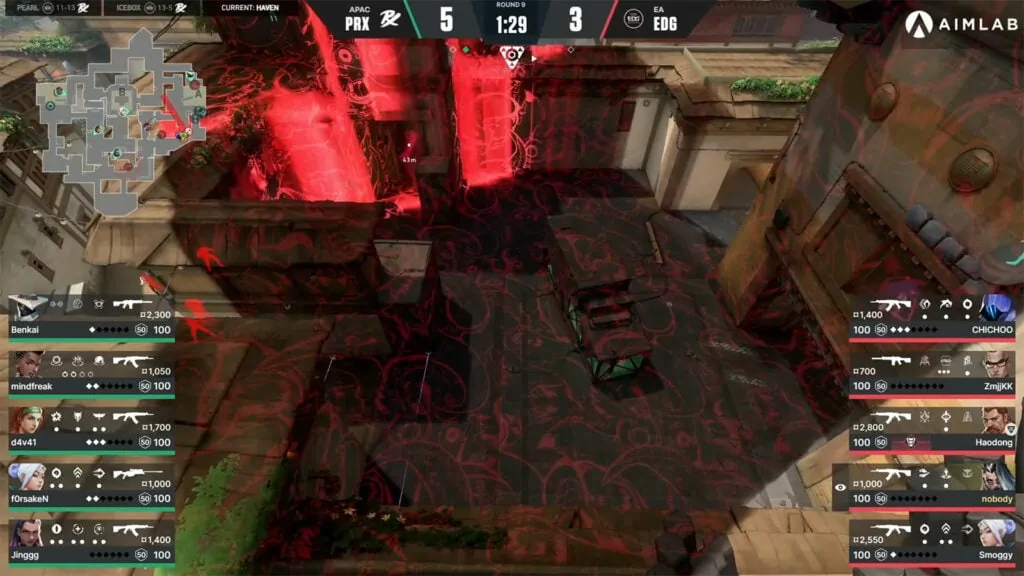 In Round 9, EDG went for a fast A push, clearing A Short with Fade's Prowler and then using her Nightfall ultimate on the site.
However, PRX had seemingly anticipated this, leaving the site completely open so they were not caught out. As EDG rushed onto the empty site, they were tripped up by Benkai's double Trapwires at A Long.
Despite being smoked off in A Heaven, the PRX in-game leader found two quick kills through the smoke, taking down Zheng "ZmjjKK" Yong Kang and Guo "Haodong" Hao Dong, whose locations had been revealed by the Trapwires.
The double Trapwires acted as an insurance policy of sorts — even if one were destroyed, the other would catch opponents off guard.
---
---
Left in a 3v5 situation, EDG managed to get the spike down, but Benkai's Cypher continued to harass them.
His Spycam tucked under the eaves of the roof on site tagged EDG's Omen, providing Wang "Jinggg" Jing Jie with the information as he flanked EDG. The Spycam had been there all this while, but the PRX player did not activate it until his team was actively going for the retake.
If opponents get past your Trapwires, you can also use the Spycam to tag anyone who is planting at the front of site.
---
---
Finally, a Cyber Cage cut off any opponents who might be hiding at Short from the rest of their team, further helping his team isolate duels.
Paper Rex went on to take the map 13-8 and the series 2-1. They will play Leviatán on September 2 at 1:00 a.m. GMT+8 | September 1, 10:00 a.m. PT | September 1, 5:00 p.m. GMT. The match will be broadcast live on the official Valorant Twitch and YouTube channels.
READ MORE: PRX vs EDG Champions 2022 opener smashes Copenhagen grand final peak viewership