Cypher is slowly creeping back into the Valorant meta, following the heavy nerf to French sentinel Chamber and buffs to the length of Cypher's Trapwires.
A clever Trapwire setup can halt opponents dead in their tracks, allowing you to eliminate enemies even when you're smoked off. His trips can also stop Jett dead in her tracks, even when she is dashing, a potent counter to the most-picked duelist in the game.
Against Edward Gaming in their Valorant Champions 2022 group stage opener, Paper Rex's Benedict "Benkai" Tan showed off a Cypher setup on Haven's A site that all Cypher mains will want to pay attention to.
---
---
This Cypher setup helps you lock down A site on Haven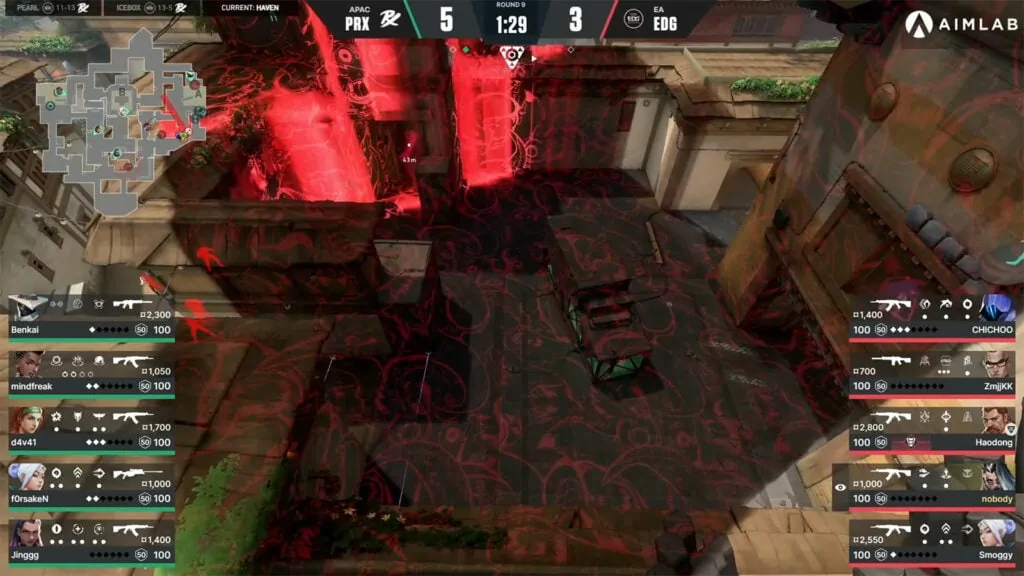 Instead of placing his traps separately to cover more areas, Benkai set up his traps next to each other at A Main. The double Trapwires act as an insurance policy of sorts — even if one were destroyed, the other would catch opponents off guard.
You'll want to play from Heaven to maximize this setup, where you'll have a better chance of finding an easy kill, even when you're smoked off.
The PRX in-game leader found two quick kills in this manner, taking down Zheng "ZmjjKK" Yong Kang and Guo "Haodong" Hao Dong.
---
---
If opponents get past your Trapwires, you can also use the Spycam to tag anyone who is planting at the front of site.
While EDG still managed to get the spike down, Benkai's Cypher was able to continue to harass them.
His Spycam tucked under the eaves of the roof on site tagged EDG's Omen, providing Wang "Jinggg" Jing Jie with the information as he flanked EDG.
The Spycam had been there all this while, but the PRX player did not activate it until his team was actively going for the retake so it would not be destroyed. Similarly, you should save your Spycam for retake situations so your team can better capitalize on the information it provides.
---
---
Finally, a Cyber Cage at Short can cut off any opponents who might be holding from that angle, further helping your team isolate duels and defuse the spike.
As an added bonus, you'll also know if someone pushes into your Cyber Cage.
READ MORE: Improve your Valorant warm-up routine with TenZ's unique Aim Lab task