Lee "k1Ng" Seung-won, the esteemed controller for Gen.G, had a fortuitous meeting that propelled his journey into professional gaming.
His professional Valorant journey began with Vision Strikers, now DRX, in 2020. They quickly made an impact in the Korean Valorant scene, securing victories in Stage 1 and 3 of the VCT 2021 Korean Challengers.
They also qualified for the esteemed VCT 2021 Stage 3 Masters in Berlin and Valorant Champions in 2021, but fell below their own expectations, placing 5th to 8th and 9th to 12th in the two competitions respectively.
Now with Gen.G for the franchised VCT Pacific league, k1Ng tells ONE Esports his pro player origin story, one that goes back to a time before Vision Strikers.
---
---
k1Ng's career trajectory underwent a monumental change sparked by a single conversation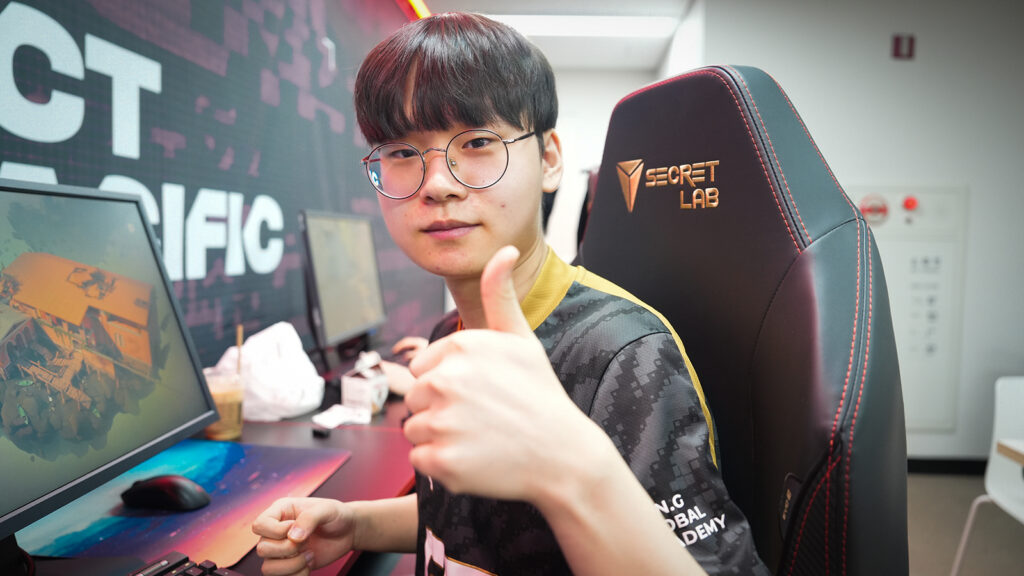 K1Ng's initial gaming venture started in third grade, when most kids his age were engrossed in cartoons or playground games. His chosen game was Counter-Strike Online, distributed by Nexon, a Korean gaming publisher that acquired distribution rights from Valve.
"I played CS until grade 6 and then kind of stopped. But when I was about to graduate middle school, I overheard some classmates discussing Counter-Strike," k1Ng recalled. Intrigued, he approached them and they introduced him to CS:GO on Steam, reigniting his gaming passion.
"Without overhearing this conversation, I don't think I would be where I am right now," he reflected.
This serendipitous interaction rekindled his enthusiasm for Counter-Strike. Soon, k1Ng was back, more committed and focused on his gameplay. As he refined his skills and built a reputation in the tight-knit Korean Counter-Strike community, DRX head coach, Seon-ho "termi" Pyeon, took notice, which marked a significant turning point in his journey.
"I don't think I was approached because I was good, I was approached because there were just not enough CS players in Korea," he said, with a touch of humor.
His CS:GO team, MVP PK, achieved a 5th to 8th placing in eXTREMESLAND CS:GO Asia 2019 and 7th to 8th in ESL Pro League Season 10 Asia.
And around the same time, Riot Games announced their first first-person shooter game, Project A, currently known as Valorant.
k1Ng's teammate, Kim "stax" Gu-taek, was the first person to discover this new and upcoming game. "Stax was the first one to say, 'Hey, Riot is making a Counter-Strike type of game'," he recalled. "He constantly gave us up-to-date information about the project and kept on showing beta footage of the game."
As this was happening, the CS:GO team were facing challenges of their own. After failing to qualify for ESL One: Rio 2020 via the Asia Minor Championship Rio 2020: East Asian Closed Qualifier, they were uncertain about their future. After some convincing, "we were all just like, 'let's move on to Valorant'," said k1Ng.
And thus, Vision Strikers was born, where most of their CS players moved over, including the likes of stax, Goo "Rb" Sang-min, Kim "glow" Min-soo, and Pyeo "termi" Seon-ho. They had an impressive debut at the Asian Training Tour Invitational, dominating the tournament, losing only one map. The competition had several renowned Asian esports organizations, including EDward Gaming, Royal Never Give Up, and LGD Gaming.
In 2021, he was loaned to the eSportsConnected team, and to On Sla2ers in 2022 after Vision Strikers rebranded to DRX, and was ultimately released in June 2022. In October 2022, Gen.G announced its Valorant roster, with k1Ng as their controller where they're now competing in the VCT Pacific League as one of the franchised teams.
Follow ONE Esports on Facebook and Twitter for more Valorant interviews.
READ MORE: Exclusive: Why Overwatch's DPS GOAT chose not to be a duelist in Valorant — T1 Carpe shares his truth