Tyson "TenZ" Ngo and Kyedae "Kyedae" Shymko just showed why they are everyone's favorite power couple in Valorant.
After the story of how the father of a 15-year-old streamer threw her PC in the pool went viral, the couple reached out on Twitter and offered to gift her a new one.
Narwhal's story was made even more heartbreaking by the fact that she had supposedly bought the PC using money earned from her own YouTube channel, which currently has over 97,000 subscribers. A video posted by Narwhal four years ago has currently racked up over 43 million views, which is likely where the majority of her revenue came from.
---
---
Dad throws Narwhal FPS' streaming PC in the pool in a fit of rage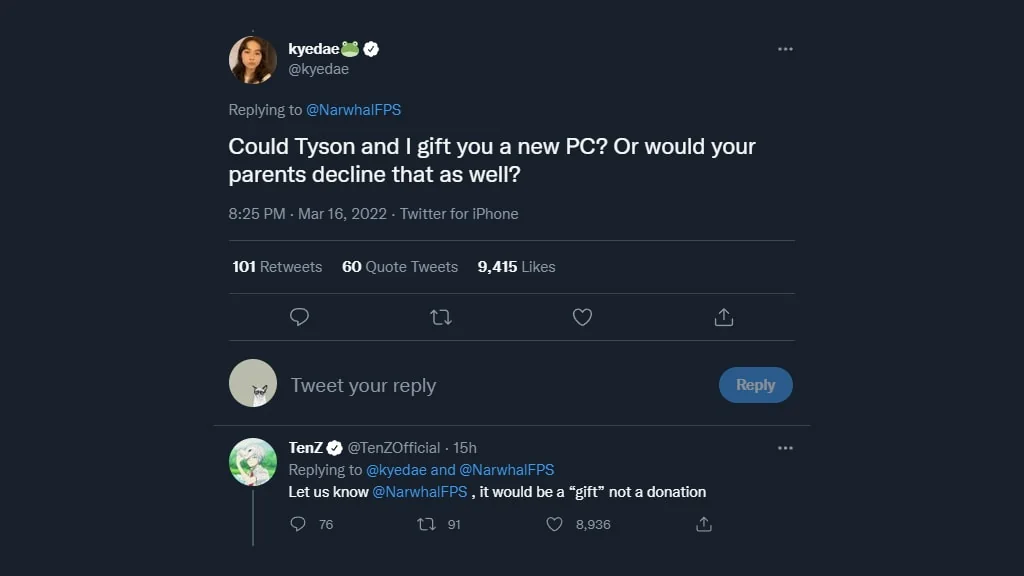 The 15-year-old is something of a Rubik's cube maven, with multiple videos on her channel showing off her skills. On top of that, she's also an insane Valorant player who peaked at Immortal 3 in Episode 4 Act I. Her channel also hosts several highlight reels from her games, where some very, very crispy aim is on full display.
Unfortunately, she landed on the wrong side of her father's ire a couple of days ago. To sum things up, Narwhal was in an argument with her sister, which eventually frustrated her father to the point where he ended up throwing her entire PC into the pool.
The community has rallied behind her with multiple messages of support, ideas on how to salvage the PC, as well as offers of donations. In a voice message providing updates on the situation, Narwhal said that she didn't think her parents would allow her to accept any donations or money.
"I also don't want to take anyone's money because I feel like it's my problem in life to deal with. You guys can just use it for your [own] benefit," she added.
However, TenZ and Kyedae have since offered to give her a new PC, clarifying that this would be a "gift" and not a donation.
Narwhal FPS has yet to respond to the offer and it's unclear whether she will accept. Nevertheless, it's heartening to see the streaming couple step in to help a smaller content creator continue to pursue their passion.
Previously, Kyedae had said that she wanted to give away 10 PCs to an internet cafe in the Philippines.
READ MORE: How Bazzi powered On Sla2ers to the top of VCT Korea