Valorant caster Sean Gares is stepping away from broadcast talent positions, he revealed in a tweet on Tuesday. Instead, the former CS:GO pro will be looking to get more involved in the competitive scene, raising the exciting prospect that we might end up seeing him in a coaching position.
The move appeared to have been prompted by Riot's decision to leave him out of the talent roster for Stage 1 Masters in Iceland.
Sean and Daniel "ddk" Kapadia are one of the most popular casting duos in Valorant, and fans appeared saddened by the news. In a stream after his announcement, the caster went into more detail about his decision to leave the casting desk and what's next for him.
---
---
The opportunities just weren't there with casting, says Sean Gares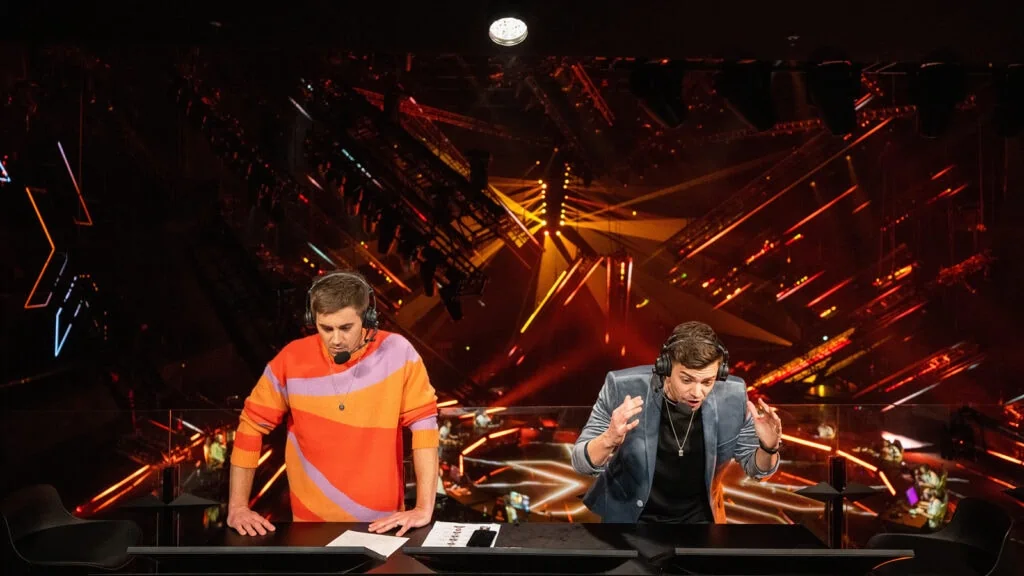 Sean is best known for his time as a CS:GO player and in-game leader on Cloud9. Since 2020, he has been heavily involved in Valorant and has worked in several tournaments as both an analyst and caster. However, he apparently didn't make the cut for the upcoming Masters event in Reykjavík.
"Several days ago I received heartbreaking news that I didn't make the talent cut for Masters 1 in Reykjavík. After receiving the news, I've decided to focus on getting more involved in the competitive scene, and will no longer be accepting broadcast talent positions," he tweeted.
On a recent stream, he shed more light on the decision, saying that casting as a career lacked consistency and the necessary exposure for talent. "Unfortunately, it just seemed like as time went on with casting, the opportunities weren't there," he explained.
"I gladly accepted a pay cut this year and I would have worked Iceland for free. That's what I told Riot. It's about exposure and job security. It's very important for broadcast talent to get consistent exposure."
On Riot's end, Sean suggested that certain organizational issues currently prevent opportunities from going to the most deserving talents.
"It's why I said it was heartbreaking to not get invited because unfortunately, Riot doesn't understand that there needs to be meritocracy in casting," he shared, although he later clarified that this was in no way the fault of the people working at the company.
---
Sean Gares could be stepping into a coaching role next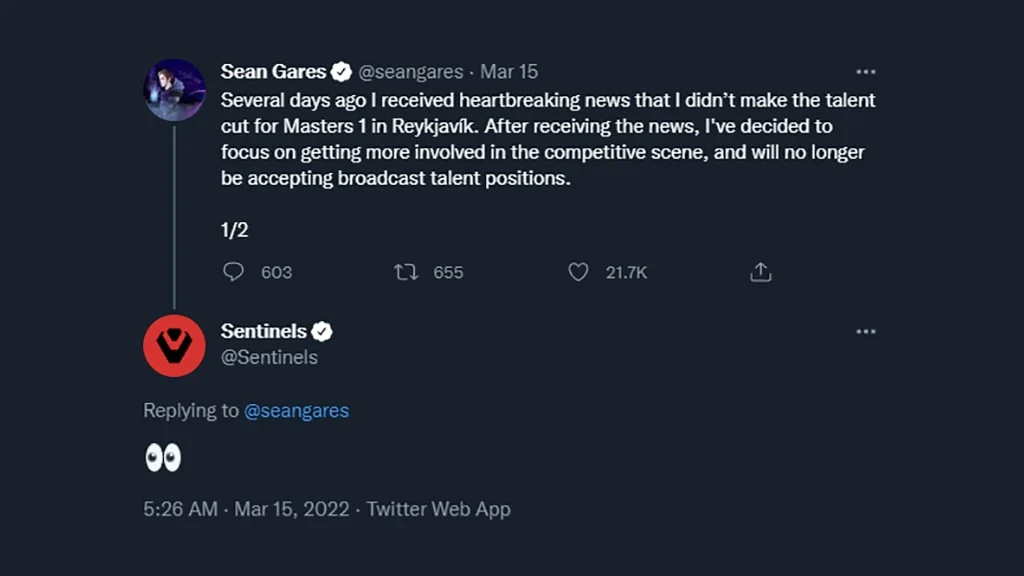 While Sean didn't specify what was next for him, he did hint that he already has a new role lined up.
"I'm going to go into my next role with my all. I'm not going to look back. What's next? A really, really cool thing," he said.
The community was quick to point out that Sean would be a great fit as the coach of Sentinels, after the departure of Shane "Rawkus" Flaherty. With a reputation as one of the most astute tactical minds in CS:GO, Sean could bring some much-needed structure to a team that has often been criticized for not being strategic enough.
Shahzeb "ShahZaM" Khan has already confirmed that Sentinels have their eye set on an unnamed coach who they hope to lock in before the VCT NA Stage 1 Challengers playoffs start on March 17.
He responded to Sean's tweet with a photo of himself, Sean, and Hunter "SicK" Mims on stage, from when they were part of the same Misfits CS:GO roster, perhaps hinting at a possible reunion.
Fans immediately jumped enthusiastically on the tweet, saying that this was the Sentinels coach signing they wanted to see.
READ MORE: VCT Korea Stage 1 Challengers Playoffs: Schedule, results, teams, where to watch