Masters Tokyo unveiled a plethora of captivating narratives. While Fnatic's dominant performance took center stage, one particular story shone even brighter.
Patiphan "CigaretteS" Posri, also known as CGRS, entered Masters Tokyo as a new name on the international stage. Paper Rex announced that he would be the team's stand-in player after they benched their long-time IGL Benedict "Benkai" Tan before the tournament.
CGRS then got the chance to compete on Valorant's global stage when PRX's Russian player, Ilya "something" Petrov, faced visa problems that prevented his participation in the tournament.
In an exclusive interview with ONE Esports, CGRS revealed that he entered Masters Tokyo with minimal practice, making the team's remarkable third-place finish at the event even more extraordinary.
---
---
Paper Rex CGRS shares his Masters Tokyo experience and what it special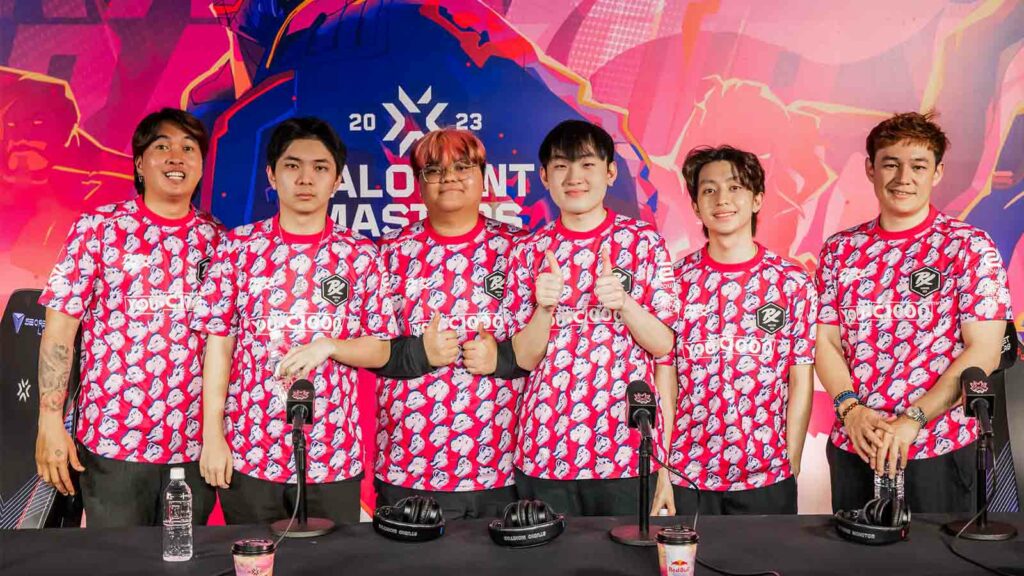 Following PRX's triumphant 3-2 victory against DRX in the VCT Pacific League grand final, CigaretteS received the news that he would step in for something.
The Thai pro said he was "secretly shocked" that he was given an opportunity to participate in one of the year's most significant Valorant tournaments. CGRS also knew he had big shoes to fill at the tournament.
"There was pressure because something was the VCT Pacific League grand final MVP, and it was tough for me to actually play," he said. "I was afraid I wouldn't perform well enough because he's really good.
"I didn't practice much while we were preparing, and I mostly just watched," he continued. "I would sit at the back when they practiced."
Something was pivotal in PRX's success in the VCT Pacific League. Since the Russian star joined PRX's starting lineup, they went on an impressive seven-match winning streak to win the Pacific League trophy.
CGRS shared that he received valuable guidance from PRX's coach, Alexandre "alecks" Sallé, in the buildup to the tournament. The team's success was attributed to CGRS's open-minded approach, which put all the players at ease.
CGRS had his sights set on PRX's opening match at Masters Tokyo, which pitted them against their Pacific League rivals, DRX.
"DRX was a team we often faced, and we didn't often win against them," he said. PRX won the upper bracket quarterfinals match 2-0 against DRX, but they fell to the lower bracket after losing to Fnatic 2-0 in the next match.
PRX continued their journey with two consecutive victories in the lower bracket. They secured a 2-1 win against Edward Gaming in the quarterfinals and replicated the result against NRG Esports in the semifinals.
He achieved a significant clutch win in overtime, contributing to PRX's triumphant 15-13 victory over NRG in the map Pearl.
---
---
PRX's remarkable journey at Masters Tokyo concluded with a hard-fought 3-2 loss to Evil Geniuses in the lower bracket final.
Reflecting on the experience, CGRS shared, "Everything exceeded my expectations from the moment we beat DRX and kept advancing. It's a memory that will stay with me forever."
Acknowledging the team effort, he added, "I have to give credit to my teammates for being so skilled."
Describing the team dynamics, CGRS expressed, "I don't know how other teams are, but Paper Rex has a relaxed atmosphere. Playing with a team that has this atmosphere, even if we play poorly, we still play. It's fun for me. I'm glad to be here. We may not win in actual matches, but it's a heavy lesson."
Follow ONE Esports on Instagram and TikTok for more Valorant exclusives.
READ MORE: Exclusive: The new Paper Rex Secretlab chair is so fire, we would gladly pay for one