The 100 Thieves roster recently ranked the best North American squads in their Valorant team tier list for the VCT 2022 season. The members of the team rated their competitors on January 29, 2022 while VCT NA Stage 1 Challengers Open Qualifiers 1 was still ongoing.
The newly formed squad that's set to debut in the upcoming Group Stage evaluated each team based on recent performances and roster changes during the offseason.
After making last-minute edits, the team unanimously agreed that Team Envy is the top-ranked team in North America. Here's how they ranked each team.
100 Thieves's North American Valorant team tier list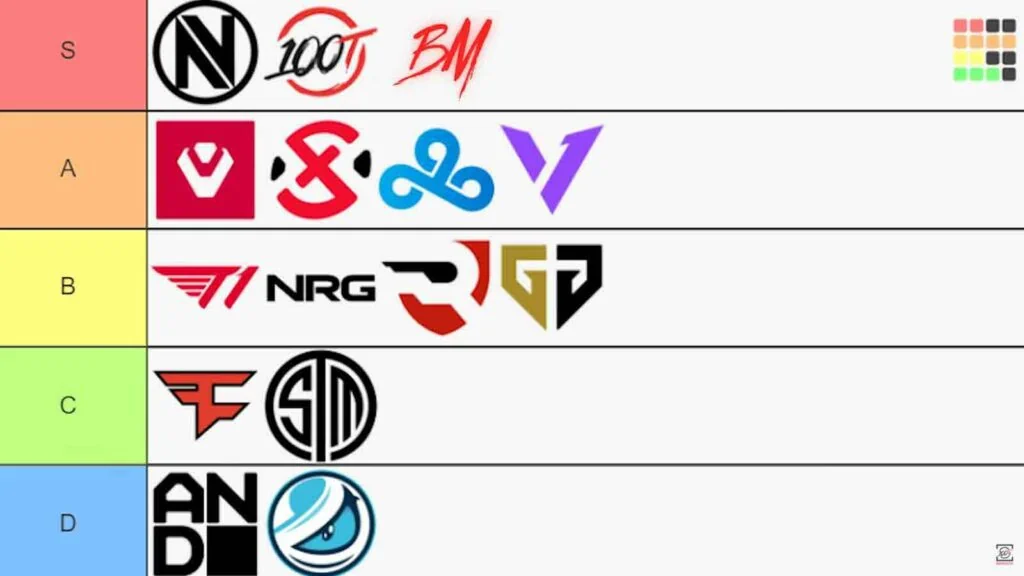 S-tier
TEAMS
Team Envy
100 Thieves
Border Monsters
A-tier
TEAMS
Sentinels
XSET
Cloud9
Version1
B-tier
TEAMS
T1
NRG
Rise
Gen.G Esports
C-tier
D-tier
TEAMS
Andbox
Luminosity Gaming
100T's Adam "ec1s" Eccles and Martin "Hiko" Spencer decided to place Sentinels in A-tier for their lack of practice and scrim sessions during the offseason.
The group then agreed that Team Envy deserved to be in S-tier for beating 100T in practice. They also teased that Border Monsters, a Latin American Valorant squad, deserved to be in S-tier for an incredible play on Fracture.
---
---
TSM was initially placed in D-tier for their struggles in the first VCT NA Stage 1 Challengers Open Qualifiers. Ethan Arnold decided to move TSM to C-tier, explaining that they shouldn't be ranked at the bottom just because they'd had a bad day.
XSET, Cloud9, and Version1 were placed in A-tier, joining Sentinels as the top-tier teams in North America. T1, NRG, Rise, and Gen.G Esports eventually found their way into B-tier after 100T made further changes to the Valorant team tier list.
Hiko, Ethan, and Peter "Asuna" Mazuryk initially placed themselves in D-tier, until ec1s moved 100 Thieves up to S-tier.
Of the 15 teams that were placed on their tier list, nine made it into the VCT NA Stage 1 Challengers Group Stage where 12 teams will be competing in round-robin best-of-three matches. The top four teams will then advance to the playoffs.
Make sure to follow ONE Esports on Facebook for more Valorant news, guides, tips, and highlights.
READ MORE: Sinatraa on the new Yoru rework: 'It's actually terrible'