Impunity KH's dream run remains alive after the Cambodian squad once again defied the odds, this time defeating MPL SG S1 champions EVOS SG to advance to the next round of the lower bracket playoffs at the Mobile Legends: Bang Bang Southeast Asia Cup (MSC 2021).
It was a dominant win for the Cambodian squad, but Oppi in particular stood as one of the best players in the series with his insane Benedetta performance in the first game.
Impunity KH's dream run is all thanks to Oppi's performance on Benedetta
The Impunity KH offlaner has shown that he has complete mastery of one of the most difficult heroes to play in the Land of Dawn, getting an unbelievable 14/2/6 KDA and dealt 112,974 damage in the game.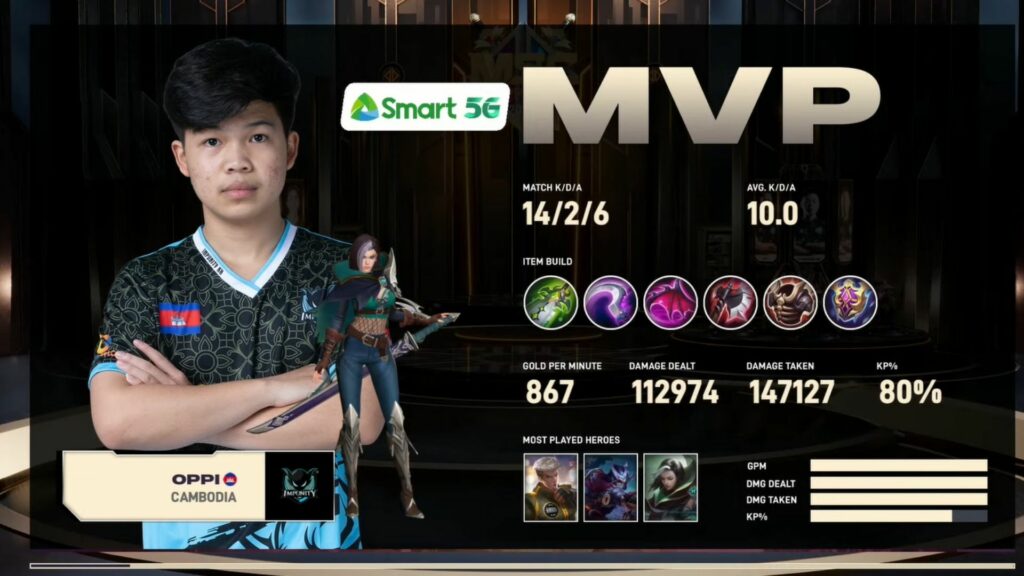 In the drafting phase, Impunity KH knew they had to deny giving EVOS SG Stefan "Soul" Chong Ru Chyi his signature Benedetta pick therefore locking it first.
The pick wasn't immediately effective as Oppi faced the combined early game pressure of EVOS SG's Jawhead and Eudora combo, starting off with two deaths at the second-minute mark.
After the rough start, Benedetta quickly gained momentum thanks to a few pickoffs. Tyyy's Mathilda and Senpai's Luo Yi were crucial to Oppi's success, as their crowd control skills paved way for Benedetta to wreak havoc in every team fight.
---
---
Impunity KH sealed the deal at the 15-minute mark after wiping out all members of EVOS SG in the Lord pit despite the latter getting the last hit on the Lord buff. The blue and white squad ran it down mid and ended the game on a 25-14 kill score lead.
With the momentum in their favor, Impunity KH then swept the reigning Singaporean champion as they went on to win the second game as well in a nail-biter.
Impunity KH will now face Execration on the second day of the playoffs on Saturday, June 12 to determine who gets to advance in the lower bracket final.
READ MORE: MSC 2021: Results, schedule, format, prize pool, participating teams