It was an emotional scene at the LCK Summer 2022 finals. Gen.G had finally overcome their demons to defeat T1 3-0 for the championship title, the first-ever domestic win for four of their players.
As the players left their booth, mid laner Jeong "Chovy" Ji-hoon was all smiles. Bot laner Park "Ruler" Jae-hyuk let his feelings go, and took a moment to squat by the LCK trophy, while support Son "Lehends" Si-woo shed tears of joy as he followed his teammates onto centerstage.
During the broadcast interview with caster Jeon "Jun" Yong-jun, the newly-crowned LCK champions shared their thoughts on what this championship win meant to them and what went on behind the scenes as they prepared for their rematch with T1 in the grand final.
---
---
Chovy, Ruler, Lehends, and Doran win their very first domestic title at the LCK Summer 2022 finals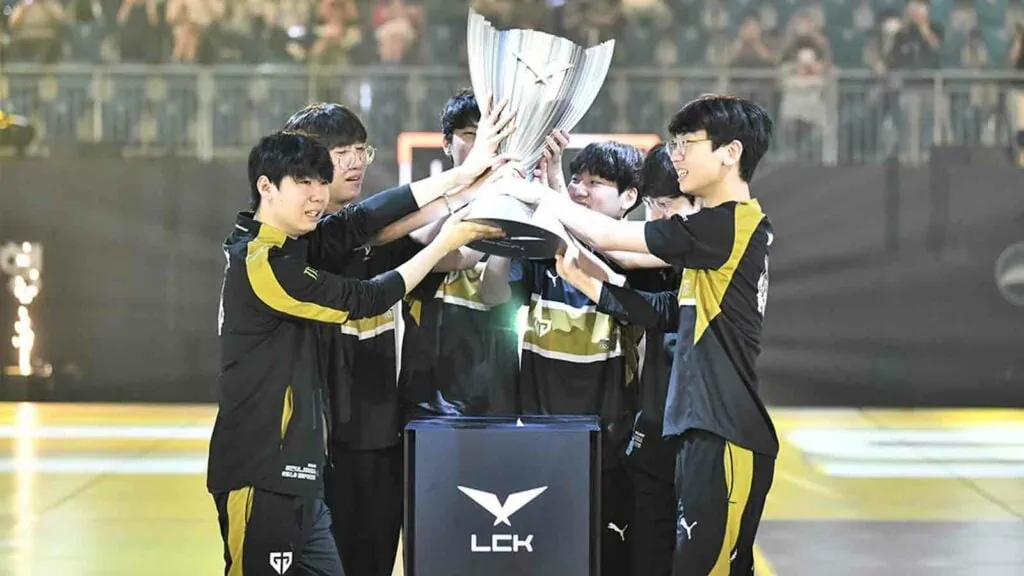 For Ruler, who has been competing in the LCK since 2016 and won Worlds in 2017, this is his first domestic title. He believed that their chances of winning against T1 this time around were "high."
For former Griffin players Lehends, Chovy, and Choi "Doran" Hyeon-joon, who reached the LCK finals multiple times since Summer 2018, it's been four years in the making.
Griffin, who was led by head coach Kim "cvMax" Dae-ho, came so close on so many occasions, losing 3-2 to KT Rolster at the LCK 2018 Summer finals, and SK Telecom T1 twice in the LCK 2019 Spring and Summer finals.
Knowing how close Chovy had come over the past years, Caster Jun asked the star mid laner how it felt to finally touch the trophy for the first time ever.
"I'm so happy that I'm finally standing here," he replied. "And finally, I'm no longer the "forever second" kind of player."
Junger Han "Peanut" Wang-ho has been competing in the LCK since Spring 2018, and had previously won multiple LCK titles with different teams: ROX Tigers, SK Telecom T1, and Kingzone DragonX. Once a young rookie, he is now one of the oldest members on the Gen.G squad.
"I was the youngest when I won LCK in the past. I was led by other older players and they helped me so much," he shared with caster Jun. "I was able to do a good job for the team based on that experience."
When asked about what advice he gave to his fellow Gen.G players before the series, Peanut replied, "Let's take this opportunity one more time and never miss out again!"
---
---
Even though Gen.G swept T1 in the best-of-five series, games one and three were close. Neither team managed to surmount a significant gold lead in the early game, and so much of it was decided when Gen.G managed to outplay their rivals in team fights around Dragon and Baron.
Gen.G and T1 are qualified to Worlds 2022, which will run from September 29 to November 5.
Follow ONE Esports on Facebook and Twitter for more LoL news, guides, and highlights.
READ MORE: New tournament ASCI with LPL, LCK academy teams to be held before Worlds 2022