Fredit BRION have forfeited their match against Gen.G scheduled for tomorrow, the LCK announced today.
The team was forced to call up emergency substitutes, for their entire main roster tested positive for COVID-19 last week. The substitute roster lost 0-2 to T1 on Sunday.
The league explained in the announcement that two of the org's emergency players have tested positive for COVID-19, as well, and it cannot field a team as a result.
Amidst an ongoing COVID-19 outbreak in South Korea, teams have been forced to use substitutes when their players and coaches test positive for the coronavirus. However, this is the first time this split that a team was forced to forfeit a series.
Currently, the team is in 5th place in the LCK Spring 2022 season and are still in contention to reach the playoffs.
---
---
Fredit BRION forfeits match against Gen.G as emergency players tested positive for COVID-19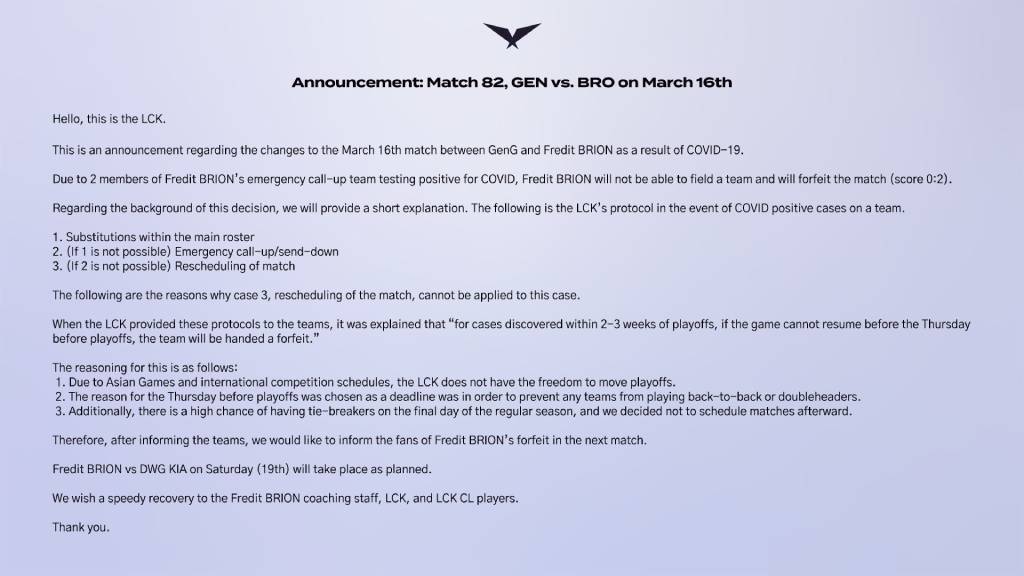 LCK explained on Twitter the protocol it follows when a team has COVID-19 cases:
Substitutions within the main roster
(If 1 is not possible) Emergency call-up/send-down
(If 2 is not possible) Rescheduling of match
Right now, rescheduling the match is not possible because of the Asian Games and the Mid-Season Invitational, the league said. It also wanted to prevent a scenario where teams would play back-to-back or double headers.
Lastly, the league decided not to schedule the match on the last day of the regular season due to a "high chance" of tiebreakers.
As a result, the team had to forfeit the match as they do not have enough players. Gen.G, their opponents, will count as having won 2-0.
The LCK is currently held offline at LoL Park, and currently has no plans to schedule or facilitate online matches. Catch the league live on their Twitch stream.
READ MORE: Faker is exasperated at the state of the Korean solo queue ladder