With only a few days left until May 10, the stage is almost set for the League of Legends Mid-Season Invitational (MSI) 2022.
The international tournament will be held in the heart of Busan, South Korea, where 11 teams of the world's best teams will compete for the MSI championship title.
Preparations are already well underway, and Riot Games Korea has put together a special setup for onsite attendees that looks set to delight even the most ardent fans.
---
---
Busan goes all out with adorable T1 and Faker standees by the beach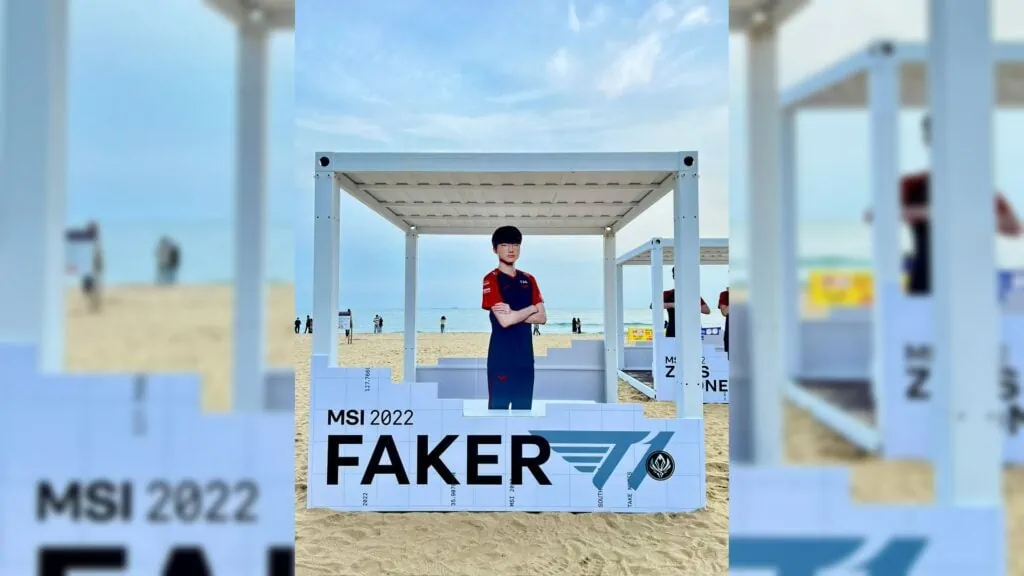 As the host country for this year's MSI, Riot Games Korea has gone all out with life-sized standees of its tournament representatives, T1, along the sandy shores of Busan.
Cardboard cutouts of all five T1 players can be spotted in the middle of the beach, each featuring a unique wacky pose.
The Unkillable Demon King, Lee "Faker" Sang-hyeok, stands out from the pack with his arms crossed and a serious expression printed on his face. Clearly, he's here to win and not to play.
Faker is also the only one to get his own booth, while his teammates are paired up in two other booths.
The tournament's white and teal logo is displayed prominently beside the standees, so League of Legends players and tourists can take photos and selfies while having some fun in the sun.
Korea-based fans can visit this adorable setup at Haeundae Beach, which is just a six-minute train ride or seven-minute walk from the MSI 2022 venue at the Bexco Exhibition Hall.
With MSI 2022 set to be the first League of Legends event to host a live audience since Worlds 2019, the beach looks all set to receive the legions of fans as they arrive in Busan.
MSI will start on May 10 at 1 a.m. PT | 8 a.m. GMT | 4 p.m. GMT+8 with Saigon Buffalo Esports facing off against T1.
READ MORE: Tyler1 will play on world's hardest LoL server in attempt to reach Challenger