The time is now for DRX Deft to prove himself against the greatest of all time.
DRX will face fellow LCK team T1 in the Worlds 2022 final this weekend. Aside from the two squads hailing from the same region, there's quite a history between their star veterans, Kim "Deft" Hyuk-kyu and Lee "Faker" Sang-hyeok.
During the Worlds 2022 Media Day held at Chorus Hall in San Francisco, the DRX bot laner elaborated on his longstanding rivalry with the three-time world champion, and what it means to face him on the biggest League of Legends stage.
---
---
DRX Deft opens up about his longstanding rivalry with Faker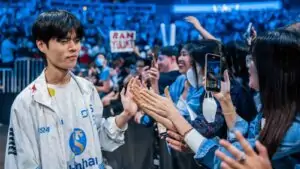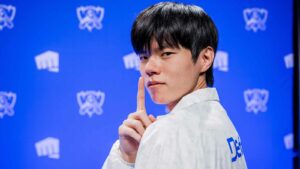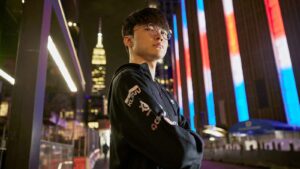 The two Korean players actually attended the same high school, Mapo High School, and began their pro careers around the same time in 2013.
Almost a decade later, Faker has secured three world championships while Deft is still on his quest to get his first. The AD carry touched on the longtime rivalry, admitting that he trailed behind as Faker ascended to esports greatness.
"There was never a chance for me to catch up and close the gap, but this final is a great opportunity to get my revenge on Faker," said DRX Deft.
This will be Deft's first time attending a Worlds final in seven appearances. The DRX squad exceeded expectations throughout the Knockout Stage by eliminating reigning champions Edward Gaming and becoming the first Play-In team in history to advance to the final.
Aside from having a talented roster and great performances, Deft believes that this iteration of DRX saw the most success because they went through thick and thin to gain experience and tenacity together.
The DRX bot laner faced former teammates during the Knockout Stage, such as EDG's Tian "Meiko" Ye and Gen.G's Jeong "Chovy" Ji-hoon. In the final, he will go against former DRX support and teammate Ryu "Keria" Min-seok.
When asked about the coincidence, he replied, "I wouldn't be where I'm at right now if it wasn't for those teammates so I'll say thank you. Now that I've beaten so many of them, I'm going to beat the remaining former teammate [Keria] and win Worlds."
DRX will face T1 in the Worlds final on November 5, 5 p.m. PT | November 6, 12 a.m. GMT | 8 a.m. GMT+8.
Follow ONE Esports on Facebook and Twitter for more LoL news, guides, and highlights.
READ MORE: DRX BeryL says he's a 'diehard collector' in Genshin Impact, shares anime watchlist