It's week two of the LPL Summer 2022 and JD Gaming are starting the season strong, nabbing their third straight win against 2021 World Champions Edward Gaming, with Bai "369" Jia-Hao getting a pentakill in game one.
JDG defeated LPL Spring runner-ups Top Esports in week one, and LGD Gaming 2-1 in week two. In their second game this week, their form improved further, surprising LPL fans with a 2-0 sweep of EDG.
In a tight game that saw EDG hold a narrow gold lead, JDG turned the tide in the late game and completely demolished their opponents on the back of 369's signature Gangplank.
---
---
JD Gaming's 369 rolls five 9s to secure first pentakill of LPL Summer 2022 regular season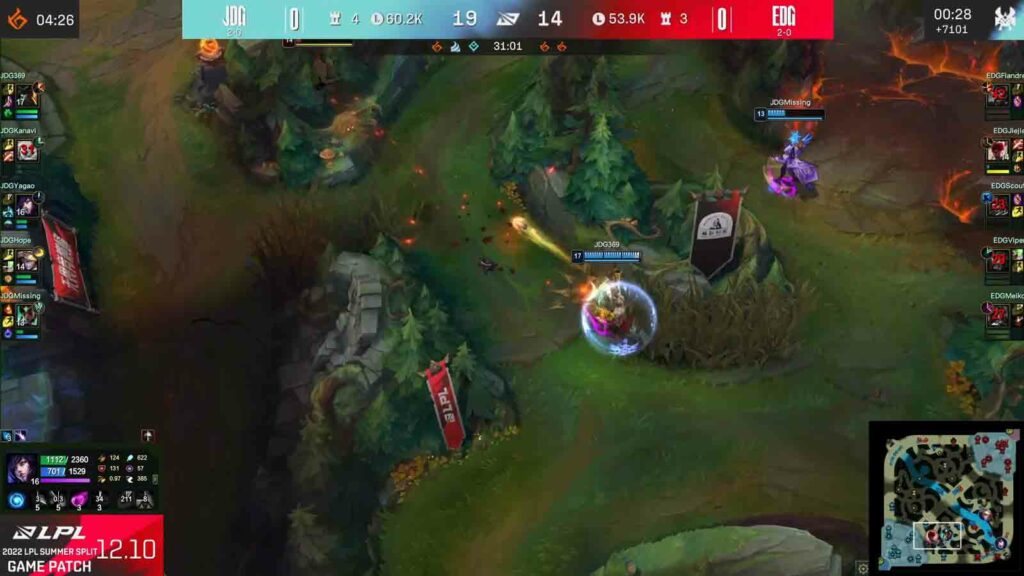 The two Worlds 2022 contenders kept things competitive starting from the draft. JD Gaming on blue side were forced to blind pick for their top laner, and settled on comfort champion Gangplank for 369. In response, Edward Gaming last picked Graves for Li "Flandre" Xuan-Jun, whom he owns a World Championship skin on.
Together with Lee Sin, Lissandra, Kalista, and Renata Glasc, EDG had more crowd control tools to work with compared to JDG's team composition, which exceled in disengage and peel.
Trailing by about 2,000 gold in the mid game, JDG turned things around when Seo "Kanavi" Jin-hyeok jumped in to steal Baron from right under EDG's noses. Trading two for an ace and Baron buff, JDG finally seized the gold lead and more importantly, tempo.
Two minutes after, Infernal Dragon spawned, which was an important objective to contest because JDG were at Soul Point. Even though Kanavi could not steal it, JDG had enough in their arsenal to punish EDG once more.
After picking off Lissandra, 369 and Zeng "Yagao" Qi wrapped around the tri, cutting off EDG's escape route. From a double barrel into a critical hit Parrrley that eliminated Tian "Meiko" Ye at one third HP, and two more Parrrleys, 369 rolled nine multiple times this fight to score the first pentakill in the 2022 LPL Summer Split.
---
---
Extending their gold lead to 12,000, JDG concluded game one with minimal mistakes. On Gangplank once again, 369 dealt the most damage (29,073) in game two to lead his team to a series victory.
JD Gaming will take on Oh My God on June 20 at 5 p.m. GMT+8. Catch the matches live daily on the official LPL Twitch and YouTube channels.
READ MORE: How to play Lucian and Nami bot lane: A masterclass by JD Gaming