The opening day of the LCK Summer Split 2022 saw an incredible performance from DRX Zeka on the Shuriman mid lane champion, Azir.
After dominating the first game, DRX was on the back foot in game two, after Nongshim RedForce got ahead in the bot lane. Looking to turn things around, the DRX squad prioritized team fights around Baron and Drakes where mid laner Kim "Zeka" Geon-woo could shine with Azir's signature shuffle and ultimate, Emperor's Divide.
---
DRX Zeka and Kingen pull off an incredible wombo combo with Azir and Ornn
Things were finally looking up for DRX after they ambushed and eliminated Gwak "Bdd" Bo-seong's Corki at the 21-minute mark. Gaining the 4v5 man advantage, Zeka and the boys made their way to Baron.
Spotting the remaining NS players in the river, DRX pulled away from Baron and engaged on their opponents. Hwang "Kingen" Seong-hoon's Ornn started things off with Call of the Forge God, flashing into the incoming ram to quickly knock up Nongshim's bot lane duo.
Working off the Forge God knock-up, Zeka utilized an elaborate Shifting Sands and Conquering Sands flash combo to cut off the retreating members, and then pushed them back with Emperor's Divide.
As the rest of DRX took out the sandwiched players, Zeka and Azir's Sand Soldiers ganged up on Kim "Canna" Chang-dong's Sion for the double kill. DRX walked away from the skirmish with a 1,000+ gold lead and the Baron buff.
---
---
---
DRX wins the final fight with the help of Emperor's Divide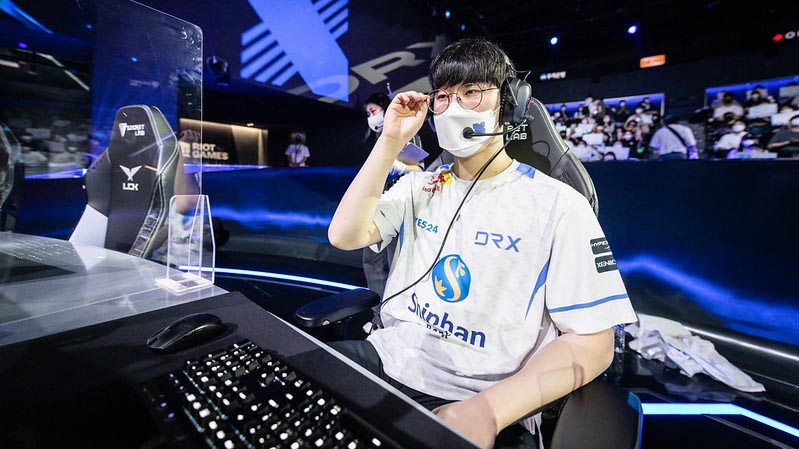 DRX Zeka had another highlight play on Azir at the tail end of the game. After his squad claimed the Infernal Soul, Nongshim RedForce was looking to punish them in the river.
When NS rallied behind Sion's Unstoppable Onslaught engage, Zeka, positioned behind the wall of the Drake pit in fog of war, used the Azir shuffle to reach their back line and take out Bdd's Corki with Emperor's Divide.
With Nongshim's main damage dealer now dead, DRX hunted down three more players and stormed the enemy base to claim the first 2-0 series of the LCK Summer Split 2022.
---
---
DRX now holds a 1-0 match record and will face Fredit BRION on June 18 at 8 p.m. GMT+9 | 7 p.m. GMT+8 | 11 a.m. GMT | 4 a.m. PT.
Fans can watch the LCK Summer Split 2022 on the official English and Korean Twitch LCK channels.
Follow ONE Esports on Facebook and Twitter for more LoL news, guides, and highlights.
READ MORE: DRX Deft: 'When I saw Samsung Galaxy go to Worlds and win, I was very jealous'