There are two types of Genshin Impact players in this world — the casual players and the competitive ones.
Casual players are those that enjoy wishing for characters based on designs and lore, regardless of their skill sets. They are also the ones that are likely to take pleasure in more relaxed, easy game modes like picture-taking or wind glider events.
On the other hand, competitive players are those that prioritize skills over design. These are travelers who spend tons of hours in the game farming only the best artifact sets and getting the best weapons for their characters. With a firm grasp of the meta, these players go hard in the Spiral Abyss, a special domain where travelers can put their combat skills to the ultimate test.
Unfortunately, for hardworking Spiral Abyss players, HoYoverse has no plans on creating a similar, permanent game mode as revealed by the developers in a recent interview.
---
---
HoYoverse reveals Genshin Impact gameplay plans about the Spiral Abyss, Resin, and more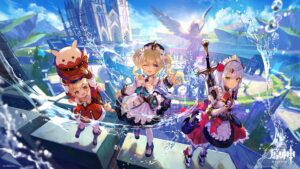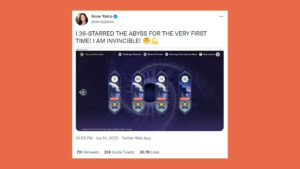 If you're looking for further permanent combat content in Genshin Impact other than the Spiral Abyss, don't get your hopes up.
"If we design another type of permanent endgame that is similar to the Spiral Abyss, it might end up creating excessive anxiety for our players," the Chinese video game company said in an interview with GameSpot. "Not everyone is interested in Musk Reef."
The team is working on "designing other more interesting gameplay in the future," like their upcoming card game Genius Invokation.
HoYoverse also talked about its gradual character expansion, which might ultimately lead to potential skillset imbalance in the future, stating that "(the) rules of gameplay (are more impactful) than how strong a character is." Travelers shouldn't just look at the numbers that a character solely deals with, but consider new playing environments and team builds that can further amplify their strength as well.
With this in mind, the devs will be focusing on balancing gameplay rules in the long run.
"With easy and open rules, given some time, players will come to discover their own ways of developing builds," the developers said in the GameSpot interview. "That is the fun of this game."
It also seems that the current maximum Original Resin, capped at 160, won't be increasing anytime soon despite Teyvat's continuous expansion. HoYoverse assured players that they are constantly providing players ways to obtain ascension and level-up materials other than Resin farming.
Players should also look forward to other optimizations such as "beginner tutorial adjustments, client capacity optimization, and intelligent management of past content."
As for the much-requested outfits for the traveler twins, Aether and Lumine, the developers don't have any plans at the moment but are open to new ideas.
Read the full Genshin Impact GameSpot interview here.
---
Follow ONE Esports on Facebook for more Genshin news, guides, and highlights.
READ MORE: HoYofest Singapore 2022 made me feel like we were dining outside Cat's Tail