It's not every day that you get to crush the heart of a Genshin player with a single press of a button.
I had the opportunity of attending HoYoFEST 2022, HoYoverse's themed cafe event, at the Moon Rabbit Cafe & Restaurant in San Juan, Metro Manila.
As my first ever fan cafe experience, HoYoFEST 2022 definitely exceeded my expectations. At the entrance of the venue, the large HoYoFEST sign and Collei and Zhongli cutouts caught my attention. Once inside, the place looked like a Genshin dream, filled with beautiful posters, standees, and merch. I even got to pose with the four Archons while holding the End of the Line bow.
But the most unforgettable moment at HoYoFEST 2022 was when a timid fan approached our table for a tiny favor: Make a ten-pull at 50/50 on her account.
---
---
I took the blame for someone's 50/50 pull at HoYoFEST 2022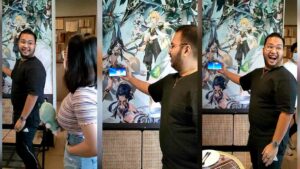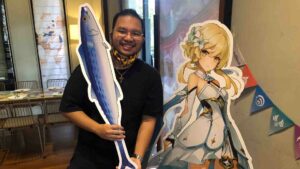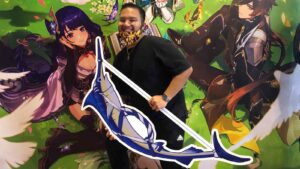 I was feeling pretty pumped after eating Jueyun Chili Chicken and Mushroom Chicken Skewers so I accepted the request.
The person was scared about losing the 50/50 so I did my best to get the gacha gods on our side. Since she was looking to bag Cyno just minutes after his release, I found the nearest Cyno poster to pull right in front of.
After a little chat with the fellow Genshin player, she gave me her phone to do the deed. I honestly thought that it was going to take a few rolls, but once I clicked the 10x Wish button, the golden meteor already came crashing down.
Hopes were high as I looked back at the owner gripping her Xiao plushie. My fellow editor Kristine was already hyping things up with a banshee-like screech that could be heard from the other side of the restaurant.
As the pulls popped up, it only took one more click to reveal the 5-star character in the bunch. Our hearts sank when we learned that it was not the Akademiya scholar from the Great Red Sand, but the one and only Qiqi.
The girl was a good sport, thanking me for my efforts. I can see why she wanted someone else to roll. Now all the blame and frustration is on me for not doing enough Cyno rituals.
If you're planning to roll for either Cyno or Venti, I suggest doing it at HoYoFEST 2022 so you can share the thrilling gacha experience with other Genshin players.
To the stranger that approached me, I'm still very sorry.
You can check out the entire reaction down below:
---
---
Follow ONE Esports on Facebook and Twitter for more Genshin news, guides, and stories.
READ MORE: HoYoFEST Philippines 2022 delivers a C6, 5-star fan café experience