Rainbow Six Mobile is coming to smartphones and tablets later this year, packaging the methodical, tactical firefights of Rainbow Six Siege into a free-to-play mobile version.
The game will adapt the core gameplay of Rainbow Six Siege for mobile devices, with the same 5v5 matches and maps such as Border and Bank. Players will also have access to a variety of game modes, including Bomb and Secure Area.
Rainbow Six Mobile joins a slew of other popular first-person shooters that are coming to mobile, such as Apex Legends, Valorant, Battlefield, and Call of Duty: Warzone.
---
---
Rainbow Six Mobile is designed from the ground up for mobile devices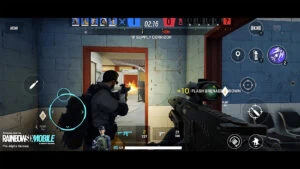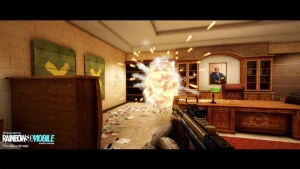 Rainbow Six Mobile is more than just a mobile port of Siege. It has been rebuilt from the ground up with mobile usability in mind, featuring an entirely new gameplay control system developed specifically for mobile and an optimized UI and in-game visuals.
It is intended to be a "representation of the entire Rainbow Six brand", according to Creative Director Justin Swan. It may start off looking a lot like Siege, but the developers expect that it will eventually carve out a unique niche for itself.
While the action may have been streamlined for mobile, the gameplay still allows for the same tactical depth that the franchise has come to be known for. This means smashing holes through destructible walls or reinforcing them, weapon customization and loadouts for Operators, and a myriad gadgets to deploy.
The developers worked with the Siege team to identify the most popular Operators and decide which ones would create the most interesting meta on mobile. At least 10 Operators are confirmed for launch, including familiar faces like Ash, Hibana, Sledge, Thermite, Bandit, and Mute.
Other changes include a longer time-to-kill, in order to make the game more forgiving. It takes about 50 percent longer to down an enemy in Rainbow Six Mobile compared to Siege. On top of that, weapon recoil has been reduced as well to further improve accessibility and help the game appeal to a more casual mobile audience.
Aim Assist has been added too, so Rainbow Six Mobile will not require pixel-perfect precision in aiming. "It's about the strategy, and the tactics, and the thinking," explained Swan.
"We want to try to get the difficulty of the actions out of the way as much as possible, so I can spend my time, my effort and energy, thinking about how I play the game."
Rainbow Six Mobile is coming to both iOS and Android devices, complete with crossplay support. A release date has yet to be announced by Ubisoft, although it is expected to be sometime this year.
Live testing is slated to begin soon and players can register on Ubisoft's website for a chance to play the game before launch.
READ MORE: JGOD's best Armaguerra 43 class setup absolutely melts in Warzone