In this week's episode of Gamer's Paradise, we're turning our attention to what is probably the biggest rivalry in Mobile Legends: Bang Bang.
Who would win if all-star dream teams from Indonesia and the Phillippines faced off in an epic showdown?
MPL PH caster Dan "Leo" Cubangay returned to The Pulse to put together his championship-winning roster, where he faced off against MPL ID analyst Brydon "Arashi" Maslimta.
The episode also features Blacklist International's young duo of Kiel "OHEB" Calvin Soriano and Edward "EDWARD" Jay Dapadap on Hero Story, who take viewers behind the scenes of how they got their start in esports.
---
---
Gamer's Paradise Episode 2 pits Indonesia and the Philippines against one another
Arashi was given first dibs, selecting a roster that included players from Aura Fire, RRQ Hoshi, and Onic Esports:
Regi "Fluffy" Marviola (EXP Laner)
Albert "Alberttt" Neilsen Iskandar (Jungle)
Adriand "Drian" Larsen Wong (Mid Laner)
Calvin "Vynnn" (Roamer)
Calvin "CW" Winata (Gold Laner)
Meanwhile, Leo went with the following players:
Edward "EDWARD" Jay Dapadap (EXP Laner)
Danerie James "Wise" Del Rosario (Jungle)
Jonmar "OhMyV33NUS" Villaluna (Mid Laner)
Salic "Hadji" Alauya Imam (Roamer)
Kiel "OHEB'" Calvin Soriano (Gold Laner)
Arashi acknowledged that the Philippines has an edge in terms of flexibility and coming up with unique strategies, but Indonesia is on top in terms of execution now, according to him.
"Once they adapt to the new strats, they've got it in the bag," he said.
Leo wasn't about to take that lying down. "Blacklist International wasn't playing in the recent season. They weren't complete," he said, referring to OhMyV33NUS and Wise's decision to sit out MPL PH Season 9.
"If you watched MLBB for the better part of 2021, Blacklist owned the world," he added. "The Philippines owned the world of MLBB esports."
Their accolades speak for themselves, Leo said, which is why the Blacklist dream team will easily handle Arashi's fantasy roster.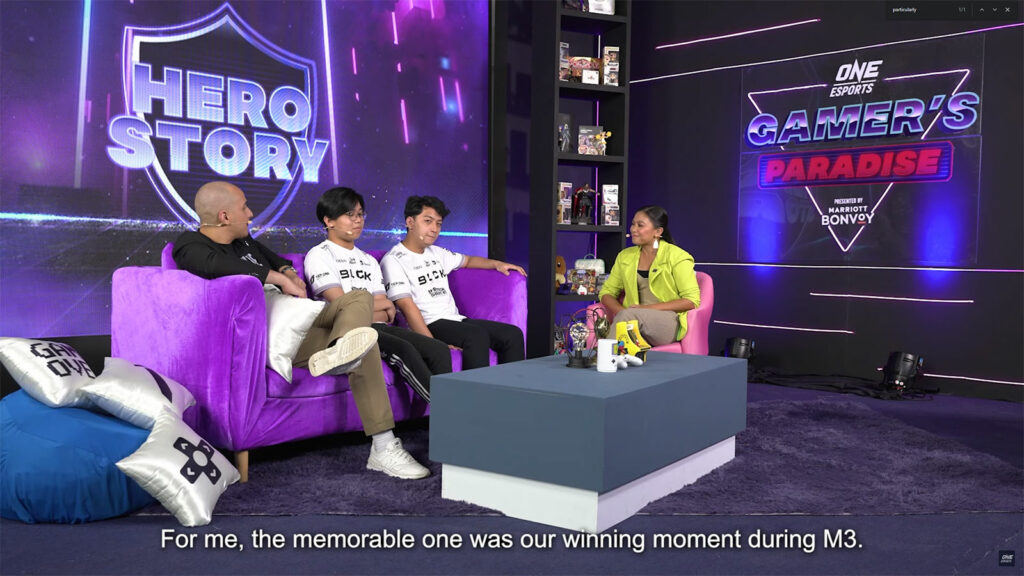 OHEB and EDWARD, two of Leo's picks, would eventually get to tell their own story on Hero Story, which shines the spotlight on the esports figures making history today.
EDWARD never expected to go pro in the first place. "When I was still in school, I got a message from a pro team's captain," he said. "They recognized my potential because I would always play in mini tournaments."
The then 15-year-old was by far the best player at those tournaments, he shyly admitted, and he was asked to join the team's bootcamp in Manila.
On OHEB's end, gaming has been in his blood since he was a mere toddler. He was already playing PC games at just six years old, and was eventually introduced to MLBB.
"At first, I was just having fun with my friends, until I became more competitive," he said. "And then I saw myself getting better at playing. I kept on grinding until I became part of an amateur team."
Eventually, OHEB found his way onto the leaderboards and was scouted by Blacklist International.
The reigning M3 champions have worked incredibly hard to get where they are today. The duo trains eight to 10 hours a day, with a one-hour break every four games.
To aspiring pros, OHEB says that they need to have patience. Don't stop and just keep on playing, he said. It's also important to be humble and be able to admit your mistakes, EDWARD added, both particularly important qualities when playing on a team.
Gamer's Paradise airs every Monday on ONE Esports' social channels, including Facebook, Twitch, YouTube, and AfreecaTV at 8.30 p.m. GMT+8.
READ MORE: Zeys' tweet may have revealed who the next Filipino import is at MPL ID Season 10