Today, The International remains the single largest esports tournament, with the total prize pot running into the tens of millions of dollars.
Love it or hate it, Dota 2 played a pioneering role in esports as we know it today, helping lead the way for esports winnings.
Gamer's Paradise Episode 9 takes a deep dive into one of the most intricate MOBA games still played today, asking the most important question everyone wants to know: Which are the best Dota 2 heroes to gain MMR on?
---
---
Gamer's Paradise Episode 9 puts Dota 2 front and center
---
---
On The Pulse segment, casters John "johnxfire" Nathan Fernandez and Caisam "Wolf" Nopueto attempted to answer the question.
Unsurprisingly, the two came up with completely different heroes.
| | | |
| --- | --- | --- |
| ROLE | JOHNXFIRE | WOLF |
| Safelane | Gyrocopter | Juggernaut |
| Midlane | Zeus | Templar Assassin |
| Offlane | Underlord | Pangolier |
| Soft support | Shadow Demon | Grimstroke |
| Hard support | Ogre Magi | Vengeful Spirit |
Despite extensive debate, they could ultimately not agree on the best hero to climb. While johnxfire appeared to favor heroes for their simplicity of mechanics, Wolf was partial toward those that offered greater versatility and flexibility.
The episode then pivoted to Hero Story, featuring Malaysian Dota 2 pro turned BOOM Esports coach Chai "Mushi" Yee Fung, one of the most accomplished players in the Southeast Asian region.
With a long career dating back to 2011, Mushi has had the opportunity to play with many legends in the scene. But one player that has stuck with him was Chinese player Xu "BurNIng" Zhilei, known as one of the most experienced carry players in the world.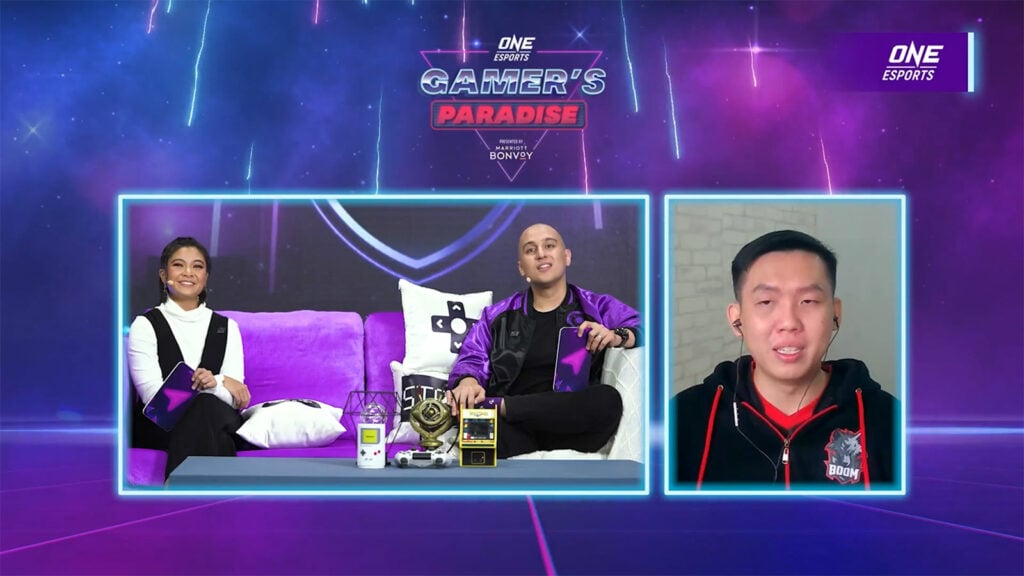 "In one of the tournaments we played, he played nine different heroes and won the entire thing," he said. "So amazing."
However, he's now got his eye on Tundra Esports' Leon "Nine" Kirilin and BOOM Esports' Erin "Yopaj" Ferrer. "I really love watching how the new players play mid," he said.
The episode wrapped up with all guests taking part in a one-of-a-kind game of Pictionary involving in-game Dota 2 items. If you thought Pictionary was hard already, try drawing Voodoo Mask.
Gamer's Paradise airs every Monday on ONE Esports' social channels, including Facebook, Twitch, YouTube, and AfreecaTV at 8.30 p.m. GMT+8.
READ MORE: Watch Nisha's Void Spirit go in deep for a kill — and pull out just in time