The VCT 2022 tournament circuit was split into two phases: Stage 1 and 2. Both stages feature regional Challengers and international Masters LAN events, where teams compete to earn VCT points.
But at the end of the day, it all comes down to Champions. Valorant Champions 2022 will feature a total of 16 teams, comprising 10 who qualify by accruing enough circuit points during the regular season and another six from Last Chance Qualifiers held in August.
Here are the complete circuit point standings for the top Valorant teams in the ongoing Valorant Champions Tour 2022 season.
---
---
VCT 2022 circuit point standings for all teams and regions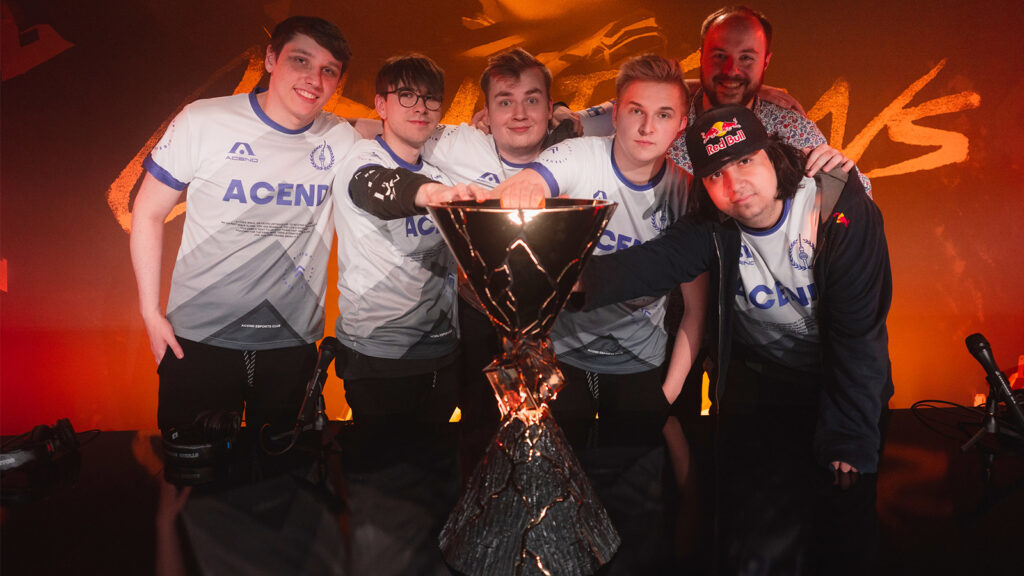 (Last updated on June 14)
North America VCT standings
| | | |
| --- | --- | --- |
| RANK | TEAM | POINTS |
| 1st | OpTic Gaming | 1,250 |
| 2nd | XSET | 295 |
| 3rd | The Guard | 220 |
| 4th | FaZe Clan | 75 |
| 5th | Cloud9 | 70 |
| 5th | Luminosity Gaming | 70 |
| 5th | NRG | 70 |
| 8th | 100 Thieves | 60 |
| 9th | Evil Geniuses | 55 |
| 10th | Sentinels | 45 |
| 11th | Ghost Gaming | 35 |
| 11th | Version1 | 35 |
| 13th | Knights | 30 |
| 14th | TSM | 15 |
EMEA (Europe, Middle East, and Africa) VCT standings
| | | |
| --- | --- | --- |
| RANK | TEAM | POINTS |
| 1st | FunPlus Phoenix | 1,200 |
| 2nd | Fnatic | 525 |
| 3rd | G2 Esports | 305 |
| 4th | Guild Esports | 300 |
| 5th | Team Liquid | 265 |
| 6th | M3 Champions | 125 |
| 7th | Acend | 105 |
| 8th | BBL Esports | 100 |
| 9th | Natus Vincere | 90 |
| 10th | OG LDN UTD | 85 |
| 11th | BIG | 75 |
| 12th | FOKUS | 40 |
| 13th | SuperMassive Blaze | 35 |
APAC (Asia-Pacific) VCT standings
| | | |
| --- | --- | --- |
| RANK | TEAM | POINTS |
| 1st | Paper Rex | 1,050 |
| 2nd | Xerxia Esports | 300 |
| 3rd | Bleed eSports | 110 |
| 4th | ONICC Esports | 100 |
| 5th | BOOM Esports | 95 |
| 6th | Made in Thailand | 75 |
| 6th | Team Secret | 75 |
| 8th | Fancy United Esports | 70 |
| 8th | Griffin E-Sports | 70 |
| 10th | CERBERUS Esports | 65 |
| 11th | Alter Ego | 55 |
| 11th | Global Esports | 55 |
| 13th | FULL SENSE | 45 |
| 13th | Persija Esports | 45 |
| 13th | Team Big BAAM | 45 |
| 16th | Gaimin Gladiators | 40 |
| 16th | ORDER | 40 |
| 16th | Rex Regum Qeon | 40 |
| 16th | South Built Esports | 40 |
| 20th | FW ESPORTS | 35 |
| 20th | Oasis Gaming | 35 |
Korea VCT standings
| | | |
| --- | --- | --- |
| RANK | TEAM | POINTS |
| 1st | DRX | 550 |
| 2nd | Maru Gaming | 115 |
| 3rd | DAMWON Gaming | 110 |
| 4th | On Sla2ers | 100 |
| 5th | World Game Star | 95 |
| 6th | HolyMolly | 50 |
| 7th | Spear Gaming | 45 |
| 8th | CNJ Esports | 35 |
| 9th | Tartarus | 30 |
| 9th | Team T5 | 30 |
| 11th | Desperado | 25 |
Japan VCT standings
| | | |
| --- | --- | --- |
| RANK | TEAM | POINTS |
| 1st | Zeta Division | 475 |
| 2nd | Northeption | 240 |
| 3rd | Crazy Raccoon | 120 |
| 4rd | REJECT | 95 |
| 5th | FAV gaming | 90 |
| 6th | IGZIST | 50 |
| 7th | Blue Bees | 45 |
| 8th | Jadeite | 40 |
| 8th | Sengoku Gaming | 40 |
| 10th | Crest Gaming Zst | 35 |
| 10th | Reignite | 35 |
Brazil VCT standings
| | | |
| --- | --- | --- |
| RANK | TEAM | POINTS |
| 1st | LOUD | 650 |
| 2nd | Ninjas in Pyjamas | 225 |
| 3rd | Keyd Stars (Vivo Keyd) | 115 |
| 4th | FURIA Esports | 90 |
| 5th | TBK Esports | 80 |
| 6th | Gamelanders Blue | 75 |
| 6th | Stars Horizon | 75 |
| 8th | Liberty | 70 |
| 9th | Los Grandes | 45 |
| 9th | MIBR | 45 |
Latin America VCT standings
| | | |
| --- | --- | --- |
| RANK | TEAM | POINTS |
| 1st | Leviatán | 355 |
| 2nd | KRU Esports | 325 |
| 3rd | FUSION | 110 |
| 4th | E-Xolos LAZER | 105 |
| 5th | 9z Team | 70 |
| 6th | Six Karma | 60 |
| 7th | Optix | 50 |
| 8th | Infinity | 40 |
| 8th | Team Cruelty | 40 |
| 10th | Pampas | 20 |
| 11th | Border Monsters | 15 |
READ MORE: All teams qualified for VCT APAC Stage 2 Challengers