Newly acquired Korean esports organization DRX Vision Strikers (VS) and Kim "Lakia" Jong-min have mutually agreed to part ways for the upcoming VCT 2022 season, it announced on Twitter.
Lakia was part of Vision Strikers' six-man roster strategy that had him sidelined for most of the international VCT competitions towards the end of the 2021 season.
---
Lakia moved to DRX Vision Strikers inactive roster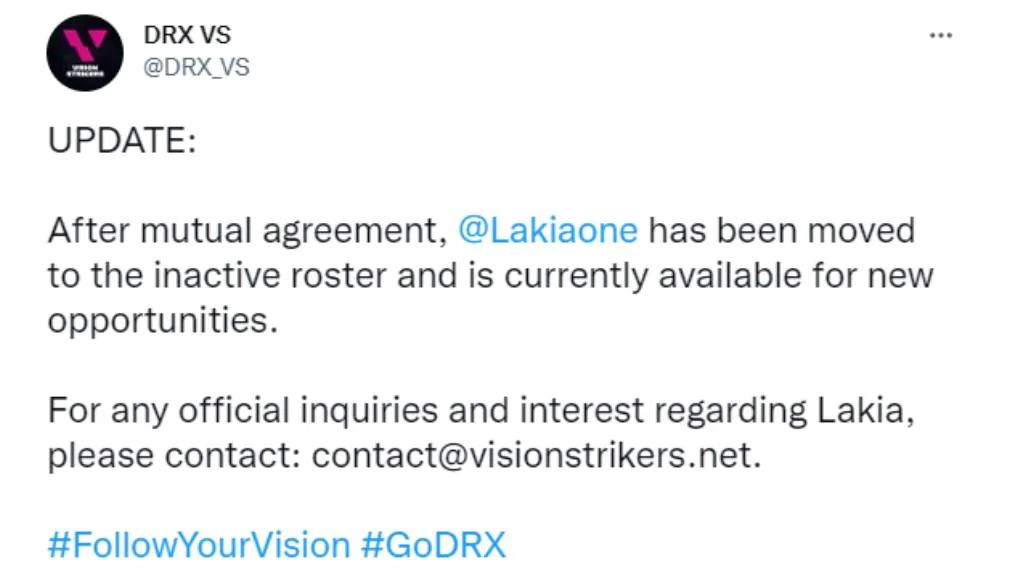 Lakia rejoined Vision Strikers on July 2, 2021, after he left NUTURN Gaming right before the VCT Korea Stage 3 Challengers tournament.
After joining the team, VS played the rest of the 2021 season with its six-man roster with Lakia and Lee "k1Ng" Seung-won swapping out for each other depending on which map was going to be played.
The six-man roster strategy worked well in the Korean region as VS qualified for Masters Berlin by defeating F4Q in the VCT Korea Stage 3 Challengers Playoffs.
---
---
Vision Strikers' unique strategy showed great promise at Masters Berlin as they defeated Paper Rex and Acend in the group stage 2-0.
VS would finish in 5th-8th place after being eliminated by Gambit Esports in the quarterfinal, 2-1. 
The Korean squad struggled to produce similar results during Valorant Champions 2021, where they finished 9th-12th place. Vision Strikers' VCT 2021 season came to an end after suffering defeats at the hands of Fnatic and Cloud9 in the group stage.
VS took the opportunity to rework its lineup during the Valorant Champions Tour's offseason. They decided to loan k1ng to ESports Connected and welcomed back Kim "zest" Gi-seok to its roster after his prolonged leave of absence due to health issues.
After Vision Strikers was acquired by Korean esports organization DRX on January 7, 2022, the team announced the decision to move Lakia to its inactive roster.
DRX Vision Strikers Valorant roster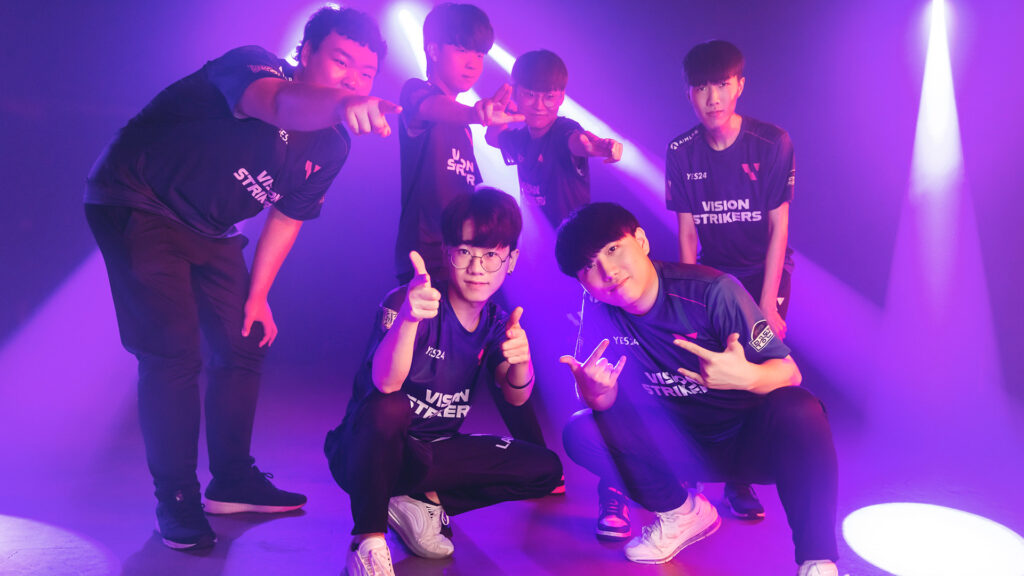 Kim "stax" Gu-taek
Goo "Rb" Sang-min
Kim "Zest" Gi-seok
Yu "BuZz" Byung-chul
Kim "MaKo" Myeong-kwan
Pyeon "termi" Seon-ho (Head coach)
Kwon "Argency" Soon-woo (Coach)
Kim "glow" Min-soo (Coach)
DRX Vision Strikers are set to compete in the VCT 2022 season, scheduled to take place sometime at the end of January 2022. It is uncertain if VS will continue to use its six-man roster strategy moving forward.
READ MORE: Team Liquid signs all-female Brazilian Valorant team for VCT 2022 season