Korean esports organization Vision Strikers has loaned Lee "k1Ng" Seung-won to the newly formed Valorant roster, ESports Connected, for the upcoming VCT 2022 season.
Vision Striker's decision to move k1Ng could also mean the team is moving away from their six-man roster strategy which began after the acquisition of Kim "Lakia" Jong-min during the VCT 2021 season.
k1Ng's incredible VCT 2021 run with Vision Strikers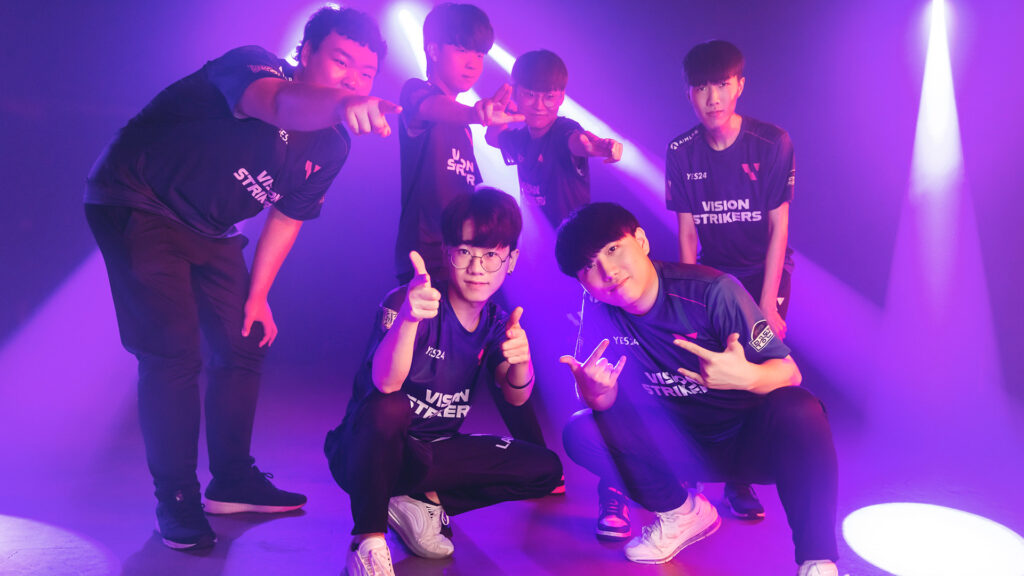 The 20-year-old Korean pro player was one of the first players Vision Strikers signed to its Valorant roster on June 7, 2020. The Korean squad dominated the competitive scene in Asia that year, winning every tournament they entered including First Strike Korea.
Vision Strikers made history in 2021 by achieving a 104-undefeated streak which began at the Clan Masters event in August 2020, up until they were defeated by streamer team F4Q at VCT Korea Stage 2 Challengers.
After the loss, Vision Strikers signed Lakia back to their roster which resulted in their six-man roster strategy. This entailed swapping out k1Ng if the team was set to play on Bind. According to Lakia, the strategy would help future-proof the team, with players focusing on certain agents and maps as Valorant continues to grow much like League of Legends.
After failing to impress at international events as Vision Strikers eventually finished 5th-8th at Masters Berlin and 9th-12th at Valorant Champions, the organization decided to move k1Ng from their active roster for the VCT 2022 season.
Vision Strikers Valorant roster
Kim "stax" Gu-taek (captain and IGL)
Goo "Rb" Sang-min
Yu "BuZz" Byung-chul
Kim "MaKo" Myeong-kwan
Kim "Lakia" Jong-min
---
---
ESportsConnected signs top Korean Valorant talent for the VCT 2022 season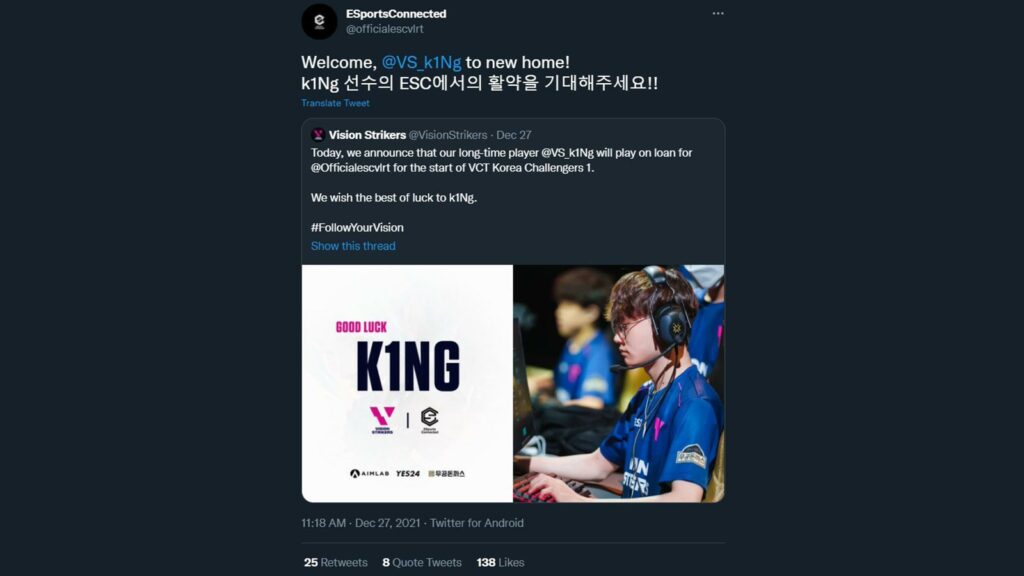 EsportsConnected (ECS) is a new Korean esports organization that was formed on December 6, 2021.
The team has signed former Cloud9 Korea player Yoo "Moothie" Seung-woo, and ex-F4Q members Kim "GodDead" Sung-sin and Kim "zunba" Joon-hyuk to play alongside k1Ng as its initial members.
ESportsConnected has also added former NUTURN Gaming members Jung "peri" Bum-gi and Jeong "Jaemin" Jae-min as the coaching staff for its Valorant squad.
ESportsConnected is set to debut in February 2022 during VCT Korea Challengers 1.
ESportsConnected's Valorant roster
Yoo "Moothie" Seung-woo
Kim "GodDead" Sung-sin
Kim "zunba" Joon-hyuk
Lee "k1Ng" Seung-won
Jung "peri" Bum-gi (Coach)
Jeong "Jaemin" Jae-min (Head Coach)
READ MORE: How to do Envy Yay's Yoru teleporter play on Bind