Thai esports organization X10 Crit has parted ways with its Valorant roster ahead of the VCT SEA 2022 season. All members of the team, including its coaches, are now free agents.
The all-Thai roster was the top Southeast Asian Valorant squad in the VCT 2021 season. The squad exceeded expectations at Valorant Champions 2021 where they finished 5th-8th against the top teams in the world.
X10 Crit's incredible VCT 2021 run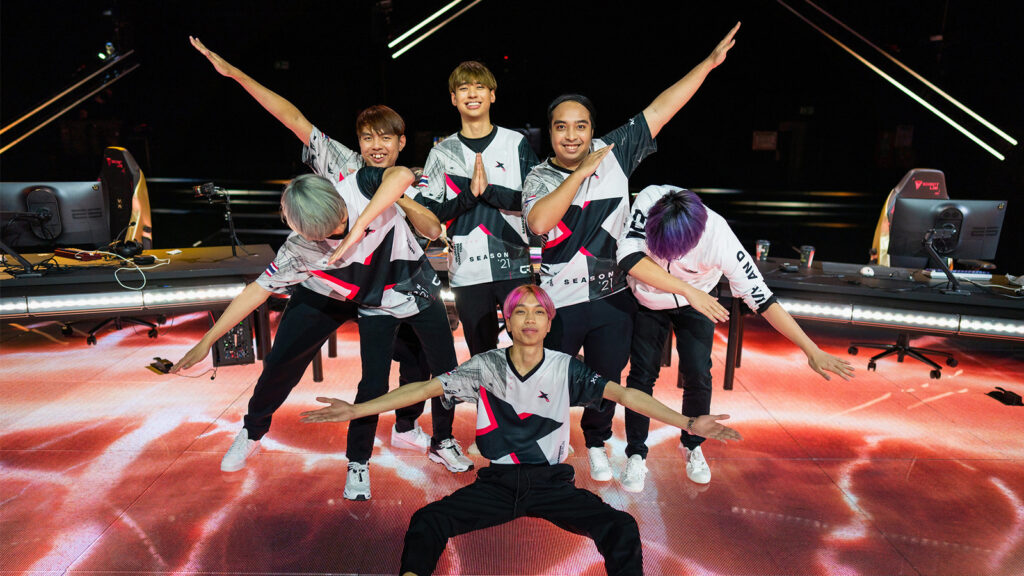 The team had a successful start to the season. They won VCT SEA Stage 1 Masters after defeating Team SMG in the grand final, 3-2. X10 continued to dominate in their region, qualifying to VCT Stage 2 Masters Reykjavik after prevailing over Full Sense at the VCT SEA Stage 2 Challengers Finals, 3-1.
After the team's 7th-8th finish at Masters Reykjavik, X10's star player Patiphan Chaiwong was forced to take a break due to a wrist injury which sidelined him for the remainder of the season. Their coach, Yuttanagorn "Zeus" Kaewkongyai, subbed in for Patiphan during that period.-
Fortunately for X10 Crit, the squad had already earned enough VCT circuit points to qualify for Valorant Champions 2021.
---
---
X10 Crit made Southeast Asia proud after they made it out of their group, defeating Brazilian squad Vivo Keyd, 2-0, and upsetting tournament favorite squad Team Envy, 2-1, in their elimination match.
Masters Berlin champions Gambit Esports ended X10 Crit's Valorant Champions run after winning their quarterfinals match, 2-1.
On December 15, 2021, Patiphan decided to leave Valroant and announced his return to Overwatch by signing with the Los Angeles Gladiators for the upcoming OWL 2022 season.
On January 4, 2022, X10 Crit decided to part ways with its entire Valorant roster. "Through the good games and the bad, we had a good run boys," wrote the organization. "We wish you all the best."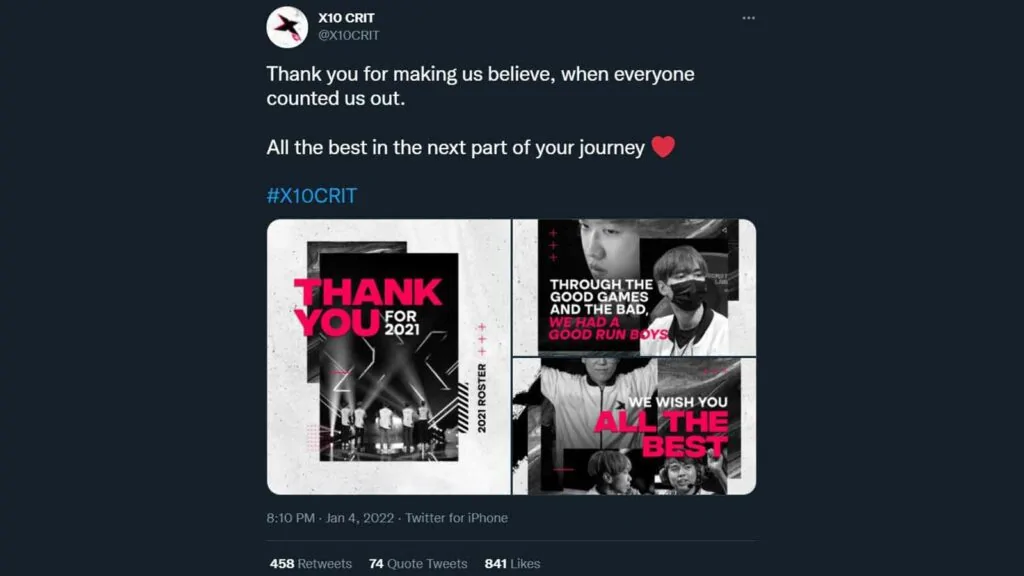 X10 Crit's former Thai Valorant roster
Itthirit "foxz" Ngamsaard
Panyawat "sushiboys" Subsiriroj
Nutchapon "sScary" Matarat
Thanamethk "Crws" Mahatthananuyut
Patiphan Chaiwong
Yuranun "0bi" Sangurang (Head Coach)
Yuttanagorn "Zeus" Kaewkongyai (Coach)
X10 Crit has yet to announce if they will continue to compete in the upcoming VCT 2022 season with a new roster. The team's former members have also yet to announce their next steps.
READ MORE: Yes, you can still do boost plays on Bind, shows T1 Grim