Killjoy, Valorant's resident tech expert, has found herself in the hot seat after she was recently linked to non-fungible tokens, more commonly known as NFTs.
After Neon's release, Riot Games launched a social media campaign that brought fans into the lives of their favorite Valorant agents, with different agents taking over the official Valorant Twitter account.
Skye's leg of the tour featured a trip to Vietnam, while Killjoy's showcased her life in her hometown Berlin. Apparently, the German agent loves League of Legends, dining at cafes, snacking on kebabs, and unfortunately, checking out NFTs.
The fans were not amused with their beloved tech genius getting mixed up with right-clickable images that cost hundreds of thousands of dollars, and the tweet was deleted soon after.
Riot Games even released an official statement to clear the air, saying that it did not intend to associate the Valorant agent, or her hobbies and interests, with the controversial collectibles.
How was Killjoy linked to NFTs in the first place?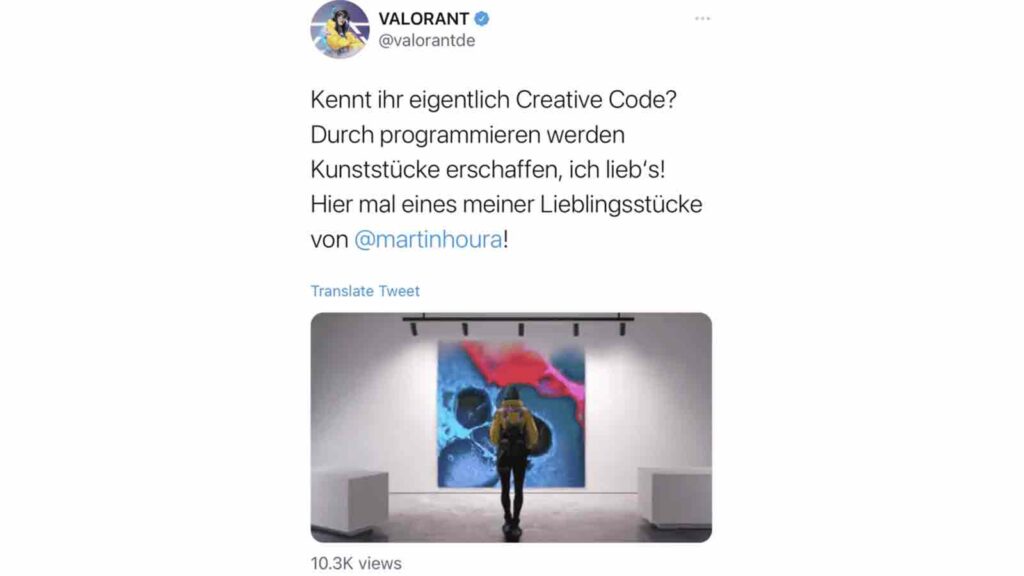 The German robotics expert was shown to be admiring a piece by Martin Houra, an artist who sells his work as NFTs on the Ethereum blockchain.
"Do you actually know Creative Code? Programming creates art, I love it! Here is one of my favorite pieces by @martinhoura," the tweet reads in German, implying that she was aware that the piece was made through programming.
The Valorant community was quick to react, with one user tweeting that it was out of character for someone as "smart and tech-savvy" as Killjoy to be interested in what some have decried as a massive pyramid scheme.
The tweet was promptly taken down within the hour, and the developer and publisher posted an explanation on January 28 to clarify the situation.
"We were not aware that the selected work was a non-fungible token. In no way did we intend to include NFTs as part of Killjoy's work and hobbies," clarified Riot Games.
---
---
Why non-fungible tokens have a bad reputation in the gaming community
Riot Games moved quickly to distance itself from NFTs because they have been linked to opportunistic get-rich-quick schemes and money laundering, and have gained an unsavory reputation for lacking clear and practical use cases.
They have also been in the middle of quite a few public relations disasters, such as Ubisoft's misguided attempts to hop onto the trend by gifting a Ghost Recon Breakpoint NFT hat to its developers, during a workshop meant to address the concerns of skeptical employees.
Many celebrities and streamers like Jimmy Fallon and Steven "Destiny" Bonnel have also been criticized for advertising these digital works of art on their media platforms.
And after G2 Esports announced its own digital collectibles drop and angered its own fans, it's not hard to see why Riot doesn't want to be associated with these tokens.
Still, proponents of non-fungible tokens continue to tout the blockchain's ability to prove exclusive ownership and originality.
They are considered rare collectibles that can become extremely valuable over time, as they become increasingly sought-after works of digital art, never mind the fact that anyone can right-click and save a public image associated with an NFT.
READ MORE: Watch how Average Jonas uses every Sova utility to retake A site on Ascent