We have seen a wide array of Valorant weapon skins and bundles released by Riot Games since the competitive first-person shooter was released in 2020.
We have yet to see a single esports team-themed weapon skin in Valorant, however. That's about to change once the rumored VCT partnered team skins are released at the start of the Valorant Champions Tour franchise league this year.
---
---
Riot Games could release VCT partnered team skins with variants of all the franchise teams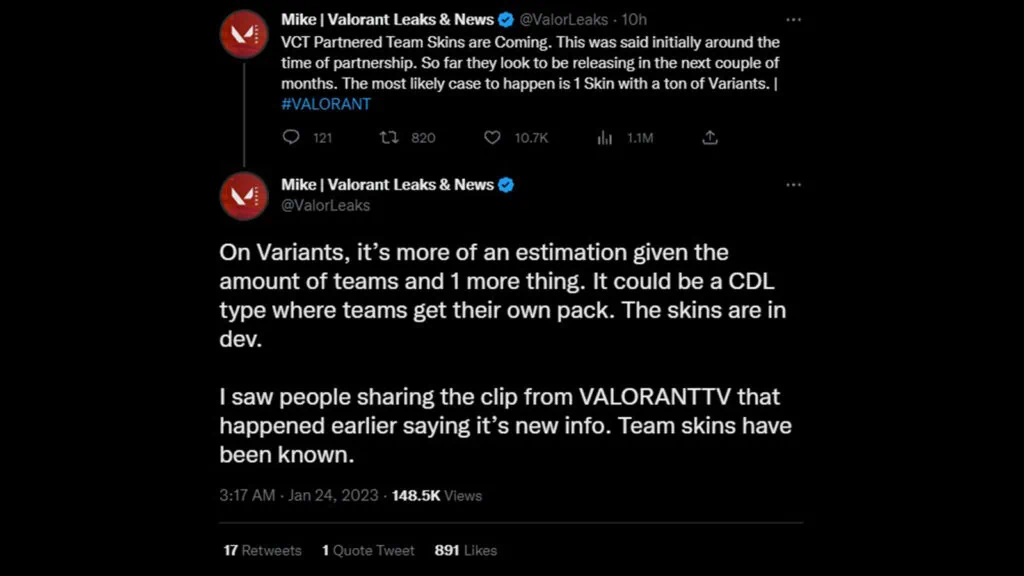 There were some discussions about the upcoming team skins back when the VCT league was first revealed by Riot Games last year.
Dot Esports' George Geddes reported that team skins were part of the stipend set by Riot Games for partnership-approved teams. However, Riot Games has yet to announce any details about the VCT-partnered team skins.
The new esports team skins will be released in the next couple of months, according to prominent dataminer ValorLeaks. The weapon skins could also be variant based instead of individual skin bundles. This means Riot Games could release one weapon in Valorant's in-game shop, and players will have to unlock their preferred partnered team using their Radianite points (RP).
Another possibility is that Riot Games could follow a Call of Duty League (CDL) type of team pack where franchise teams could get their own bundle. This could include team skins, sprays, player cards, and buddies.
ValorLeaks says the team skins are currently in development, which Riot Games has yet to confirm.
The two esports-themed skins Riot Games has released are the Champions 2021 and 2022 bundles, which raised more than US$23.5 million. The skins were only available in the store for a limited time and don't appear in the in-game store's daily offers.