Edward Gaming's debut on Valorant's global stage will be one of the most closely watched.
The team's historic appearance at Valorant Champions 2022 marks the first time that China has made it to an international event. At long last, teams and fans watching from home will finally be able to see first-hand the much-touted aggression of Chinese Valorant.
Buoyed by their undefeated run in the East Asia Last Chance Qualifier and an unwavering belief in what they can do, EDG are looking like a formidable dark horse that could take everyone by surprise.
In an interview with Yinsu "Yinsu" Collins, Zheng "ZmjjKK" Yong Kang knew exactly what his team's strengths were: their strong communication and excellent coordination.
---
---
Edward Gaming combine aggression with caution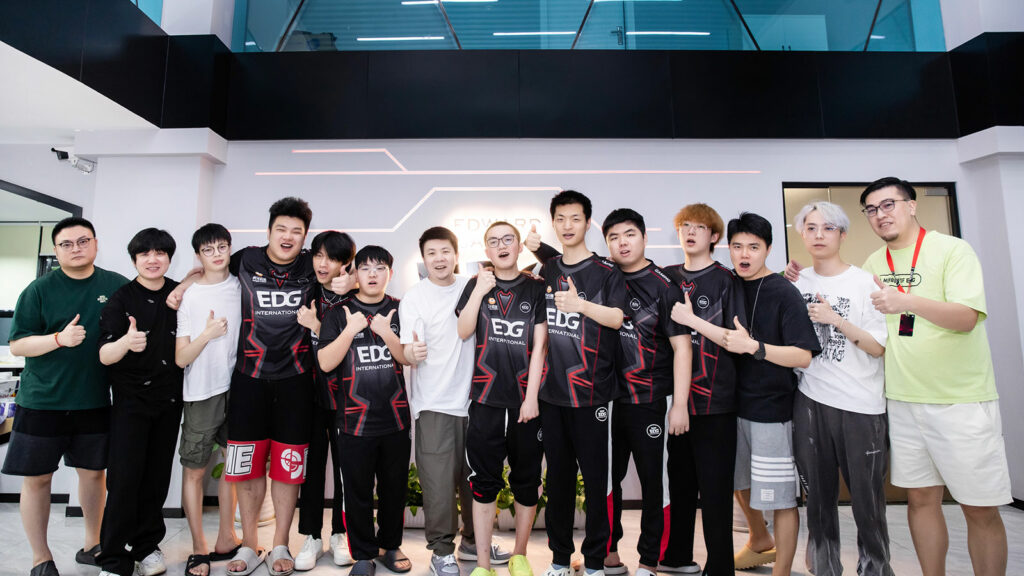 However, the Chinese squad are also acutely aware that they lack the same experience as other competitors on the world stage.
"We have confidence, but we also have some fears," said the 18-year-old. "It is our first time playing at a LAN and on such a big stage."
"I think we would have no problem at all if we were playing under the circumstances we were used to. But it's possible there might be some nerves and pressure that we've never felt before."
Their first opponent is Paper Rex, a team ZmjjKK has a lot of respect for. After all, they were the first team from Asia to make a Masters grand final, a groundbreaking achievement for the region.
But as a former Jett main turned Chamber player, the EDG star believes he can match Paper Rex's Wang "Jinggg" Jing Jie in terms of pace and aggression. "I like to play fast and aggressive," he said. "When I'm feeling it, I'm all about fast rushes. When I play Raze on Bind, I can really play out of my mind."
Despite the similarities in their playstyle, ZmjjKK thinks that EDG have developed their own unique way of playing the game. "I think we have a unique style which combines caution with aggressiveness," he said. "Even though we are very aggressive, we are able to find stability in those moments."
In fact, ZmjjKK says that the communication within their team is top-notch. While their gameplay may look like chaos from the outside, they are always communicating their next move to each other. He even likened their style to Korean powerhouse DRX, a team known for their strong synergy and flawless utility usage.
In-game leader Guo "Haodong" Hao Dong is the brain behind it all, listening to everyone's input and making the call on what to do.
As a result, ZmjjKK says that EDG actually have better micromanagement in fast-paced situations than European or North American teams. The team will finally get to show what they're really capable of in a couple of days, when they open Valorant Champions with their match against Paper Rex.
You can watch the full interview here. Edward Gaming will play Paper Rex on August 31 at 10:00 p.m. GMT+8 | 7:00 a.m. PT | 2:00 p.m. GMT. The match will be broadcast live on the official Valorant Twitch and YouTube channels.
READ MORE: Once Paper Rex fix this, they'll be unstoppable at Champions 2022