Bleed eSports may have just released its Valorant roster, but the organization isn't going anywhere.
Amid rumors of a multi-million dollar rebuild, Bleed may also have just secured a coveted franchising spot in the new APAC league next year.
A cryptic tweet from founder and CEO Mervyn Goh appeared to suggest that the organization had in fact succeeded in acquiring a spot, paving the way for a new and even more expensive roster acquisition.
Late last year, Bleed signed Swedish players Jacob "pyth" Mourujärvi and Max "maxie" Lönnström, but the team could not quite find the form it needed to qualify for international events.
---
---
Bleed eSports could be a partnered organization in 2023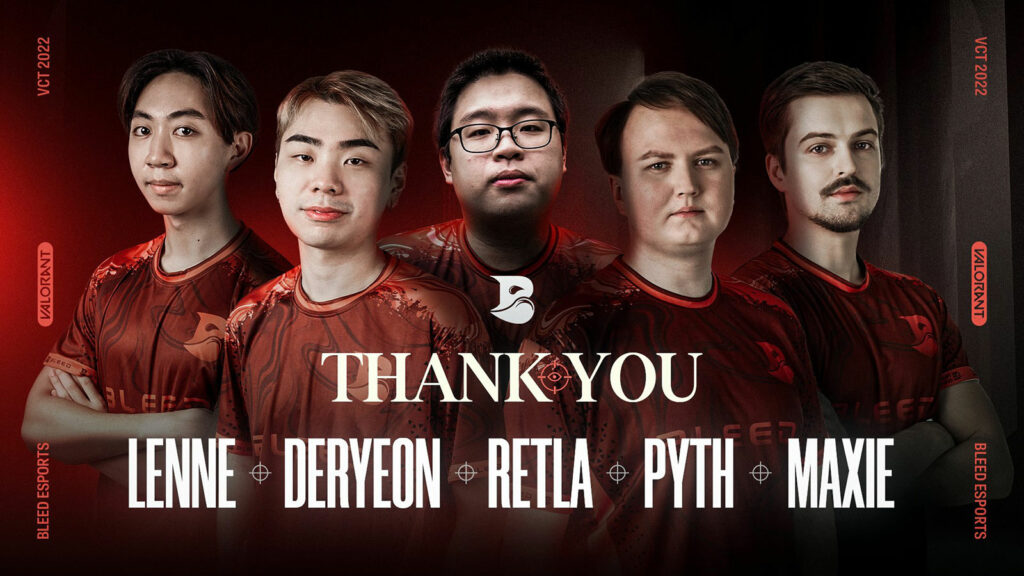 That said, it remains unclear whether Bleed has actually managed to lock down a slot for itself. "Lost the battle, won the war. See you guys in 2023," Goh tweeted.
While fans were quick to take this as a sign that Bleed had made it into the partnered league, Goh later followed up with a second tweet saying that his previous remark had "nothing to do with franchising."
This was met with considerable skepticism, with former Bleed player Derrick "Deryeon" Yee and reporter Bo Hoogland reacting with GIFs indicating that they did not believe him.
Nevertheless, Bleed analyst Sushant "Ominous" Jha has also hinted that the organizations that secure partnership status will come as a surprise. "Wait till you hear the names of the teams that get the slot," he tweeted. "You are going to lose it."
"I know one of the organizations that made it for APAC and it has zero connections with Valorant."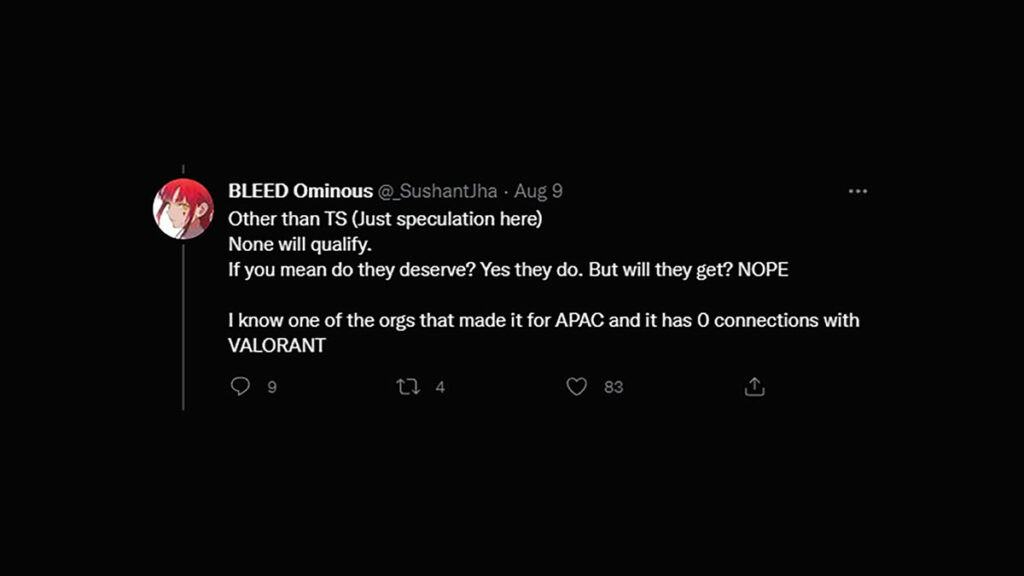 At the same time, multiple major organizations from Europe and North America are also thought to be eyeing a spot in the APAC franchising league, according to Hoogland. This would mean that the APAC league could eventually see organizations who have not previously fielded an Asian roster in Valorant.
VLR.gg reporter Seulgi seemingly confirmed that something to that effect might be happening. "APAC is not going to be happy. Sorry for you guys," he tweeted. "The final names are going to anger everyone a lot."
Ominous also speculated that none of the crowd-favorite organizations, except for Team Secret, would qualify. This means that Paper Rex, XERXIA Esports, and BOOM Esports — APAC's representatives at Valorant Champions — may not have secured a spot, a stunning outcome for the best teams in the region.
However, organizations not making the cut does not necessarily mean that we will not get to see their rosters in action. These rosters could still be acquired by partnered organizations, and eventually enter the fray under a different banner.
READ MORE: Shroud details his next move and whether he's staying with Sentinels