The Philippines' flagship FGC event REV Major saw an outstanding Tekken performance from Jeon "Jeondding" Sang-hyun of DH.CNJ Esports.
The Korean player faced 2018 Tekken World Tour Final champion Jeong "Rangchu" Hyeon-ho in the grand final.
While JeonDDing had used a few different characters throughout the tournament, such as Eddy Gordo and Lucky Chloe, he powered through the entire series with Julia.
---
---
JeonDDing takes down Rangchu in crazy REV Major 2022 grand final
Despite losing to Rangchu in an earlier winner's bracket match, Jeon was ready to get his revenge on the Panda specialist in the grand final.
The final round of the first series came down to a thrilling battle of pokes. While Jeon initially had a health disadvantage, he turned things around with some heavy combos from a quick punish and hopkick launch.
The two traded blows until they were both just one hit away from getting knocked out. As Rangchu tried to sneak a long-reaching high poke, JeonDDing immediately punished him with a Lashing Arrow (F+(3+1)) to claim the game and the bracket reset.
---
---
Following the reset, Rangchu tried his luck on fellow bear Kuma for a few games, but Jeon eventually figured out the Mishima pet's unique moves, prompting him to switch back to Panda for the final game.
In the final round of the tournament, the DH.CNJ player landed a Heaven Shatter Kick (b+3) that caught Rangchu as he was microdashing forward. He converted the ground slam into a juggle combo, which claimed the round and the REV Major victory.
---
---
On expectations and his late grandfather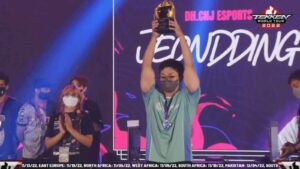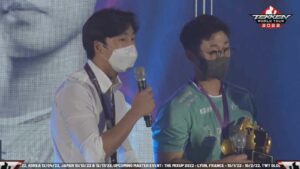 Jeon took to the stage to talk about the tournament and how much it meant for him to win it all. Facing other top players like Rangchu, he was already glad to make it to the top 8 and believed that he was lucky to emerge as champion.
The Korean player also thanked the local crowd for their warm reception. Despite it only being his fifth year as a pro, he felt like a "celebrity" to Filipino fans and was grateful to have been approached for photos and autographs.
He had to deal with personal loss while competing as well. His grandfather passed away while he was at REV Major, JeonDDing said. "I'm very happy right now that I got to give him a goodbye present by winning the tournament today," he said.
With the victory, JeonDDing took home US$5,000 and 400 Tekken World Tour points. The champion now ranks second at 430 points in the TWT 2022 Korea leaderboard, behind Bae "Knee" Jae-min at 850 points.
Follow ONE Esports on Facebook and Twitter for more Tekken news, guides, and highlights.
READ MORE: Dawood Sikandar beats Tekken god with 'low-tier' character at Thaiger Uppercut 2022