The yellow hedgehogs have dethroned the King of Kings.
ONIC Esports lift the championship trophy at the Mobile Legends: Bang Bang Professional League Indonesia Season 10 (MPL ID Season 10) after a solid 4-1 victory over defending champion RRQ Hoshi in the grand final.
Yesterday, RRQ Hoshi sent ONIC to the lower bracket final, 3-1. In the lower bracket final, ONIC swept Aura Fire, 3-0, to book a grand final rematch with the defending champion.
---
---
ONIC Esports reign supreme at the MPL ID Season 10 grand final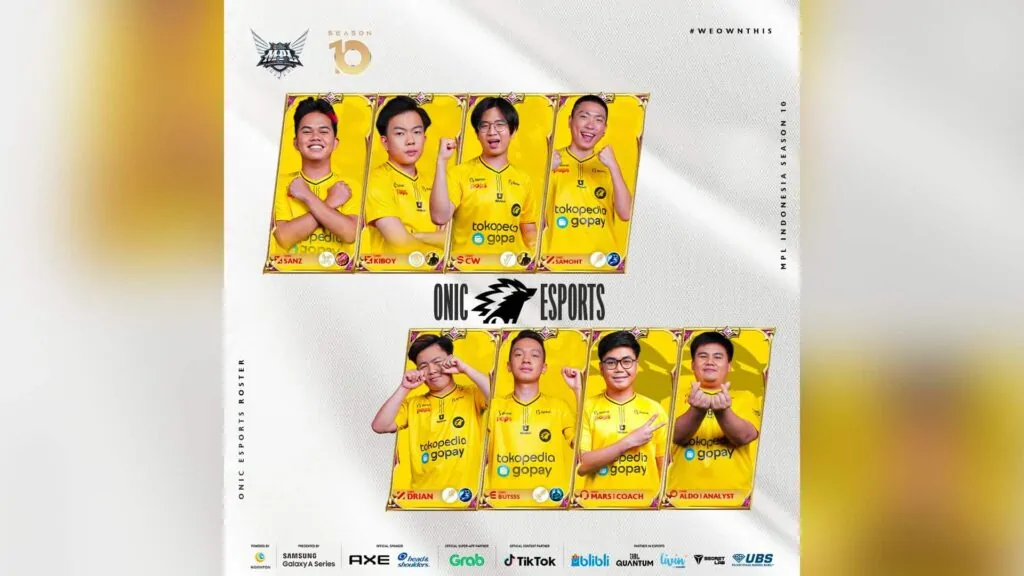 Kairi "Kairi" Rayosdelsol opened the series with a flawless 6/0/5 KDA on his signature Ling. It was such a one-sided affair that RRQ weren't able to destroy a tower throughout the match.
RRQ Hoshi answered back in the second game after midlaner Deden "Clayyy" Nurhasan secured his first career Savage on Valentina, recording an 8/0/10 kill score by the end of the match. But that was the last time RRQ Hoshi would win in this grand final showdown.
---
---
ONIC went on to dominate games three and four. With the championship trophy on the line, RRQ Hoshi stood strong and were neck-to-neck with ONIC in the fifth and final game. Things fell apart after ONIC killed Albert Neilsen "Alberttt" Iskandar's Dyrroth and the Enhanced Lord at the 18-minute mark, however.
They used the Lord to push all three base turrets toward the crystal. RRQ tried to defend one last time but a last-minute Maniac from Calvin "CW" Winata's Lesley sealed the deal for ONIC.
---
---
Kairi was declared the grand final MVP after his masterful performance in the jungle, a day after he was proclaimed the regular season MVP. ONIC will also be taking home the lion's share of the $300,000 prize pool.
Both ONIC Esports and RRQ Hoshi will represent Indonesia at the M4 World Championship in Indonesia early next year.
Follow ONE Esports on Facebook for more Mobile Legends: Bang Bang guides, news, and updates.
READ MORE: Why EDWARD's Benedetta also deserves the MVP in Bren Esports showdown