ONIC Esports' Kairi "Kairi" Rayosdelsol may not have won the M4 World Championship crown, but he left a lasting legacy by playing one of the most unique jungle picks in the tournament.
Up against North America's The Valley in the decider, the 18-year-old jungle picked Jungle Lunox for the first time in the competition. It was a risky pick, for the hero is usually played in the midlane.
But he proved that anything is possible, and had one of the best performances in the series that eliminated the sole North American representative of the competition. Here's how he did it.
---
---
Learn how to play Jungle Lunox like Kairi at the M4 World Championship
In the fourth game, The Valley banned five heroes Kairi is proficient with, which prompted the Jungle Lunox cheese pick in the final stage of the draft. Lunox is typically played alongside Grock and Lolita, two of the best initiators in the current meta.
The Filipino jungler went for Elegant Gem as his first item, greatly increasing his healing capabilities in the first five minutes. Grock and Lolita were also positioned around him in the first jungle wave to prevent invades.
He went for kills once he reached level four, using the hero's Power of Chaos ultimate to gank The Valley's EXP lane Gloo twice in the first five minutes.
---
---
With Lunox securing the majority of the kills and the initiators backing him up, Kairi snowballed and already almost had a full stack of Clock of Destiny in the midgame.
After Clock of Destiny, he went for magic penetration items such as Divine Glaive and Genius Wand to ramp up his killing potential.
Every time he was caught in a tough spot, he would use Power of Brilliance to escape. He would then counterattack with Power of Chaos to get the easy pickoffs.
It was such a one-sided affair that Kairi finished with a flawless 7/0/5 KDA by the end of the game.
Jungle Lunox build by ONIC Esports' Kairi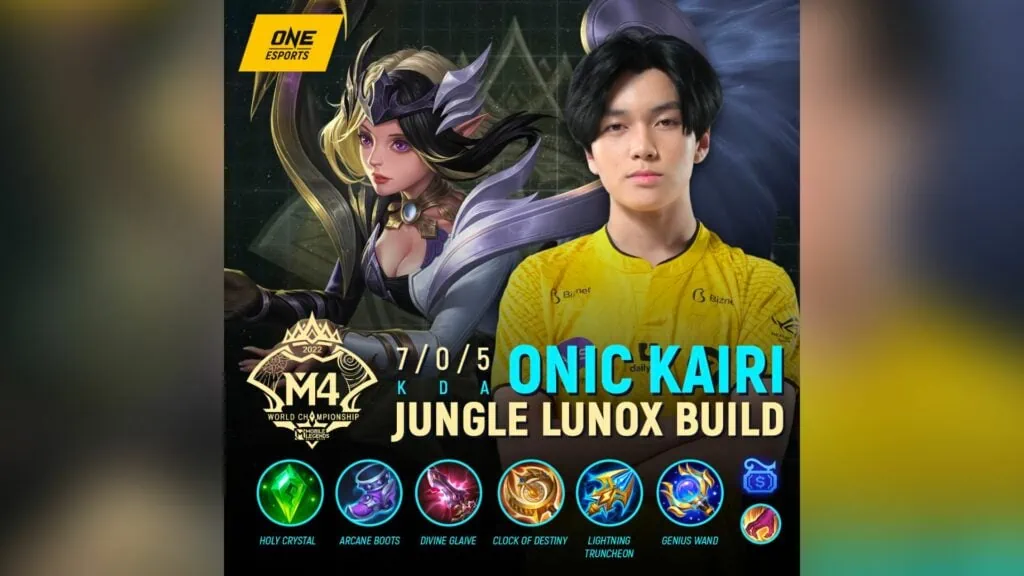 Arcane Boots
Clock of Destiny
Lightning Truncheon
Genius Wand
Divine Glaive
Holy Crystal
In order to succeed on the hero, you need to have a good early game. Getting a few kills is great, but the main priority should be completing Clock of Destiny and at least one magic penetration item within the first 10 minutes of the match.
That is evident when Kairi went for Secret Shop in his emblem set, which reduces the price of items in the shop by 10%.
Here's everything you need to know about the M4 World Championship, including the schedule and results of the knockout stage. Follow ONE Esports on Facebook for more Mobile Legends: Bang Bang and M4 news, guides, and updates.
READ MORE: ONIC Esports Butsss is confident he can take on Sanford in the EXP lane at M4