Out of 17 teams, only the top 10 qualified for the 2022 LPL Spring playoffs.
Since the league adopts a king of the hill format in the first three rounds, no second chances are given to teams other than the first and second seeds.
Before the playoffs began, Bilibili Gaming and Jian "Uzi" Zi-Hao mutually agreed that he will take a break from competitive play. Even with Chiu "Doggo" Tzu-Chuan on the starting roster, however, they struggled against Top Esports and were eliminated 3-1 in Round 2.
On the opposite side of the bracket, 2021 World Champions Edward Gaming were also knocked out after they took an unexpected loss to Weibo Gaming 3-1 in Round 2.
Headlined by top laner Kang "TheShy" Seung-lok, Weibo Gaming then narrowly fell to JD Gaming 2-3 in Round 3.
---
---
Here are the top 4 teams for the 2022 LPL Spring Playoffs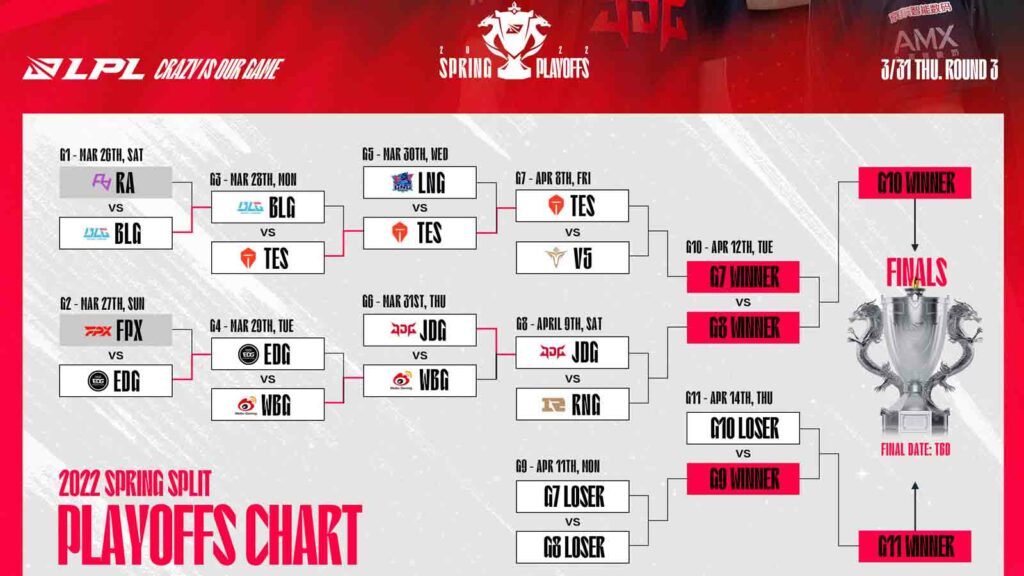 Qualifying for Round 4 are Top Esports and JD Gaming, who join first and second seed, Victory Five and Royal Never Give Up, in the double elimination bracket.
Even though Weibo Gaming were expected to be a top four team this season, JD Gaming's superior draft and team play saw them through in the game five decider. Support Lou "Missing" Yun-Feng put on a standout performance on Thresh, throwing out hooks that forced Weibo Gaming into a corner.
JD Gaming will now face the 2021 Mid-Season Invitational champions, Royal Never Give Up, who won LPL Spring last year from the lower bracket.
Top Esports, on the other hand, secured top four with a 3-0 clean sweep against LNG Esports, led by mid laner and 2019 World Champion Kim "Doinb" Tae-sang.
After struggling to find the best starting roster in the first half of the regular season, Top Esports finally found their winning combination comprising top laner Huang "Wayward" Ren-Xing and support Ling "Mark" Xu, leaving Zhang "Zoom" Xing-Ran and Wang "Zhuo" Xu-Zhuo on the bench.
They will go up against first seed Victory Five, a team headlined by mid laner Song "Rookie" Eui-jin and jungler Hung "Karsa" Hao-Hsuan. They only dropped two series in the regular season to Weibo Gaming, who are now out of the competition, and JD Gaming.
The 2022 Spring champion will represent the region at the upcoming Mid-Season Invitational (MSI) held in Busan, South Korea in May.
Top Esports versus Victory Five will take place on April 8, 5 p.m. GMT+8. JD Gaming versus Royal Never Give Up is scheduled on April 9. Catch the playoffs live on LPL's official Twitch and YouTube channels.
READ MORE: Why TheShy believes attitude is key to managing injuries in esports