Bilibili Gaming announced today on Weibo that bot laner Jian "Uzi" Zi-Hao will be taking a break from the competitive scene.
This comes just three months after he returned to pro play last December, joining a refreshed Bilibili Gaming roster that includes Worlds 2019 World Champion, support Liu "Crisp" Qing-Song, and up-and-coming bot laner Chiu "Doggo" Tzu-Chuan.
The former Royal Never Give Up bot laner was battling Type 2 diabetes, as well as arm and back injuries, which prompted his retirement in June 2020. His return to pro play was big news, one that LPL and LoL esports fans were particularly jubilant over.
---
---
Bilibili Gaming and Uzi mutually agree that he'll take a break from competitive play
Finishing with a 9-7 record in the regular season in 8th place out of 17 teams, Bilibili Gaming just managed to qualify for the 2022 LPL Spring playoffs.
However, their performances have not met expectations. Fans and analysts expected BLG to be a top four team, especially since Uzi was on the roster alongside veteran mid laner Chu "FoFo" Chun-Lan.
Today, as the regular season comes to a close and as teams prepare for the playoffs, BLG announced that after discussions with Uzi, both parties agreed that he'll take a timeout from pro play.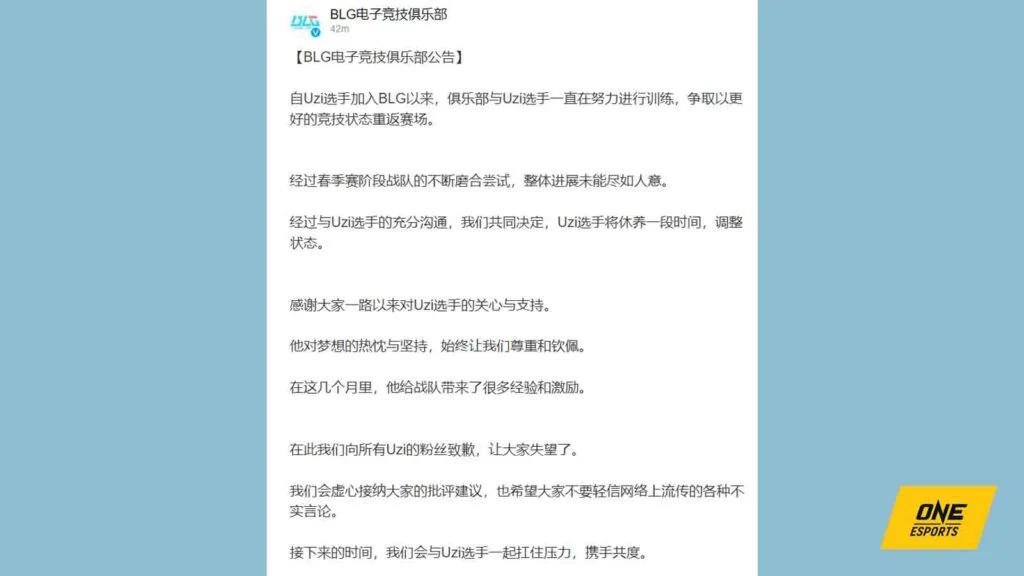 BLG acknowledged that Uzi consistently trains hard and strives to return to form. However, after trying to make the roster work for the entirety of Spring, their "overall progress has not been satisfactory".
"In these few months, he's brought a lot of experience and drive to the team," wrote BLG. "We disappointed everyone, and we would like to apologize to Uzi's fans."
Out of the 44 games BLG played in the regular season, Uzi started in nine of them. Out of these nine, five resulted in losses.
In these four series, only one resulted in victory, against Ultra Prime. Despite his substitution, the team fell to Invictus Gaming, Victory Five, and 2021 World Champions Edward Gaming, and could not pull through in the crucial game three.
After their loss to IG in Week 5, Uzi went on Weibo to pen a heartfelt message to fans asking for their patience as the team strives to improve, and to thank them for their support.
BLG will compete in the upcoming 2022 LPL Spring playoffs this Saturday, March 26. Catch the games live on LPL's official Twitch and YouTube channels.
READ MORE: Uzi pens heartfelt message to fans, reflects on performance after two losses