China's League of Legends Pro League (LPL) 2022 Spring season resumed this week after the Lunar New Year break, and some teams have been luckier than others.
Weibo Gaming, who welcomed star top laner Kang "TheShy" Seung-lok to their lineup, went up against an unchanged Edward Gaming roster. With five wins and no losses, the 2021 World Champions were looking to extend their win streak to tie with LNG Esports in first place.
Unfortunately, Weibo Gaming upset their plans, and surprised by sweeping them 2-0 in 33 and 32 minutes respectively, handing Edward Gaming their first loss this Spring.
---
Is TheShy returning to form this 2022 LPL Spring split after joining Weibo Gaming?
In game one, TheShy was already making his presence known one minute into the match.
Even before the first minion wave crashed, he facechecked Edward Gaming's jungle as he knew that Zhao "Jiejie" Li-Jie's Volibear had started top side. TheShy literally walked up to him on Gwen to trade auto attacks, lowering his HP to below 50% and zoning him off from his blue buff.
Recognizing that his jungler was in trouble, Li "Flandre" Xuan-Jun's Graves walked over to help, but because neither champion had any crowd control at level one, they simply could not engage on TheShy.
And so they tussled in the jungle for 30 seconds, which delayed JieJie's jungle pathing at no cost to TheShy, for neither he nor Flandre had any CS.
Lê "SofM" Quang Duy's Lee Sin took advantage of the situation and out jungled his opponent by instigating more invades and ganks, putting his team up four kills to one. By 14 minutes he had three kills and one assist with a 100% kill participation.
---
---
Even though Weibo Gaming trailed in dragons, they kept up in game pace, led by Xiang "Angel" Tao's Ryze who started to rack up kills alongside his jungler. Support Luo "ON" Wen-Jun's Thresh was also on point, contributing well-timed Death Sentence hooks in every fight.
After winning one last fight around Baron, which earned Tang "huanfeng" Huan-Feng a triple kill, Weibo Gaming pushed in for the game one win.
In the second game of the best-of-three series, Edward Gaming continued to rely on Park "Viper" Do-hyeon's Ezreal to scale, but to no avail. Once again, even though Weibo Gaming did not secure any early dragons, they led in kills throughout, with another strong performance from TheShy's Gwen who was awarded the MVP of game two.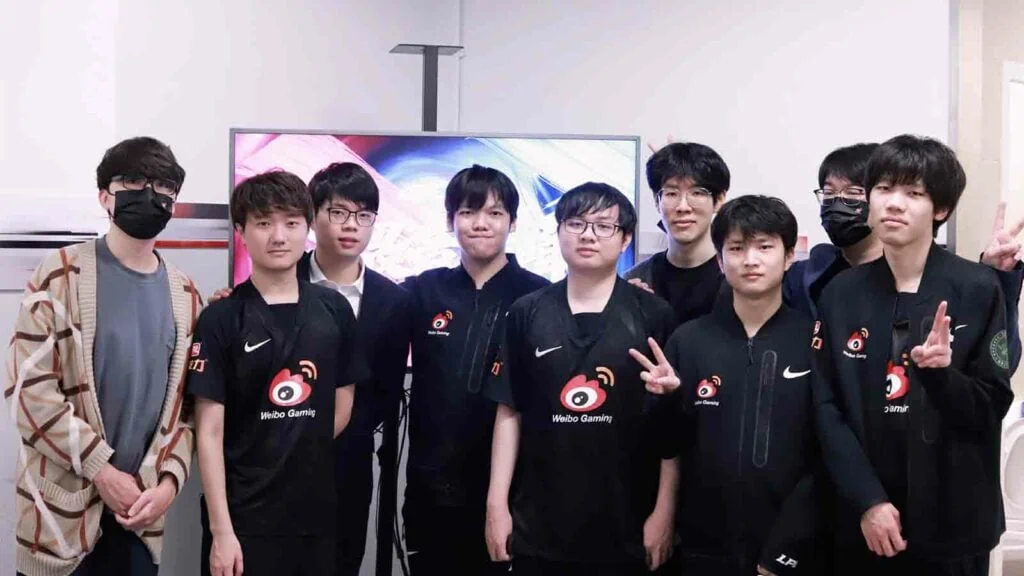 In the post-game press conference, SofM was asked about how he felt after this resounding victory over Edward Gaming, especially since he had mentioned before that he felt confident going into this matchup.
"I feel that they didn't target our individual weaknesses shown in scrims, so I feel our luck is very good," said SofM.
Weibo Gaming (6-1) take on Ultra Prime (2-5) on 18 February at 5 p.m. GMT+8 | 1 a.m. PST. Catch the LPL Spring Split 2022 livestream on its official Twitch and YouTube channels.
READ MORE: Weibo Gaming's Angel reveals his ridiculously unique Akali build