The highly anticipated match between juggernauts T1 and Dplus KIA took place on January 28, with T1 emerging as the winner with a score of 2-1.
This solidified their position as the top LCK Spring 2023 team with no losses so far. Before this matchup, both of these teams held an undefeated 3-0 record.
The series saw its ups and downs. KIA was the first to take the lead. Jungler Kim "Canyon" Geon-bu led the team with his impeccable game sense and team fight initiation on Sejuani.
In game two, T1 made similar mistakes in game one where they were too eager at objectives. However, they still pulled out a win and improved further in game three to clinch a series victory.
---
---
In the post-match interview, head coach Bae "Bengi" Seong-woong, expressed satisfaction with the team's victory over KIA despite losing the first game. He acknowledged KIA's strength and saw the match as a valuable experience for them, highlighting their ability to stay focused.
"I was nervous facing KIA, who I knew were a tough team," he stated. "Though we lost the first game, I'm happy we were able to recover and secure the win."
T1's bot laner, Lee "Gumayusi" Min-hyeong, stated that he was disheartened after the first game loss but was ecstatic about the team's comeback and eventual victory.
He attributed the win to team's talented and united squad, making the game both intense and enjoyable. He also talked about T1's strategic pick of using an ADC champion, Kalista, as support, calling it a wise choice as they are the only team capable of executing it.
Using an ADC as support can greatly help the team secure objectives because it can provide extra damage. In game three, T1 knew that stacking drakes was their ultimate win condition. What's more, in a 2v2 battle, it is very difficult for a solo ADC to compete against an ADC bot duo, especially when a typical support does little to no damage in a fight.
Still, both Bengi and Gumayusi acknowledged the team's need for improvement. They agreed that they sometimes lack patience and attention to detail, which was evident when KIA stole Baron in the first game, which resulted in a loss.
---
---
Gumayusi believes that T1 only showed 50% of Kalista's potential as a support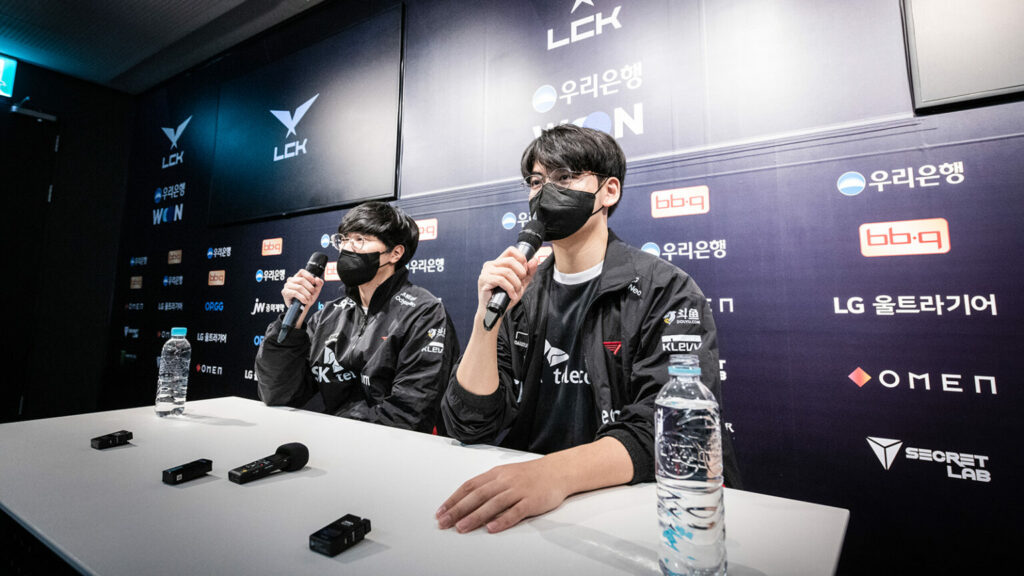 Gumayusi also shed some light on Ryu "Keria" Min-seok's use of Kalista. He acknowledged Keria's proficiency in different roles, and stressed that ADC is not his strongest.
During an early skirmish, both Gumayusi's Draven and Keria's Kalista initiated an aggressive fight against KIA's bot duo. They were winning, until Canyon's Graves entered the fray and Keria backed away.
Recognizing that Gumayusi was not going to make it out alive, he went all-in on Zeri, but narrowly missed out on the kill. He believes they could have made a one-for-one trade if Keria hadn't backed away quickly and stayed in the fight a little longer.
When asked about the remaining teams in the first round, Bengi and Gumayusi both mentioned Hanwha Life Esports as a possible threat.
Although Hanwha Life Esports is currently struggling, Bengi believes they pose a greater threat because they have talented individual players. Gumayusi added that Liiv Sandbox is in good spirits, with young players that hold a lot of potential.
---
---
Follow ONE Esports on Facebook and Twitter for more LoL news, guides, and highlights.
READ MORE: LCK Spring 2023: Schedule, results, format, where to watch