DWG KIA had an all-star showing during Day 5 of the 2021 League of Legends Mid-Season Invitational (MSI).
The LCK Spring champions grabbed back-to-back wins over MAD Lions and PSG Talon to secure a top two spot in the upcoming MSI Knockout Stage.
How to dismantle PSG Talon according to DWG KIA Canyon
While DWG KIA and Royal Never Give Up are the crowd favorites to win MSI 2021, PSG Talon showcased a better form in the second round robin, taking convincing games over MAD Lions and RNG.
Heading into their game against PSG Talon, DWG KIA jungler Kim "Canyon" Geon-bu knew that their usual gameplay wouldn't guarantee a victory. The team had to sit down and analyze how the team was dominating their recent MSI matches.
"We figured out that their jungle and bot lane were super strong," said Canyon. "We tried to stay aware of that while playing. We also wanted to match that level, and go even harder."
With Canyon picking Rumble and top laner Kim "Khan" Dong-ha on Gnar, the topside duo excelled in pinning down PSG during dragon fights.
Dealing with complacency after winning the 2020 World Championship
Even as a 2020 World champion, Canyon feels that his career as a League of Legends pro player is far from done.
While winning Worlds is seen as the ultimate goal for many pros, the DAMWON KIA jungler still sees value in maintaining a competitive presence in tournaments like the LCK and MSI.
"Right now, I just want to get more titles in my career," said DWG KIA Canyon. "I have learned that it's even harder to stack up your titles."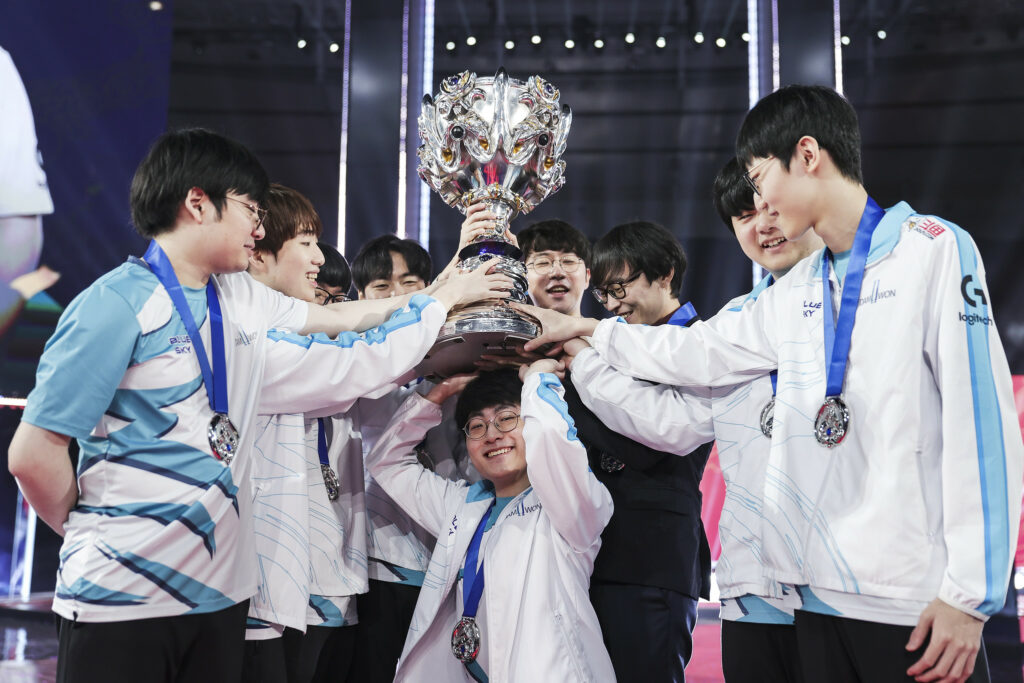 Some champions might struggle with expectations and ambitions after big wins, but the DWG KIA player spares himself the trouble, and focuses on the present task at hand.
Whether it's winning Worlds, the LCK playoffs, or regular season matches, Canyon sees it as an opportunity to work hard and prove his worth as a player.
---
---
Under the wing of coach kkOma
With coach Kim "kkOma" Jeong-gyun joining DK for 2021, his decorated career at SKT Telecom T1 has given him a plethora of stories and lessons to motivate his current team at MSI.
DWG KIA Canyon elaborated on how the legendary coach has changed his mindset for the better.
"We learned that it's really important to just hold on when you're having a rough time," stated DWG KIA Canyon. "Even though things get hard and I run into something very difficult, I just try to stay awake and hang in there."
What makes Canyon unique?
Being part of a squad filled with young superstars and a Worlds veteran, Canyon shared what he thinks of himself and what he brings to the table as an individual.
"I think I have a strong mental fortitude," explained DWG KIA Canyon. "I believe that team atmosphere is important, and I'm the one that always tries to think in a very good and positive way."
K-recommendations from DWG KIA Canyon
With Jang "Ghost" Yong-jun recommending the webtoon "Tower of God" in a previous interview, Canyon admits that he was the one who started DAMWON's webtoon craze in the first place.
Canyon still vouches for "Tower Of God" since it's his favorite webtoon, which is currently ongoing with three volumes.
In contrast to Heo "ShowMaker" Su's more contemporary anthems of Sunmi's "Gashina" and "Heroine", DWG KIA Canyon recommended a more laid-back K-indie sound from CHEEZE for his international fans.
DWG KIA will face Royal Never Give up today at 9 p.m. GMT+8.
You can catch the action on the official Riot Games Twitch channel.
READ MORE: DWG KIA Ghost: 'I respect EU players who don't surrender'