They're on top of the record charts, they're in all the TikTok videos you're binging now, and even on the esports livestreams — NewJeans is everywhere!
The K-pop girl group is taking the world by storm, and caught in the middle of the hurricane is T1's bot lane tandem, Ryu "Keria" Min-seok and Lee "Gumayusi" Min-hyeong.
Keria and Gumayusi are the newest members of Bunnies, NewJeans' fandom, after busting a groove during the League of Legends Champions Korea (LCK) Spring Split 2023. The pair danced to the song "OMG" during the post-match interview after their series win against KT Rolster.
---
---
They came through! T1 Keria and Gumayusi charms fans with an adorable dance cover of "OMG" by NewJeans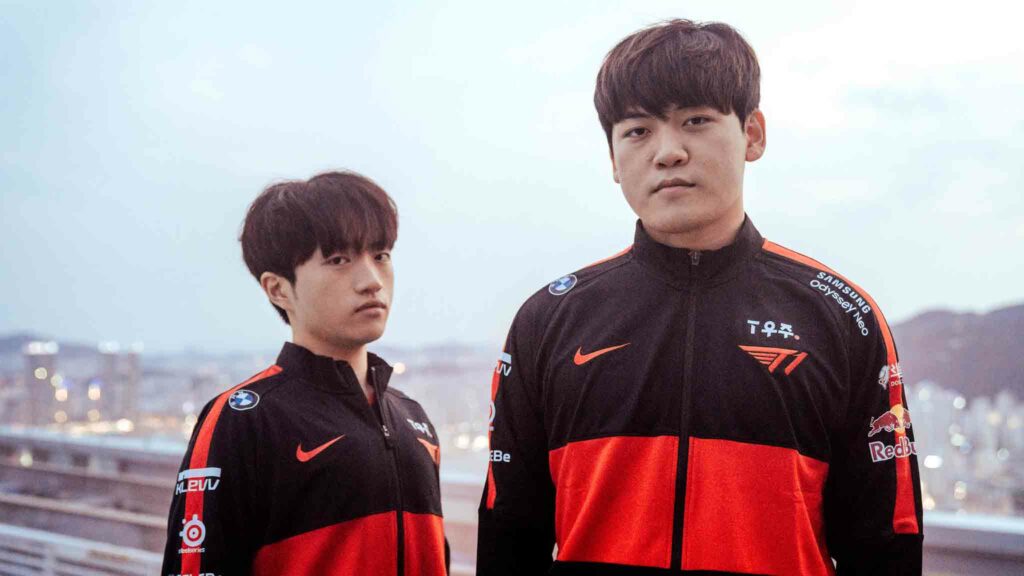 The pro players shyly showed their dance moves and jived to LCK host Hyeji Bae's impromptu singing.
Keria initially made a promise to dance NewJeans' "Hype Boy" if T1 wins a game.
Instead of dancing Hype Boy, however, Keria insisted on dancing to "OMG" instead since the song has been trending in the past few days.
"Gumayusi has been practicing the moves in the team house, so we'll do it together, as part of the ceremony," he said.
---
---
The duo's short victory dance displayed their fondness for NewJeans, ADOR's sole girl group. The K-pop group made its debut in 2022 with "Attention," followed by its second single "Hype Boy." The group comprises five members — Minji, Hanni, Danielle, Haerin, and Hyein.
Keria actually did dance to Hype Boy in December during T1CON, the esports organization's year-end event.
The 20-year-old support player appeared to be having the time of his life learning and bopping to the chorus of the K-pop song, as seen in the video taken by cosplayer and streamer Plumy below. Now that's our very own hype boy!
On a different occasion, bot laner Gumayusi showcased his vocal prowess in karaoke, singing and dancing to the same song. He previously appeared on teammate Mun "Oner" Hyeon-jun's Instagram live.
---
---
You can listen to the full Hype Boy and OMG songs (and maybe study its dance choreographies as well) on NewJeans' YouTube channel.
T1 currently holds a perfect 2-0 standing during the first week of the regular season, besting Gen.G and KT Rolster.
If you'd like to see more esports players bopping to K-pop songs, here are seven pros who are huge K-pop fans.
---
Follow ONE Esports on Facebook and Twitter for more LoL news, guides, and highlights.