The LEC Spring 2022 Playoffs kick off on March 25, featuring six teams from the regular season.
During the offseason, LEC teams and players made huge moves. Rogue players Steven "Hans sama" Liv and Kacper "Inspired" Słoma moved to North American organizations, while superstar mid laner Luka "Perkz" Perković returned to Europe with Team Vitality, alongside former Team Liquid top laner Barney "Alphari" Morris.
Other organizations like Misfits Gaming and MAD Lions bet on youth, promoting or signing players from the European regional leagues.
While Rogue and Fnatic secured their spots in first and second place respectively, the Team Vitality superteam narrowly qualified in sixth place, behind even Excel Esports, who are appearing in the playoffs for the first time since the organization joined the LEC in 2019.
Meanwhile, former kings G2 Esports have qualified in fourth place. However, the squad, headlined by Marcin "Jankos" Jankowski and Rasmus "caPs" Borregaard Winther, is still attempting to regain the form that led them to eight LEC titles.
---
---
Full list of teams that have qualified for LEC Spring 2022 Playoffs
The following six teams have qualified for the LEC Spring 2022 Playoffs.
| | | |
| --- | --- | --- |
| POSITION | TEAM | GAMES |
| 1st | Rogue | 14-4 |
| 2nd | Fnatic | 13-5 |
| 3rd | Misfits Gaming | 12-6 |
| 4th | G2 Esports | 11-7 |
| 5th | Excel Esports | 9-9 |
| 6th | Team Vitality | 9-9 |
---
Format of LEC Spring 2022 Playoffs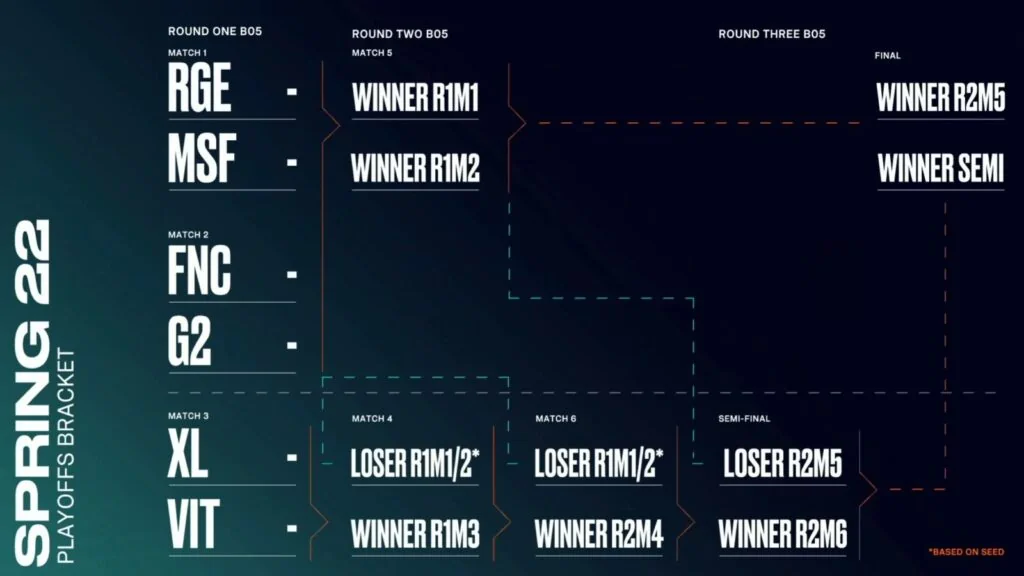 Games will be played in a double-elimination format, with teams seeded into the upper and lower brackets based on their final position in the regular season.
Top four teams seeded in the upper bracket
5th-placed team will play against 6th-placed team in the lower bracket
The 1st seed gets to pick between the 3rd and 4th seed in Round 1, and top seed Rogue will play Misfits Gaming in Match 1. The loser with the lower seed from Round 2 of the upper bracket will drop to the lower bracket of Round 2 (Match 4), while the loser with the higher seed will drop to Round 3 of the lower bracket (Match 6).
The lower bracket will culminate in a semi-final match, where the winning team will go on to face the winner of the upper bracket matches in the grand final.
All matches will adopt a best-of-five format, and the winner of the playoffs will be crowned the LEC Spring 2022 champion and earn an invitation to the Mid-Season Invitational 2022.
READ MORE: Faker is exasperated at the state of the Korean solo queue ladder