This LPL Spring 2022 marks the return of legendary bot laner Jian "Uzi" Zi-Hao, who retired in 2020 due to health concerns, recovered, and is now back to extend his pro player career.
Under the Bilibili Gaming banner, he first graced the stage in game two of their match against Invictus Gaming on February 17. After the lineup lost game one, Chiu "Doggo" Tzu-Chuan was subbed out to make way for Uzi's Jinx, who staged a remarkable comeback with a positive 11/4/17 KDA.
Despite his valiant efforts, BLG fell in game three and lost the series 2-1 to IG. Yesterday, Uzi was subbed in again in their series against Victory Five in a crucial game three, and even got his hands on his signature champion, Ezreal, but still could not find the win.
Because of these results, Uzi's long awaited return hasn't lived up to fans' expectations. After Bilibili Gaming's loss, he went on Weibo to share his thoughts, which ONE Esports translated.
---
---
Uzi writes a lengthy reflection on Weibo addressing Bilibili Gaming's recent performance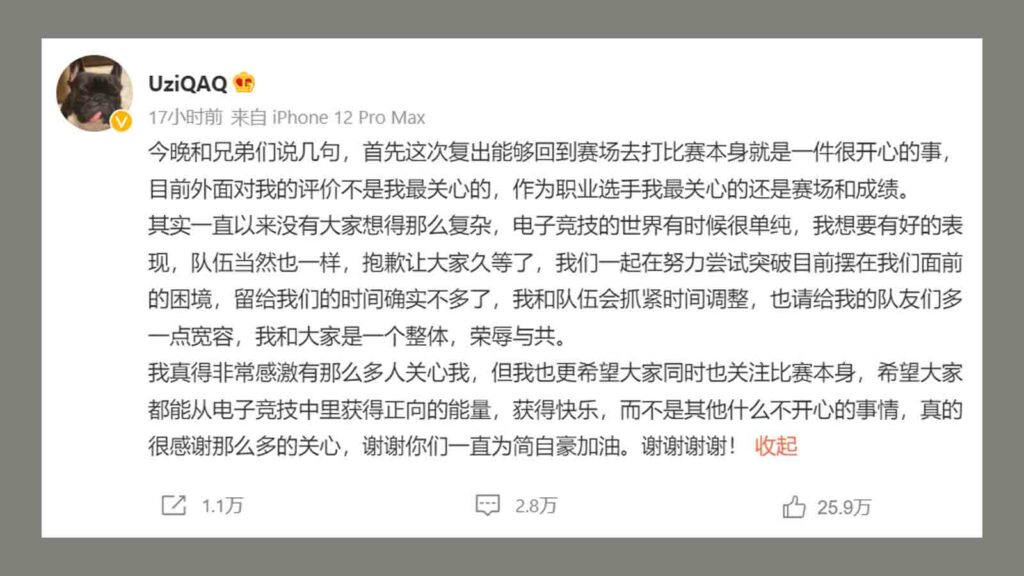 "This evening, I would like to say a few words to everyone," Uzi opened. "Firstly, being able to return to pro play and compete again on stage is in itself a very positive thing. At the moment, the external criticism I received is not of concern. Instead, as a pro player, my main priority is our competitive results."
With a 7-6 match record, BLG are currently 8th in the standings out of 17 teams, and are looking to qualify for playoffs by finishing in the top 10. They lost three matches in a row to Top Esports, FunPlus Phoenix, and Victory Five in the last two weeks.
"I'm sorry to everyone who has waited so long. We will work hard together to try to overcome the challenges before us," Uzi continued. "We don't have much time left, so my teammates will do our best to improve in this short period, and we hope that you'll be patient with us. We are one team, we win together and lose together."
He ended his post by thanking fans for their encouragement.
"I'm really very touched by everyone's concerns for me, but I also hope that everyone will focus on the game itself. I hope that everyone will be inspired by esports, and enjoy watching it rather than focus on the negatives. I'm really very grateful for all your care and concern. Thank you everyone for always giving me your support. Thank you so much," he wrote.
Bilibili Gaming will face the 2021 World Champions Edward Gaming on March 12. Catch the LPL Spring Split 2022 livestream on its official Twitch and YouTube channels.
READ MORE: Viper points out what Edward Gaming needs to improve on as LPL playoffs near