Kills are an important part of League of Legends, but is it possible to play most of the game without drawing blood? Apparently, it is.
On day two of the LoL Champions Korea (LCK) Summer Split, DWG KIA and Fredit BRION played for over 34 minutes without a single kill in game one of the best-of-three series.
Despite having no kills on the scoreboard, DWG KIA were ahead by 2,000 gold as they had three dragons, three turrets, and more farm.
---
---
DWG KIA breaks the LCK record for latest first blood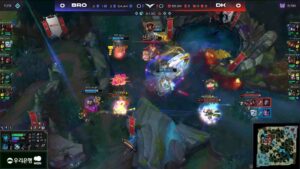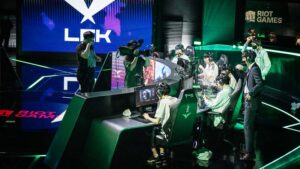 The game actually broke the record for the latest first blood in the LCK. The record was previously held by Liiv SANDBOX and DRX at 21 minutes and 59 seconds.
The clock ticked for twelve more minutes than the record time, as each team tried to eliminate each other in numerous skirmishes. DWG KIA eventually secured first blood at 34 minutes and 30 seconds during a clash near the Baron pit.
Heo "ShowMaker" Su's Viktor took out Kim "Lava" Tae-hoon's Orianna with a pinpoint Death Ray and Siphon Power. Yoo "Delight" Hwan-joong's Renata Glasc tried to deny the kill by casting Bailout on Lava, but the mid laner wasn't able to secure a takedown to keep himself alive.
The DK squad grabbed two more kills in the final fight, and sieged the enemy base to claim the game one victory.
---
---
After the record-breaking game, DWG KIA was out for blood in game two, racking up 16 kills before destroying the enemy Nexus in 41 minutes, sweeping the series.
DWG KIA now holds a 1-0 record and will face Liiv SANDBOX on June 19 at 8 p.m. GMT+9 | 7 p.m. GMT+8 | 11 a.m. GMT | 4 a.m. PT.
You can watch the LCK Summer Split 2022 on the official English and Korean Twitch LCK channels.
Follow ONE Esports on Facebook and Twitter for more LoL news, guides, and highlights.
READ MORE: Impeccable Azir shuffles by DRX Zeka will make you believe he's actually meta