Heads up, RPG fans!
The Ni no Kuni franchise begins a new chapter of its epic RPG saga with Cross Worlds. Similar to the two previous main titles, Ni no Kuni Cross Worlds takes you to the iconic fantasy realm, this time via a fictional virtual reality game called Soul Divers.
But instead of controlling a set character like Oliver or Evan Pettiwhisker Tildrum, players can now choose and customize a class that defines their playstyle. For example, you can hack and slash enemies as a Swordsman or master the art of magic as a Witch.
Here's everything you need to know about Ni no Kuni Cross Worlds, including its story, characters, release date, and what platforms it can be played on.
---
---
What is Ni no Kuni Cross Worlds all about?
Ni no Kuni Cross Worlds is a free-to-play action RPG developed by Korean mobile game developer Netmarble.
Just like other titles in the franchise, the game is heavily inspired by the Japanese animation studio Studio Ghibli and features music from renowned music composer Joe Hisaishi.
You enter the story as a beta tester for the virtual reality game Soul Divers. Upon entering the game, you are greeted by a winged girl named Rania who entrusts you with an important mission: Rebuild the Nameless Kingdom and defend it from evil forces.
---
Gameplay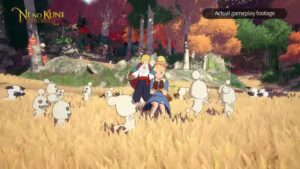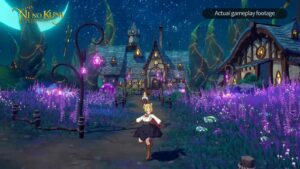 Cross Worlds takes you on a breathtaking adventure in Ni no Kuni. Players will be able to visit various locations, such as the Eastern Heartlands and the Burning Desert, and explore their unique dungeons for rare items.
The game's combat system gives each class three permanent abilities and three optional class skills that can be used for powerful combos. You can also have up to three familiars, creatures that aid you in battle with their own passive and active skills.
Customization is a key gameplay feature in Cross Worlds. Players can expect to spend several minutes creating their own unique avatar, with numerous options for hairstyle, eye color, and body type.
Aside from its characters, the Nameless Kingdom is also yours to decorate and develop. Players can add interactive social objects to public spaces and even change the color and design of the castle roofs.
The game will feature both PvE and PvP game modes to test your mettle. The PvE mode, Kingdom Defense, tasks you and your friends with protecting your castle against dragons and hordes of monsters. The PvP mode, Kingdom Invasion, puts you in a large-scale battle against other player-controlled kingdoms.
As you climb the ranks by invading other kingdoms and completing challenges, you have the chance to become the Capital Kingdom, the best kingdom on your server. As head of the Capital Kingdom, you can in turn set policies that affect every player on the server.
---
Character classes and familiars in Ni no Kuni Cross Worlds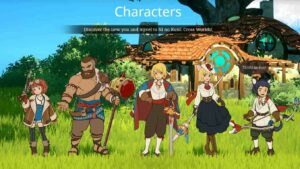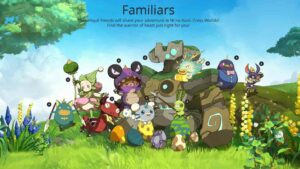 Classes
There are six character classes featured on the official game website:
Engineer (Firearms)
Destroyer (Hammer)
Swordsman (Sword)
Witch (Flying Spear)
Rogue (Bow and arrow)
Familiars
On top of that, you'll have 10 familiars to choose from:
Rambunctus
Penguicorn
Jabber
Petal
Hog-Goblin
Sparkee
Polarin
Petromaton
Sillymander
Rimu
Release date of Ni no Kuni Cross Worlds
Ni no Kuni Cross Worlds is slated for a May 25 release worldwide. The game was previously released in Japan, South Korea, and Taiwan on June 20, 2021.
Platforms
Ni no Kuni Cross Worlds will be playable on both Android and iOS mobile devices. You can pre-register for extra in-game rewards on the Google Play Store and Apple App Store.
Netmarble has yet to confirm an official PC version of the game.
(To be updated)
---
---
Follow ONE Esports on Facebook and Twitter for more gaming news and stories.
READ MORE: Disney Dreamlight Valley: Release date, characters, gameplay, platforms, trailer